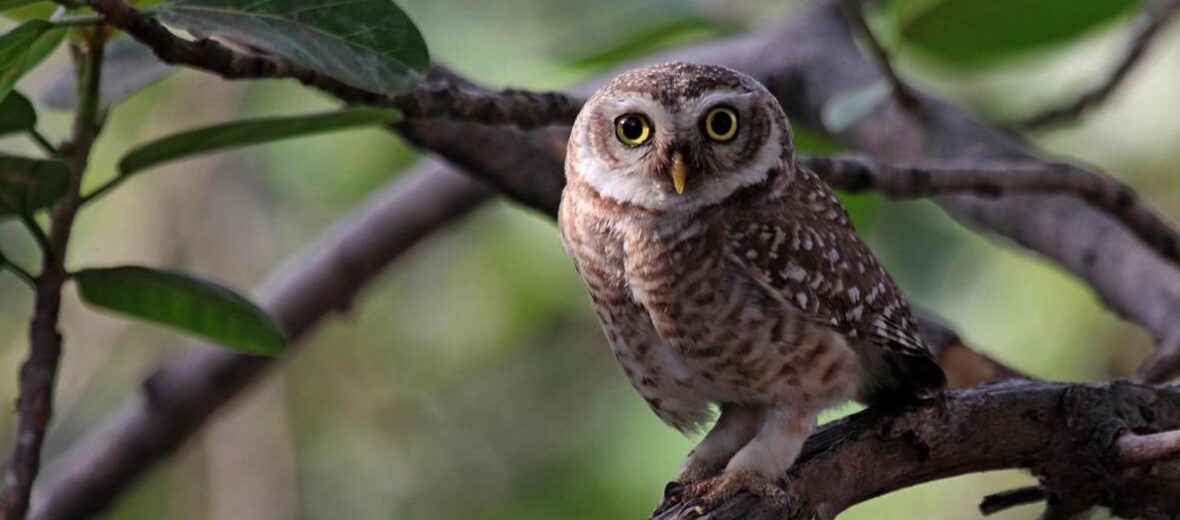 The elf owl, aka dwarf owl, Whitney's elf owl, or Texas elf owl, is the smallest known owl in the world. They are only about the size of a sparrow! You can find these diminutive birds of prey in the Southwestern United States, central Mexico, and also the Baja California peninsula. In the spring and summer, they hang out in Arizona, California, New Mexico, and Texas. In the winter they vacation down in central and southern Mexico. With an estimated population of up to 200,000, these birds are listed as Least Concern by the IUCN. However, their populations are decreasing due to habitat loss.
First the Stats…
Scientific name: Micrathene whitneyi
Weight: Up to 1.4 ounces
Length: Up to 5.6 inches
Wingspan: Up to 10.5 inches
Lifespan: Up to 6 years
Now on to the Facts!
1.) While not being able to see in complete darkness, these little critters can see very well, in low light.
2.) Elf owls are nocturnal (active at night).
3.) They prefer riparian forest habitats and desert-scrub habitats.
4.) These owls prey on moths, crickets, scorpions, centipedes, beetles, mice, and reptiles.
5.) Larger owls, snakes, coyotes, bobcats, and ringtail cats prey on the elf owl.
But wait, there's more on the elf owl!
6.) When they catch scorpions, they will carefully remove the telson (venom bulb) which includes the aculeus (stinger) before eating it or feeding it to their young.
7.) They prefer to take up residence in abandoned woodpecker holes, in saguaro cactus, sycamore, mesquite, and oak trees.
Did you know…?
Elf owls do not drink water since they get all the necessary moisture from the food they eat.
8.) A male will attempt to woo a female with song and offerings of food.
9.) Elf owls are only seasonally monogamous (they stay with 1 female during the breeding season). After their young are raised they will part ways.
10.) When faced with a potential Predator, the elf owl will make loud barking sounds, clap their bills together, and rapidly move their tails back and forth. If this still doesn't work, they will simply feign death (play dead).
But wait, there's still more on the elf owl!
11.) Their call sounds much like a puppy barking or laughter. Their young make peeps or squeaks that increase in intensity as their hunger grows.
12.) A group of owls is called a stare or a parliament.
13.) Females lay up to 5 eggs that incubate in up to 3 weeks.
14.) Males tend to be very territorial and even regard their mate as their property.
Now a Short Elf Owl Video!
Be sure to share & comment below! Also, check out the Critter Science YouTube channel. Videos added frequently!
Want to suggest a critter for me to write about? Let me know here.
Learn more about all kinds of cool critters, right here!