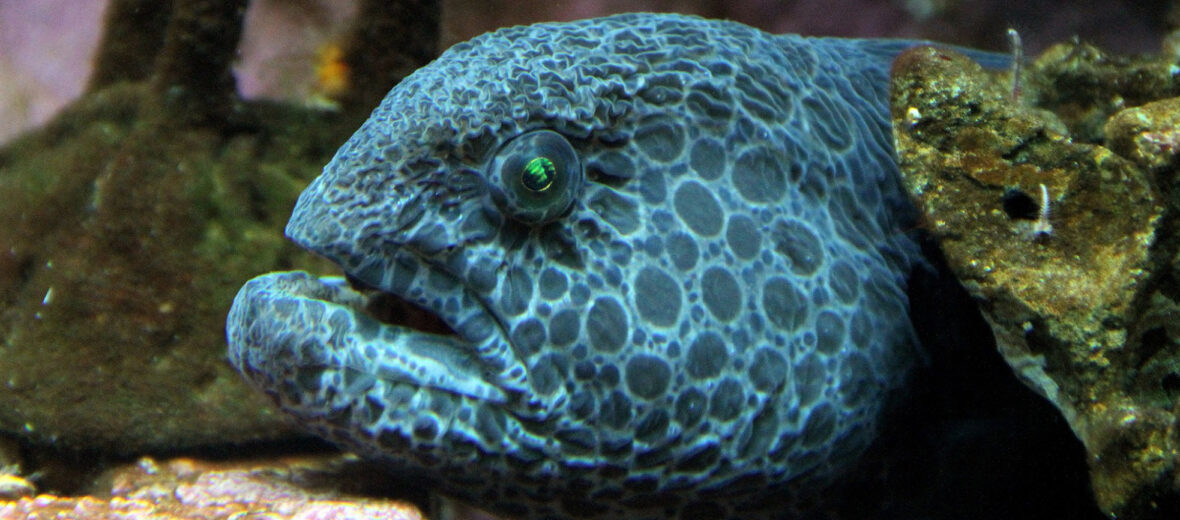 Contrary to the name, the wolf eel is not as scary as advertised. Wolf eels aren't even true eels, they're fish. They just look like eels. The main difference that sets them apart is the fact that these eels have pectoral fins. Almost all other true eels don't have pectoral fins. These critters are in a classification called wolf fishes. They hail from the North Pacific from the Sea of Japan, to the islands off the coast of Alaska, all the way down to the coast of southern California. These critters prefer rocky environments with caves and crevices that they use to slither their long bodies into. Yes, they may look ferocious and scary, with their snaggle-toothed display and all but they are typically only aggressive towards other wolf eels.
First the Stats…
Scientific name: Anarrhichthys ocellatus
Weight: Up to 41 lbs.
Length: Up to 8 feet
Lifespan: Up to 25 years
Now on to the Facts!
1.) These fish are actually friendly to divers and will gladly and gently eat from their hands. They will even allow divers to touch and pet them.
2.) Their diet consists of clams, snails, crabs, and sea urchins.
3.) Wolf eels can be found at depths of up to 740+ feet!
4.) Predators include sharks, harbor seals, and larger fish.
5.) The jaws of a wolf eel are very strong and they're equipped with 3 rows of molars across the roof of their mouth and 2 rows of molars on the bottom jaw that are used like a nut cracker to easily crush hard foods.
But wait, there's more on the wolf eel!
6.) These wolves of the sea are monogamous (mate for life) and they are also good parents. One always stays behind to watch over the young when the other goes out for a bite to eat.
7.) The young fish are a brick red with bright purple and orange highlights.
Did you know…?
Only the Native American medicine men were allowed to eat the wolf fish, as it was thought that this consumption would enhance their magic.
8.) Females lay up to 10,000 eggs at a time, which the male fertilizes. The mom and dad then take turns coiling around them to keep them safe.
9.) Males are lighter in color and don a fattened and wrinkly face. Females are darker and more slender.
10.) Just like the rest of us, they can sometimes get an itch. When this happens, they simply swim upside down and rub their bodies against rocks to scratch said itch.
But wait, there's still more on the wolf eel!
11.) Due to the lack of a swim bladder, these fish tend to stay at the sea bottom, as they aren't able to "hover" like other fish.
12.) Wolf eels don't have scales like most other fish. They do have scales, but they are very small and embedded in their skin, which gives them a smooth, leathery feel and look.
13.) These fish have a special thick slime coating on their skin that helps protect them from parasites.
Now a Short Wolf Eel Video!
Also, check out the Critter Science YouTube channel. Videos added frequently!
Want to suggest a critter for me to write about? Let me know here.
Learn more about all kinds of cool critters, right here!