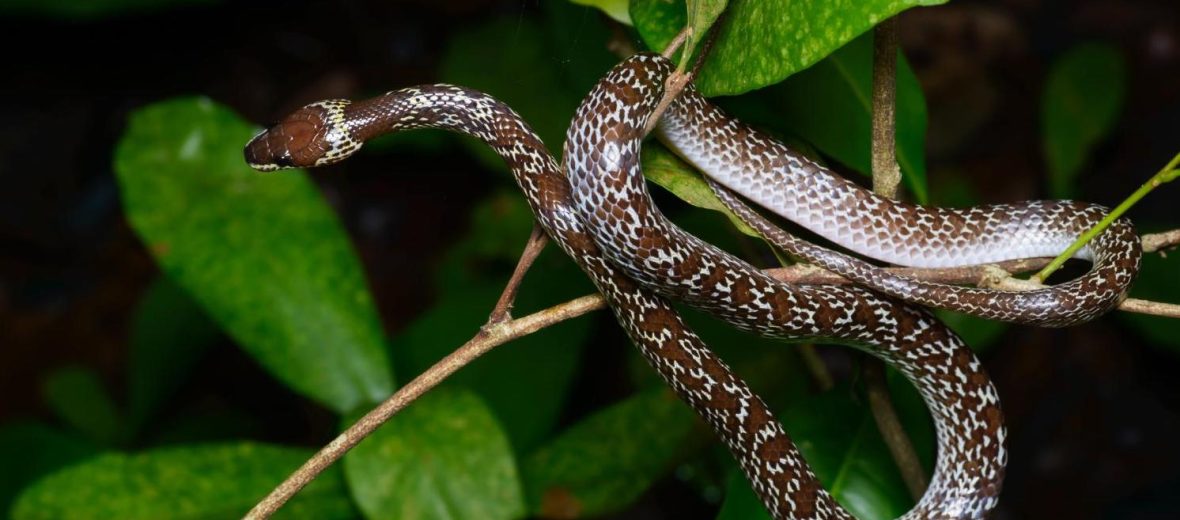 The Oriental wolf snake, aka wolf snake, can be found throughout the Indo-Australian Archipelago. They prefer tropical rainforests, gardens, plantations, suburban, and even urban habitats. These mildly venomous colubrid (from the Latin coluber, 'snake') snakes face the threats of hunting and trapping, & habitat destruction. But this hasn't put a huge strain on their populations. They are wide-spread and abundant; yet, at the same time, you'll be hard pressed to find 1. Therefore, they are listed as Least Concern by the IUCN.
First the Stats…
Scientific name: Lycodon capucinus
Weight: Up to 12+ ounces
Length: Up to 31+ inches
Lifespan: Up to 10 years
Now on to the Facts!
1.) These snakes are rear-fanged venomous. This means that they possess fangs in the rear of their mouth and have to bite and work their prey to the back of their mouth to inject their venom.
2.) They are found both in arboreal (spend their lives in trees) and terrestrial (spend their lives on the ground) capacities.
3.) Oriental wolf snakes are solitary and only come together to mate.
4.) The wolf snake is predominantly nocturnal (active at night), but they can sometimes exhibit diurnal (active during the day) behaviors.
5.) These snakes are generally nervous and skittish in nature and will not think twice about biting, if handled.
But wait, there's more on the Oriental wolf snake!
6.) If threatened, they will shake the tip of their tail, like a rattlesnake does.
7.) A group of snakes is called a bed, den, knot, nest, or pit.
Did you know…?
The venom of a wolf snake isn't particularly strong and has no real effects on humans or larger pets, other than pain, redness, and discomfort.
8.) Their predation consists of geckos and they are a primary predator of skinks. They will also predate amphibians, if necessary.
9.) Females lay up to 11 eggs per clutch.
10.) The snakelets are born precocial (totally self sufficient) and fully venomous.
Now a Short Oriental Wolf Snake Video!
Pick up your Critter Science books today, at Amazon!
Be sure to share & comment below! Also, check out the Critter Science YouTube channel. Videos added regularly!
Want to suggest a critter for me to write about? Let me know here.