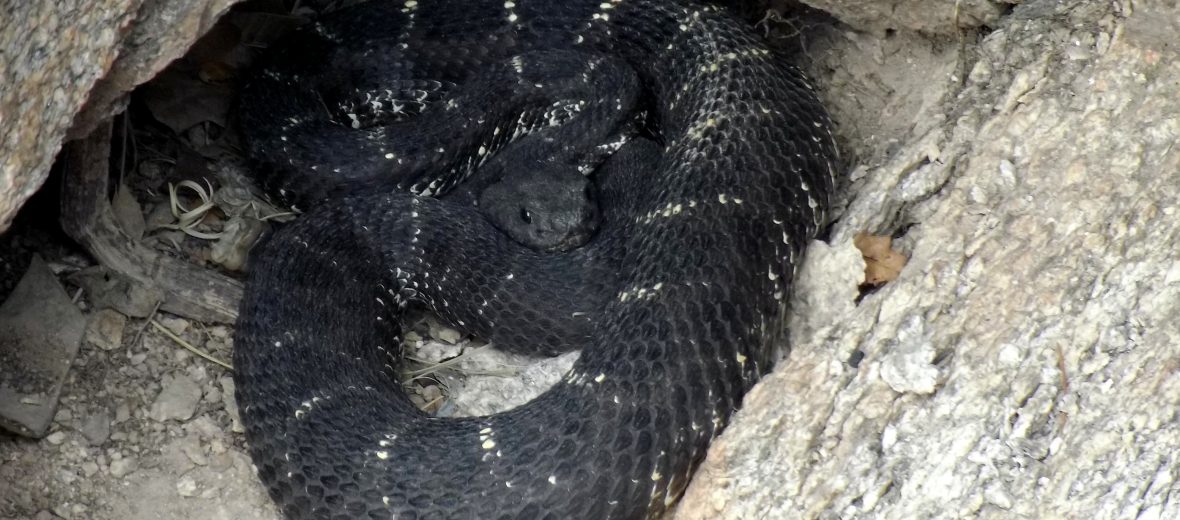 The Arizona black rattlesnake, aka brown rattlesnake, black rattlesnake, black diamond rattlesnake, mountain diamond-back, Cerberus rattlesnake, and falsely coined as a timber rattlesnake (which is a totally different species), can be found in Cottonwood Cliffs in the northwest in the state of Arizona, Hualapai Mountains, southeast to Santa Catalina region, Rincon, Pinaleno, and the Blue Mountains. They can also be found in Steeple Rock, in the far west of New Mexico. These rattlers are not currently evaluated by the IUCN.
First the Stats…
Scientific name: Crotalus cerberus
Weight: Up to 3+/- lbs.
Length: Up to 4 feet
Lifespan: Up to 20 years
Now on to the Facts!
1.) These rattlers prey on mice, rats, amphibians, reptiles, and birds.
2.) Hawks, kingsnakes, coyotes, roadrunners, and foxes prey on these snakes.
3.) Adults are less patterned than juveniles. This is called ontogenetic color change.
4.) Even though these snakes are venomous and should never be trifled with, they are relatively mild-mannered and don't often bite, unless harassed.
5.) A rattlesnake can shake its rattle back & forth more than 60 times per second. It's so fast that it can make a hissing sound when shaken at full speed.
But wait, there's more on the Arizona black rattlesnake!
6.) During the cooler months of the year, these snakes are diurnal (active during the day). However, as the days grow hotter, they tend to be more nocturnal (active at night).
7.) Females birth up to 14+ live young.
Did you know…?
A bite from an Arizona black rattlesnake can cause nausea, vomiting, abdominal pain, droopy eyelids, blurred vision, tissue necrosis (tissue death), and possible death.
8.) The young snakes, called neonates, are born precocial (totally self sufficient) and fully venomous.
9.) Females remain with their young for up to 14 days, before parting ways.
10.) Contrary to popular belief, young rattlers don't dump more venom into a bite. They are able to auto-regulate venom distribution, from birth. So, the young are only more dangerous than adults because they are smaller and harder to see. Thus increasing the chance of more encounters to happen.
Now a Short Arizona Black Rattlesnake Video!
Be sure to share & comment below! Also, check out the Critter Science YouTube channel. Videos added regularly!
Want to suggest a critter for me to write about? Let me know here.