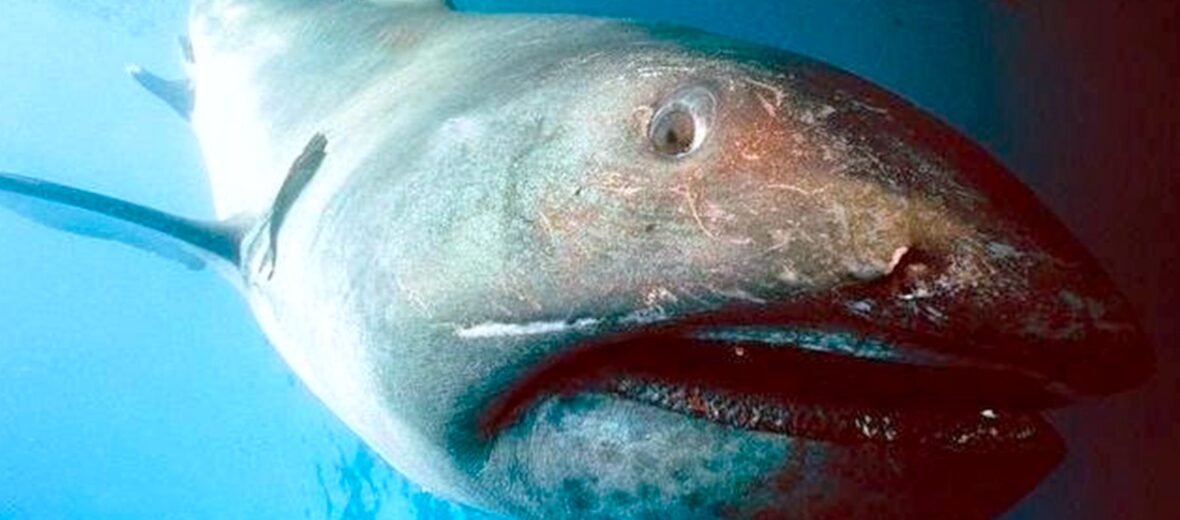 The megamouth shark is the 3rd largest shark in the world, after the whale shark and the basking shark. Their mouth can be up to 4 feet across! That's a quarter of their body length. They can be found in the Atlantic, Indian, and Pacific Oceans at depths of up to 15,000 feet. Due to their unknown numbers, the IUCN lists them as Least Concern. Their main threats would be getting caught in long lines, climate change, and being overfished.
First the Stats…
Scientific name: Megachasma pelagios
Weight: Up to 2700 lbs.
Length: Up to 23 feet
Lifespan: Unknown
Now on to the Facts!
1.) At night, they will travel to the surface, in search of plankton and krill.
2.) It is presumed that they eat plankton and krill by opening their mouth and protruding their jaws, to capture as much food as possible. Then sucking in the prey, they will push the excess water out through their gills, leaving the food behind.
3.) The megamouth shark was discovered back in 1976, after a naval research ship brought one on board from the coast of Oahu, Hawaii.
4.) Since 1976 there have only been around 60+ confirmed sightings of this elusive shark.
5.) Sans sperm whales and cookiecutter sharks, they don't have any known predators as adults, due to their preference for deep water. Juveniles may be predated by larger fish and other sharks.
But wait, there's more on the megamouth shark!
6.) These sluggish sharks are weak swimmers, due to their low calcification, soft fins, flabby body, asymmetrical tail, and apparent lack of keels. They only swim at around 1 mph.
7.) Megamouth sharks are highly migratory and tissue samples taken from specimens caught from entirely different geographical locations yielded no differences between individuals.
Did you know…?
The megamouth shark has special bioluminescent cells in its mouth that are presumed to be used to attract krill and plankton.
8.) Females are ovoviviparous (young sharks develop inside eggs that stay in mom's body until they hatch).
9.) 50 rows of tiny teeth line each jaw, but only the first 3 rows are used.
10.) In French, they are called requin grande gueule. The Dutch, call them grootbekhaai. In Spanish, their name is tiburón bocudo.
Now a Short Megamouth Shark Video!
Also, check out the Critter Science YouTube channel. Videos added frequently!
Want to suggest a critter for me to write about? Let me know here.
Learn more about all kinds of cool critters, right here!