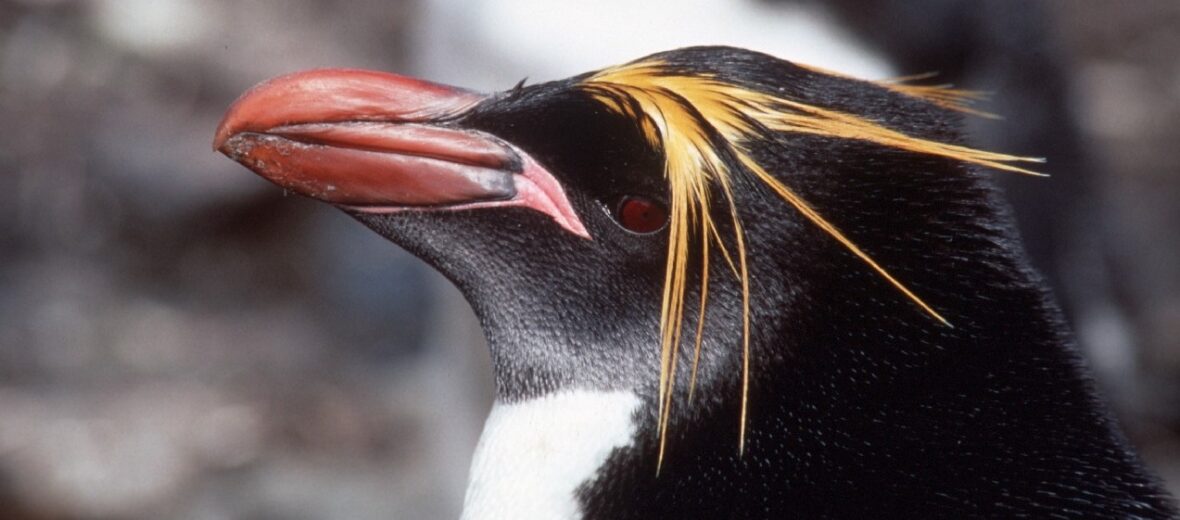 The macaroni penguin was named after 18th century men who wore fancy feathers in their hat. So, no, they aren't named after the style of pasta. Macaronis can be found from the Subantarctic to the Antarctic Peninsula. Even though there is an estimated 6.3 million breeding pairs in 58 breeding colonies, these birds are listed as Vulnerable by the IUCN, due to overfishing – taking their food, invasive species, and climate change.
First the Stats…
Scientific name: Eudyptes chrysolophus
Weight: Up to 10 lbs.
Length: Up to 28 inches
Lifespan: Up to 15 years
Now on to the Facts!
1.) They feed on fish, squid, and krill.
2.) Their predators include: (on land) – skuas, sheathbills, giant petrels, kelp gulls, (at sea) – leopard seals, Antarctic fur seals, orcas, and sharks.
3.) A macaroni penguin was featured in the movie Happy Feet. The penguin named Lovelace was actually a macaroni penguin.
4.) These penguins migrate over 6,000 miles every year.
5.) Macaronis can swim over 9 mph, with bursts of up to 15 mph; enabling them to hunt very effectively.
But wait, there's more on the macaroni penguin!
6.) They can dive to depths of around 375 feet!
7.) Due to their incredible vision, they are able to see well, even at night.
Did you know…?
As a whole, macaroni penguins consume up to 9 million tons of krill each year!
8.) Both the males and females raise their young.
9.) Mom and dad build a simple nest out of small stones and sometimes grass shoots. The nest measures around 3 feet across.
10.) The chicks form crèches where they huddle together to stay warm and to help keep them protected from predators.
But wait, there's still more on the macaroni penguin!
11.) While typically not aggressive towards one another, males can fight for the love of a female by locking beaks and slapping each other with their flippers.
Did you know…?
Their scientific name, "Eudyptes" is Greek, meaning "good diver" and "chrysolophus" hails from "golden" & "crest."
12.) Due to the fact that males far outnumber females, the girls are quite picky about their future life partner.
13.) Macaroni penguins are not monogamous (mate for life). Penguins actually mate for several seasons and then move on to find a new partner. This helps to ensure a solid genetic pool.
14.) Females lay up to 2 eggs each year. The first eggs is smaller and is discarded after the larger second egg arrives.
15.) Macaronis hop, rather than waddle.
Now a Short Macaroni Penguin Video!
Also, check out the Critter Science YouTube channel. Videos added frequently!
Want to suggest a critter for me to write about? Let me know here.
Learn more about all kinds of cool critters, right here!