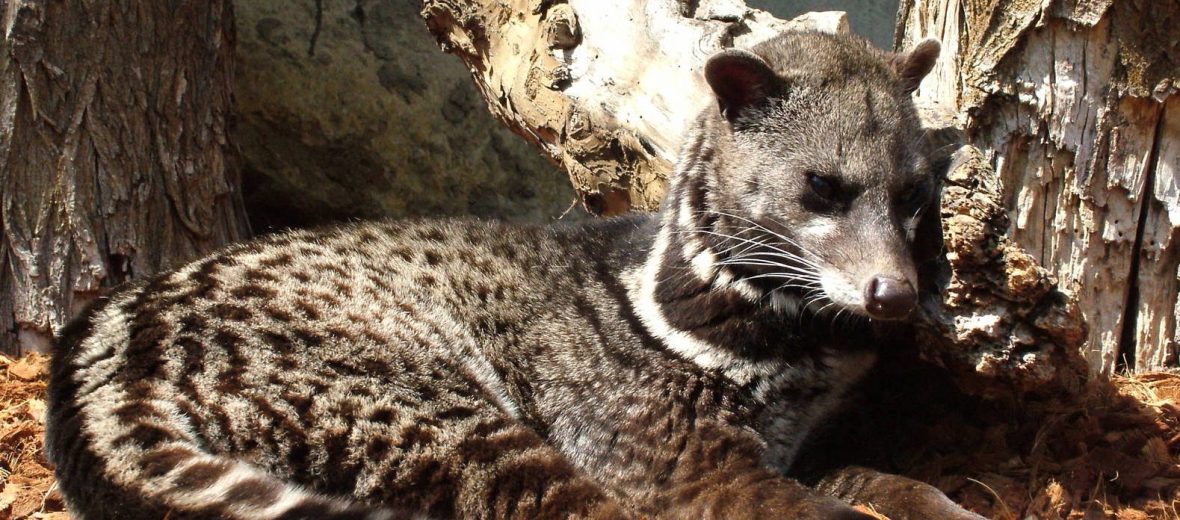 The Malayan civet can be found throughout Malaysia, Indonesia, and the Philippines. They prefer secondary habitats, forests, rainforests, agricultural land, and can also be seen just outside villages. There are around 20 species of civets described to date. Even though they face the threats of habitat destruction, at the hands of agricultural activities, and are hunted and trapped, these civets remain listed as Least Concern by the IUCN. Their populations are stable across their range.
First the Stats…
Scientific name: Viverra tangalunga
Weight: Up to 16 lbs.
Length: Up to 30.43 inches, plus up to a 15.55 inch tail
Height: Up to 18+ inches
Lifespan: Up to 12 years
Now on to the Facts!
1.) Malayan civets, like other civets, are nocturnal (active at night).
2.) Unlike other civets though, these critters are primarily terrestrial (spend their lives on the ground).
3.) Even though these civets prefer a terrestrial lifestyle, they can still climb and navigate trees, just like all civets. They often scale trees to look for food or to escape predation.
4.) They are solitary and only come together to mate.
5.) Just like skunks and mustelids in general Malayan civets can produce a foul smelling musk from their anal glands. This musk is called civet.
But wait, there's more on the Malayan civet!
6.) The musk produced from their glands is released when they feel threatened.
7.) Malayan civets prey on mice, rats, chickens, snakes, lizards, frogs, and insects. They also feast on eggs, fruits, and roots.
Did you know…?
These critters also go by the names of Oriental civets and Malay civets.
8.) Tigers, leopards, larger snakes, and crocodiles all hunt the Malayan civet.
9.) Females breed up to 2 times a year. Each brood consists of up to 4 pups.
10.) Pups are born altricial (blind and helpless). But they are weened in just 1 month.
Now a Short Malayan Civet Video!
Be sure to share & comment below! Also, check out the Critter Science YouTube channel. Videos added regularly!
Want to suggest a critter for me to write about? Let me know here.
Think you know a lot about critters? Try your hand at these fun, free quizzes: