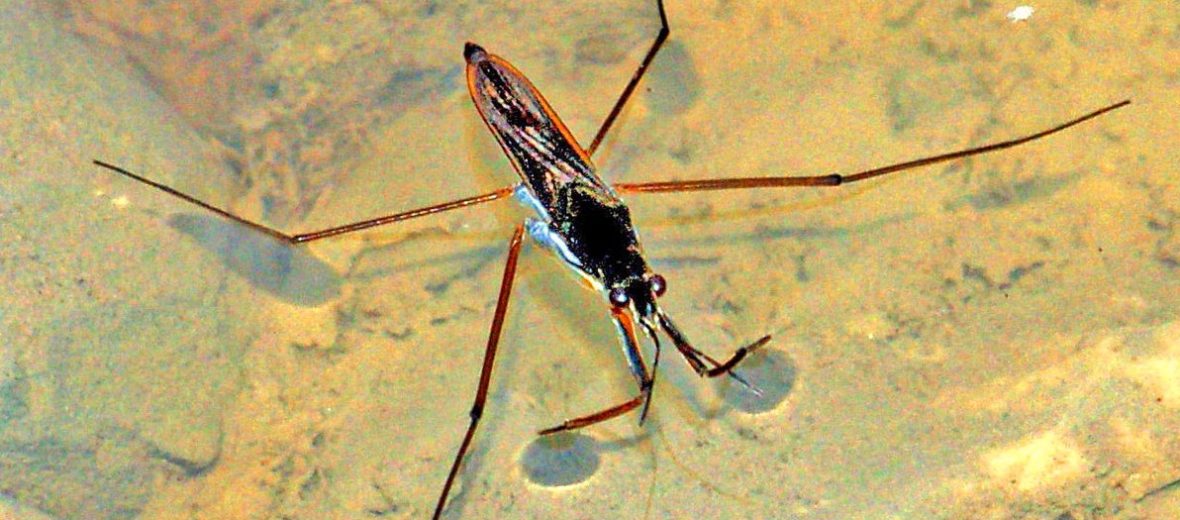 The Gerridae, aka water skeeter, water scooter, water strider, water skipper, water skimmer, water bug, or pond skater, is a water insect that seems to defy gravity, resting on and scooting along the surface of water without sinking. There are 47 known species and 8 recognized genera of these insects. Their preferred habitats are creeks, ditches, lakes, ponds, rivers, swamps, and streams. These insects are found throughout the world, sans Antarctica.
First the Stats…
Scientific name: Gerridae
Length: Up to 0.47 inch
Lifespan: Up to 6+ months
Now on to the Facts!
1.) Gerrids have mouthparts that have evolved for sucking and piercing.
2.) Even though they have piercing mouthparts, they don't attack humans or other mammals. They are harmless to both.
3.) They prey on spiders and insects that fall into the water.
4.) When a prey item lands in the water, the Gerrid goes to work. They approach the felled invertebrate and puncture their body with their sharp proboscis. Then they inject a salivary enzyme into their victim that dissolves the organs. This allows the now liquefied organs to be sucked out. Yummy.
5.) These insects are diurnal (active during the day).
But wait, there's more on the Gerridae!
6.) Water striders use the high surface tension of still water and long, hydrophobic legs to assist them in staying above water. Gerridae species utilize this surface tension to their benefit through their highly evolved legs and distributed weight.
7.) Their legs are long and slender, which allows the weight of the water strider's body to be distributed over a larger surface area. Thus allowing them to walk on water.
Did you know…?
Not only can they walk on water, but these little critters can also fly; at least the ones with wings can. There are some species with shortened or nonexistent wings.
8.) Gerrid females lay their eggs on submerged vegetation or rocks using a gelatinous substance as a type of glue.
9.) Females lay up to 20 eggs each season. Many of which die over winter, but some survive and hatch after winter.
10.) These insects go through an egg stage, 5 instar stages of nymphal forms, and finally the adult stage.
But wait, there's still more on the Gerridae!
11.) It takes up to 70 days for a water strider to reach adulthood, based on the water temperature.
12.) Birds, fish, and amphibians all prey on Gerrids. However, the Gerrid produces a foul tasting substance that typically deters fish from eating them. Birds and amphibians don't seem to be affected by this substance.
Did you know…?
These predators not only attack other invertebrates, they also cannibalize each other in that adults will seek younger and smaller Gerrids and attack them. Females are more apt to cannibalize than males.
13.) Numerous endoparasites (parasites that live in a host's body) have been found in gerrids. Trypanosamatid flagellates, parasitic Hymenoptera, and nematodes, all serve as endoparasites (internal parasites). Water mite larvae act as ectoparasites (external parasites that live on the body, rather than in the body) of Gerridaes.
14.) If the salinity (salt content) increases in the water body, Gerrids will migrate to another body of fresh water.
15.) There are some species of saltwater Gerrids though, that can typically be found around tide pools.
Now a Short Gerridae Video!
Be sure to share & comment below! Also, check out the Critter Science YouTube channel. Videos added regularly!
Want to suggest a critter for me to write about? Let me know here.
Think you know a lot about critters? Try your hand at these fun, free quizzes:
Photo credit: Hectonichus