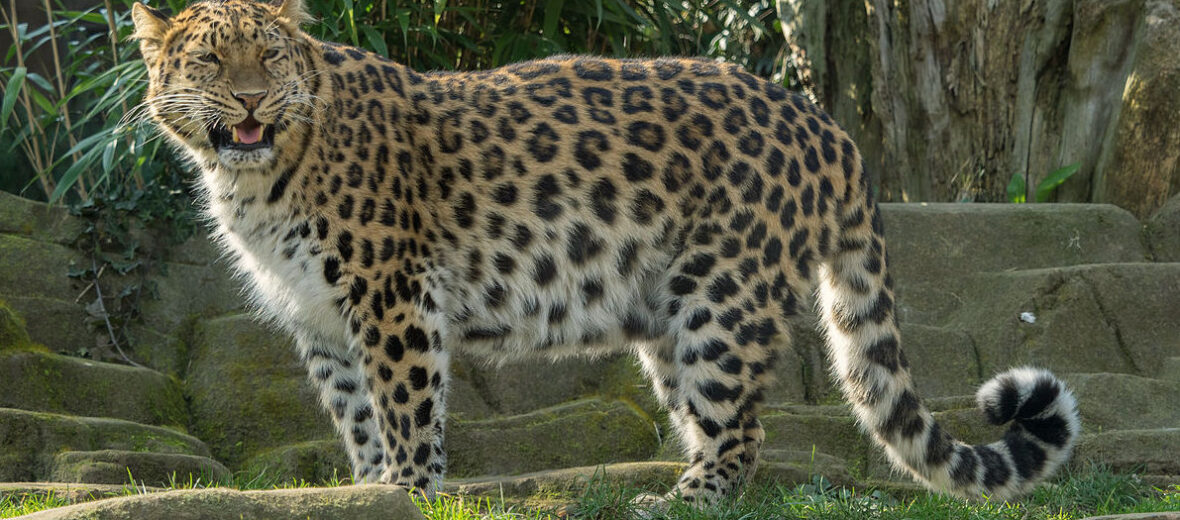 The amur leopard is perhaps the rarest of all the large cats in the world. These beautiful felines can be found in only a 2,700 square mile area in Russia and China. They prefer temperate broadleaf and mixed forests on snowy mountain ranges. There are only an estimated 90 +/- amurs left in the wild; with another estimated 200 in captivity. The IUCN lists these wonderful cats as Critically Endangered but their numbers are increasing… slowly. Habitat loss, poaching, and climate change are their main threats.
First the Stats…
Scientific name: Panthera pardus orientalis
Weight: Up to 110 lbs.
Length: Up to 4.5 feet, plus a 3 foot tail
Height: Up to 2.6 feet, at the shoulder
Lifespan: Up to 20 years
Now on to the Facts!
1.) Other names for this leopard are: Far East Leopard, the Manchurian Leopard, Russian Leopard, and the Korean Leopard.
2.) Seeing as these leopards are highly protected, in Russia poachers of Amur leopards can face up to a 1,100,000+ ruble fine and be jailed for 2 years for killing an Amur leopard.
3.) These leopards are sexually dimorphic in that males are a fair amount heavier than females.
4.) Their name comes from the Amur River, which is the 10th longest river in the world and divides Russia and China.
5.) An evolutionary trait these leopards have developed is that their legs are longer and their feet larger than most other leopards. This helps them to navigate through the snowy climate.
But wait, there's more on the amur leopard!
6.) Amur leopards are nocturnal (active at night).
7.) A single amur can patrol an area of up to 120 square miles!
Did you know…?
Amur leopards are able to run up to 40 mph. They are also able to jump almost 20 feet horizontally and up to 10 feet vertically!
8.) During the mating season, several males will trail a female and fight for breeding rights.
9.) Sans the breeding season, these leopards are solitary and very territorial.
10.) Their tongues, like all other cats, are covered with papillae (tiny hooks) that help them to lick the meat off of bones.
But wait, there's still more on the amur leopard!
11.) Siberian roe deer, Siberian musk deer, Manchurian sika deer, Manchurian wapiti, Amur moose, badgers, wild boars, and hares are all preyed on.
12.) Females go through up to a 12 week gestation (pregnancy) and birth up to 4 cubs.
Did you know…?
The remaining population could disappear as a result of genetic degeneration (inbreeding).
13.) Cubs are born blind and helpless. So mom watches over them till they mature. They are weaned in only a few weeks time and eating meat.
14.) Amur leopards are so good at climbing and camouflaging themselves in trees that they are nearly invisible when up a tree.
Now a Short Amur Leoopard Video!
Be sure to share & comment below! Also, check out the Critter Science YouTube channel. Videos added frequently!
Want to suggest a critter for me to write about? Let me know here.
Learn more about all kinds of cool critters, right here!