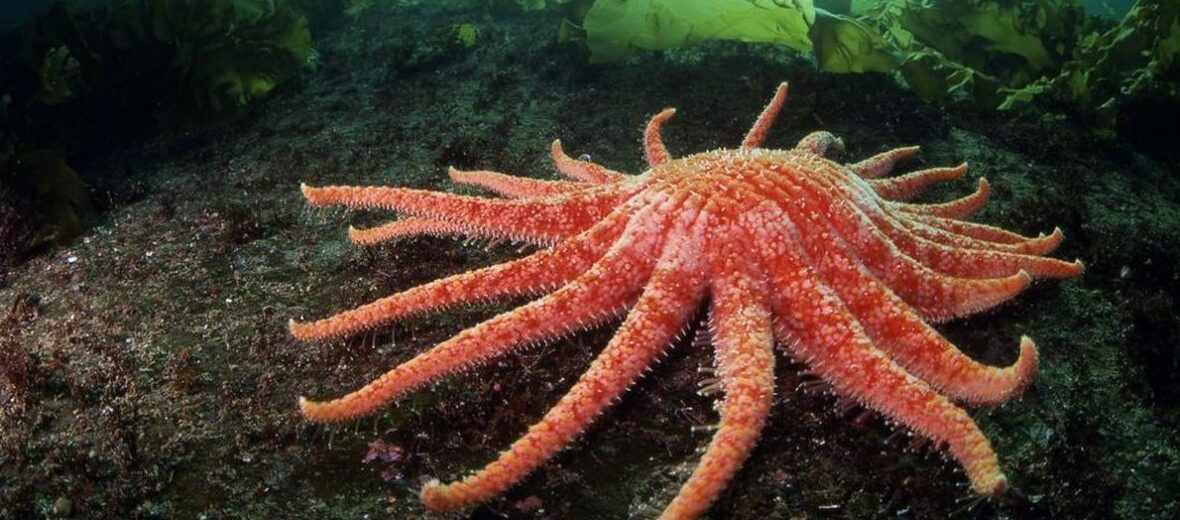 The sunflower sea star is among the largest of the known sea stars and also boasts the most arms. They are also potentially the fastest of the sea stars. These stars can be found in the Pacific Ocean from Unalaska Island, in Alaska, down to Baja California. Due to habitat destruction, pollution, climate change, and disease, these amazing sea stars are listed as Critically Endangered by the IUCN. Their numbers decrease daily.
First the Stats…
Scientific name: Pycnopodia helianthoides
Weight: Up to 13.4 lbs.
Length: Up to 39 inches across
Lifespan: Up to 5+ years
Now on to the Facts!
1.) Sunflower sea stars have up to 24 arms!
2.) They come in many colors, like: orange, yellow, purple, and brown.
3.) Like all sea stars, they use their 15,000 tiny tube feet for locomotion.
4.) Crabs, snails, chitons, sea cucumbers, sea urchins, dead and dying squid, sand dollars, abalones, and even other sea stars are all on the menu for these hungry stars.
5.) Only the Midgardia xandaros is thought to grow larger than the sunflower sea star. They have been documented at 53 inches across. But these stars live only in the deep ocean.
But wait, there's more on the sunflower sea star!
6.) These stars reproduce via broadcast spawning (eggs and sperm are released into the water in the hopes that they'll meet).
7.) The microscopic sea star larvae float, as well as feed, near the surface for up to 10 weeks. After their planktonic larval stage, the larvae settle to the bottom and transform into juvenile sea stars.
Did you know…?
Being the fastest known sea star, these critters can move along at up to 40 inches per minute! That's pretty fast, for a sea star, considering the average speed is just 6 inches per minute for other sea stars.
8.) Juveniles have only 5 arms. The rest are added as they mature.
9.) These starfish are subject to sea star wasting syndrome. This is a disease that causes starfish to lose their legs, disintegrate, and ultimately die. This disease's origin is still unknown.
10.) This sea star, like the ochre sea star help to control the population of sea urchins. Urchins have an insatiable appetite for kelp and other sea plants, thus culling the much needed undersea forests. With a decreasing population of sea stars, the urchins begin to bloom and the destruction of kelp forests is exponential.
But wait, there's still more on the sunflower sea star!
11.) They are preyed on by fish, king crabs, and other sea stars. Sea otters can also feast on them.
12.) A sunflower star is able to swallow an entire sea urchin whole, digest it internally, and then expel the urchin's test (its external shell).
13.) If a Predator does get a hold of one of these giants, they will simply detach an arm and make a hasty retreat. That arm will regrow in just a few weeks time.
Now a Short Sunflower Sea Star Video!
Be sure to share & comment below! Also, check out the Critter Science YouTube channel. Videos added frequently!
Want to suggest a critter for me to write about? Let me know here.
Learn more about all kinds of cool critters, right here!