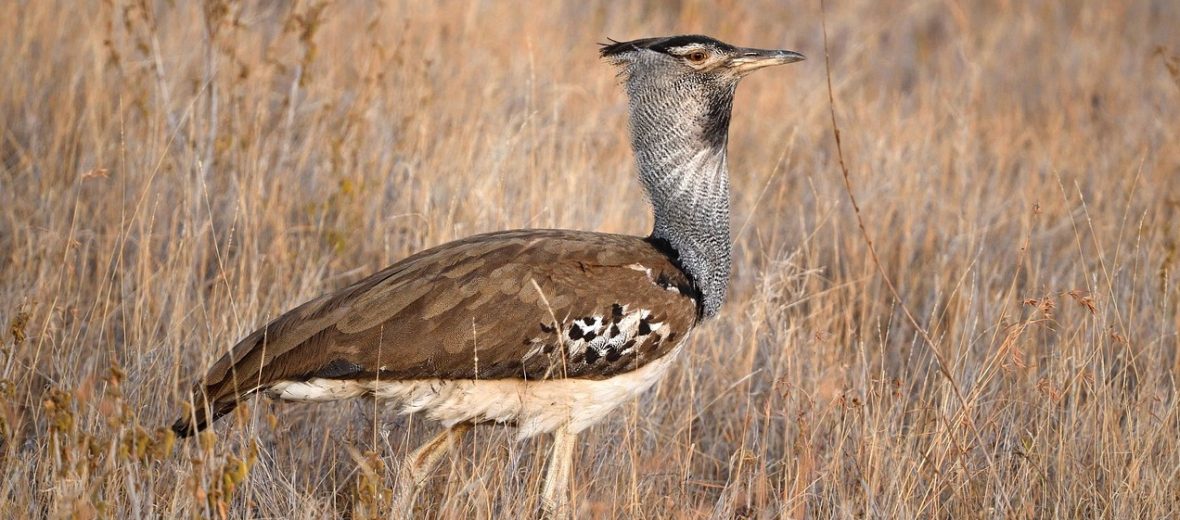 The kori bustard hails from eastern and southern Africa. Their preferred habitats are those containing dry, sandy soil and/or short grass. They can be found in grasslands, savannahs, scrublands, and agricultural fields. Due to habitat destruction, at the hands of agriculture and utility service lines; as well as being hunted and trapped, these birds are listed as Near Threatened by the IUCN. Their numbers are also decreasing.
First the Stats…
Scientific name: Ardeotis kori
Weight: Up to 42 lbs.
Length: Up to 4.2 feet
Wingspan: Up to 9 feet
Lifespan: Up to 27 years
Now on to the Facts!
1.) These birds prefer to walk or run, rather than fly.
2.) If approached by a perceived Predator, they will slowly back away in an effort to remain hidden.
3.) They are diurnal (active during the day).
4.) Kori bustards are sexually dimorphic in that males are twice as large as females.
5.) While normally shy and cautious, they don't seem to have much of a fear of humans.
But wait, there's more on the kori bustard!
6.) When pursued, they will run while flapping their wings.
7.) They prey on insects, mice, rats, smaller reptiles, amphibians, and smaller birds. Their Omnivorous (eat plant and animal matter) diet is supplemented by berries, seeds, and Acacia gum.
Did you know…?
Carmine bee-eaters sometimes perch on the backs of kori bustards. The bee eater benefits from the bustard stirring up insects, while the bustard benefits from the bee-eater's watchful eye of predators.
8.) Kori bustards are polygynous (1 male mates with multiple females).
9.) During mating season, males gather into leks to perform various mating dances in order to attract females. Males will emit low roars, inflate their neck, and erect their neck feathers.
10.) Females dig a small recess into the dirt in which to lay her 1 – 2 eggs. No formal nest is built.
But wait, there's still more on the kori bustard!
11.) The eggs hatch in up to 24 days.
12.) Chicks are born precocial (self sufficient).
13.) Koris lack a preening gland. Instead they have a powdery down that is kept clean via dust baths.
14.) While normally silent, they can produce a bark, a snoring sound, and a growl.
15.) Where most birds scoop up drinking water, the kori bustard sucks up their water.
But wait, there's still a little more on the kori bustard!
16.) Baboons, caracals, cheetahs, eagles, eagle owls, hyenas, jackals, leopards, lions, mongooses, and pythons all prey on either adults, chicks, and/or eggs.
17.) These critters are considered to be among the world's heaviest bird capable of flight.
Now a Short Kori Bustard Video!
Be sure to share & comment below! Also, check out the Critter Science YouTube channel. Videos added regularly!
Want to suggest a critter for me to write about? Let me know here.
Think you know a lot about critters? Try your hand at these fun, free quizzes: