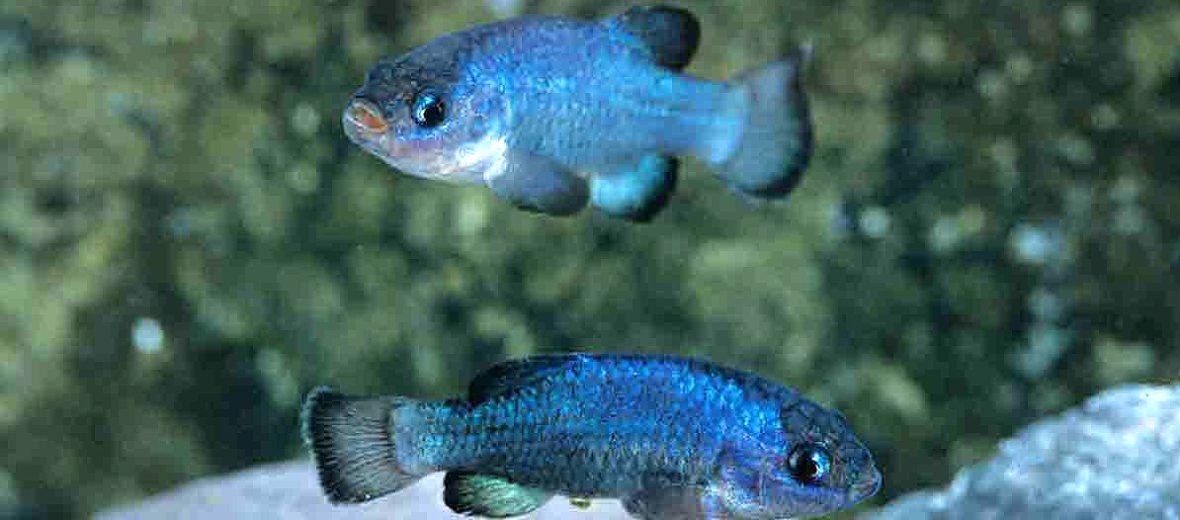 The Devil's Hole pupfish is the smallest of the known pupfish. They reside only in the state of Nevada, in the United States. They also only live in up to the first 80 feet of water and have a territory of between 3 – 5 feet across. Devil's Hole is a naturally occurring body of water formed in a small cavern in the earth. Devil's Hole is 430 feet deep. There are several such caverns in The desert southwest, and each has its own subspecies of pupfish. These fish are listed as Critically Endangered by the IUCN. They face the threats of agricultural water use, flash floods, earthquakes, and vandalism to their habitat. Their population is also decreasing.
First the Stats…
Scientific name: Cyprinodon diabolis
Weight: Up to .25 ounce
Length: Up to 1.2 inches
Lifespan: Up to 14 months
Now on to the Facts!
1.) The Devil's Hole pupfish lives at a constant water temperature of 91°F.
2.) Algae, plants, insects, and aquatic invertebrates make up their diet.
3.) They have no known natural predators.
4.) Pollution and invasive species also affect their numbers.
5.) There are less than 100 individuals of this species of pupfish remaining.
But wait, there's more on the Devil's Hole pupfish!
6.) The pupfish were stranded in these individual bodies of water around 12,000 – 60,000 years ago.
7.) Pupfish are polygynous (1 male mates with multiple females).
Did you know…?
Devil's Hole pupfish were the very first animal species to be listed on the Endangered Species list. They were inducted in 1967.
8.) They breed all year long, since the water conditions don't change with the seasons.
9.) The fry are hatched out at less than .39 inch.
10.) Fry reach sexual maturity at up to 10 weeks old.
Now a Short Devil's Hole Pupfish Video!
Be sure to share & comment below! Also, check out the Critter Science YouTube channel. Videos added regularly!
Want to suggest a critter for me to write about? Let me know here.
Think you know a lot about critters? Try your hand at these fun, free quizzes: