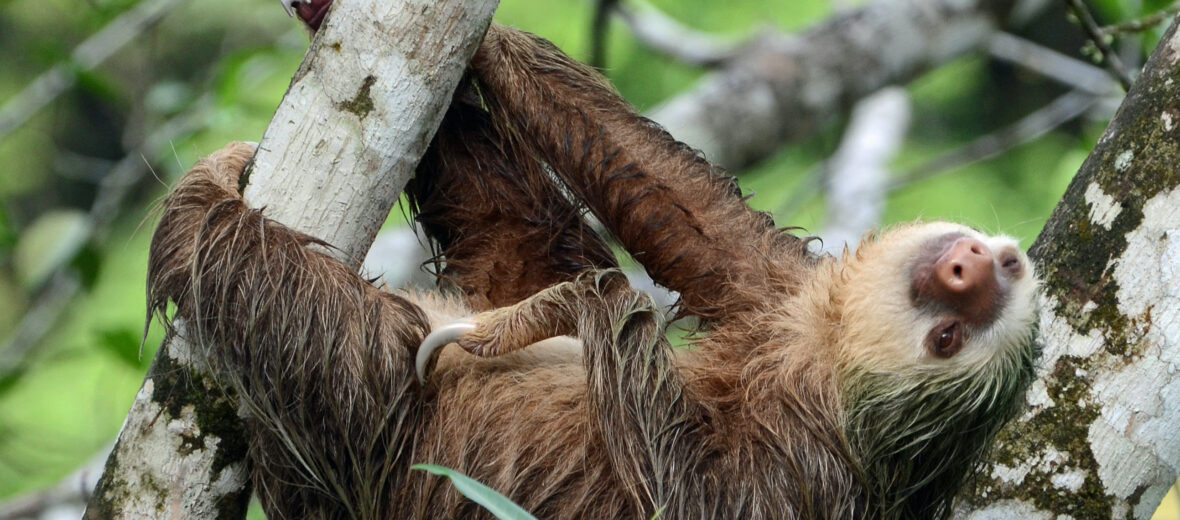 The Hoffmann's 2-toed sloth is not exactly a study in speed. These slow and patient critters spend their entire lives in trees. 2-toed sloths have just that, 2 toes on their forefeet and are equipped with long, curved claws that are used to navigate the trees. They hail from prehistoric ancestors that could grow as large as elephants! You can find these slow and steady creatures in Central and South America and the 2 locales are separated by the Andes mountains. Even though they face threats of habitat destruction, competition with agriculture, and are trapped and hunted, these cool critters are still listed as Least Concern by the IUCN.
First the Stats…
Scientific name: Choloepus hoffmanni
Weight: Up to 13 lbs.
Length: Up to 28 inches, plus up to a 1.18 inch tail
Lifespan: Up to 43 years
Now on to the Facts!
1.) Hoffmann's sloths prefer the rainforest canopy and spend nearly their entire lives in the trees, making them arboreal.
2.) They only venture to the ground to go to the bathroom, then they make the arduous trek back up the tree when finished. They defecate once every week!
3.) The anteater is the sloth's closest relative.
4.) Their heart, liver, and spleen are located in different positions, as compared to other mammals, to allow for their upside down lifestyle.
5.) Hoffmann's 2-toed sloths are nocturnal (active at night).
But wait, there's more on the Hoffmann's 2-toed sloth!
6.) These critters are solitary and only come together to mate.
7.) Sloths sleep for about 15 – 16 hours per day! They often rest within the lianas (woody climbing plant that hangs from trees).
Did you know…?
Often times, even after a sloth dies, they still remain hanging from the branches.
8.) They spend their lives among only 25+/- trees. They will sometimes venture to the ground, not only to defecate but also to travel to another tree.
9.) The Hoffmann's sloth eats leaves, buds, young plant shoots, soft twigs, fruits, and flowers. This makes them a herbivore (eats plant matter) with a primary emphasis on being a folivore (eats leaves).
10.) Their predators are primarily jaguars, ocelots, harpy eagles, and anacondas. Humans will hunt them too.
But wait, there's still more on the Hoffmann's 2-toed sloth!
11.) Their primary defense is to remain hidden in the trees. However, they have a backup. If they are attacked they will slash with their long, sharp claws and bite with their sharp cheek teeth.
12.) Having the lowest and most variable body temperature of any known mammal, these sloth's body temps can fluctuate between 74°F to 92°F! If a human's body temperature where to fluctuate like that or drop that low we would die.
Did you know…?
The Hoffmann's sloth can move at the blinding speed of up to 0.46 feet per second. But can reach 1 foot per second, if excited or fleeing.
13.) These sloths are polygynandrous (promiscuous) and mate with multiple partners.
14.) Females birth a single baby after up to a 377 day gestation (pregnancy).
15.) The male leaves soon after mating and the female is left to care for her young alone.
But wait, there's still a little more on the Hoffmann's 2-toed sloth!
16.) The baby will produce a loud bleating call if separated from their mother.
17.) The name sloth means lazy. But they aren't lazy, they just have a very low energy diet that primarily consists of leaves. So they are actually conserving energy.
Did you know…?
Often times the sloth's fur is used by insects as a mobile micro-ecozone. Insects such as biting and blood-sucking flies and mosquitoes, sandflies, triatomine bugs, lice, ticks, mites, moths, and cockroaches can all be found among the sloth's fur.
18.) If there is a long stint of cold, rainy weather, a nursing female's body temperature can drop too low. This causes the bacteria in her stomach to die, preventing the mother from digesting her food. The young, however, will continue to nurse while its mother starves to death. This is called cold-weather orphan syndrome. The result is that the baby will typically fall from it's dead mother, to the ground, and will either have to be rescued by humans or will be preyed upon by another animal.
19.) Sloths, in general, have poor eyesight and low-frequency hearing. So they rely, almost entirely, on their sense of touch.
20.) Sloths move so slowly that algae literally grows on their fur.
But wait, there's a tiny bit more on the Hoffmann's 2-toed sloth!
21.) Their fur flows from their stomach to the top, not top to their stomach. This allows for rainwater to drip off the fur while they are hanging upside down.
22.) Sloths take upwards of a month to digest their meal!
23.) When the female is receptive to breeding, she lets out a nighttime scream that attracts a potential suitor.
24.) If 2 males get to the receptive female at the same time a slow-motion boxing match breaks out. The winner of the fight gets the girl.
25.) Their normal voice sounds like that of a hissing balloon. They also squeal and grunt, as the situation requires.
26.) Males will scent mark via a gland located near their rump.
Now a Short Hoffmann's 2-Toed Sloth Video!
Be sure to share & comment below! Also, check out the Critter Science YouTube channel. Videos added frequently!
Want to suggest a critter for me to write about? Let me know here.
Learn more about all kinds of cool critters, right here!