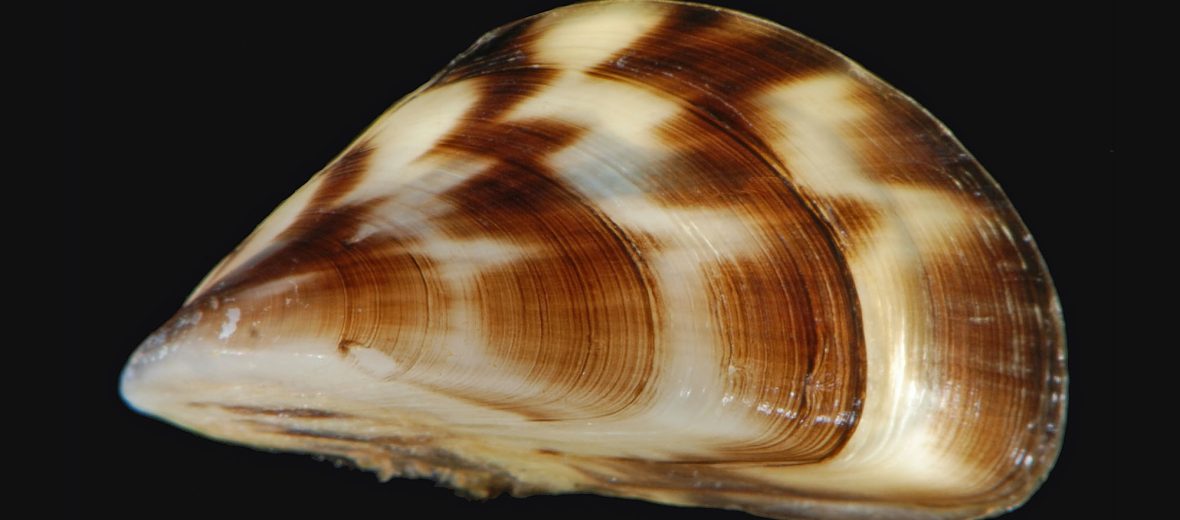 The zebra mussel hails originally from the lakes of southern Russia and Ukraine. But they have been accidentally introduced around the world. Since the 1980s, this species has invaded the Great Lakes, the Hudson River, and also Lake Travis, to name just a few fresh water bodies. They get their namesake from the typical pattern of stripes on their shells. These mussels are listed as Least Concern by the IUCN, due to their global distribution and highly invasive nature.
First the Stats…
Scientific name: Dreissena polymorpha
Weight: Up to .006 ounce
Length: Up to 2 inches
Lifespan: Up to 5 years
Now on to the Facts!
1.) Zebra mussels were first described in 1769, by German zoologist Peter Simon Pallas in the Volga, Ural, and Dnieper Rivers.
2.) The very first documented North American zebra mussel discovery was in Lake St. Clair, Michigan, in June, 1988.
3.) Due to the lack of natural predators, these mussels are left largely unchecked and can reproduce rapidly.
4.) They are transported by several means: waterfowl, shipments containing water, boat hulls, and more.
5.) Zebra mussels are the only known freshwater mussel that can secrete durable elastic strands, called byssal fibers, in which they can securely attach to just about any surface. They then form barnacle-like crusts numerous feet thick.
But wait, there's more on the zebra mussel!
6.) These mussels are capable of attaching to stone, wood, concrete, plastic, fiberglass, PVC, iron, steel, aluminum, and they can also adhere to crayfish and other mussels. Recently, they were found adhering to plants as well.
7.) These bivalves can reproduce up to 1,000,000+ new mussels per year!
Did you know…?
A single zebra mussel can filter up to .26 gallon of water in a 24-hour period. In time, this dramatically affects wildlife by removing planktonic creatures from the water which adversely effects newly forming aquatic life by stealing their food source.
8.) They are able to reproduce at just 1 year of age.
9.) Zebra mussels are filter feeders that feed on phytoplankton, zooplankton, and detritus.
10.) Mussels can be washed up onto beaches and not only litter them, but their sharp shells can cut bather's feet. The beached mussels also end up decaying and causing a nasty odor.
But wait, there's still more on the zebra mussel!
11.) Mussels that attach to boats and other vessels can cause additional drag and wasted gas consumption.
12.) They can end up getting sucked into the intakes of vessels clogging the cooling system, which can cause overheating and engine damage/failure.
Did you know…?
Unfortunately, a majority of these mussel's natural enemies are not found in North America. This leaves them mostly unchecked to take over.
13.) Docks can also become unstable and structurally fail due to the weight of these bivalves.
14.) Buoys have even been known to sink under the weight of being encrusted.
15.) What makes matters worse is that these mussels can adapt to both fresh and brackish (partially salty) water habitats.
But wait, there's still a little more on the zebra mussel!
16.) They can dwell in water temperatures between 68°F – 77°F.
17.) Controlling these mussel infestations is tough too. Using screens to filter them out only applies to juvenile and adult mussels, Veligers (the free-swimming microscopic larval stage) pass right through screens and end up down river to continue colonization.
Did you know…?
Crayfish prey on about 105 zebra mussels each day, or roughly 6,000 mussels in a season. However, predation rates are dramatically reduced at colder water temperatures that lack these predators.
18.) Increasing the flow rate of river water is a proposed solution but this can make it hard for other aquatic life to grow and develop.
19.) Raising the temperature of the water to 140°F+ and oxygen deprivation kills them. But also kills the other desired aquatic life.
20.) If you boat in infested bodies of water, be sure, when you leave the water, to drain the bilge, engine cooling system, & live wells, and be sure to trailer your equipment in the open drain position to allow for the release of any water. Be sure to dump out bait buckets away from the water. Inspect your equipment for mussels and remove any that may have attached. Wash the equipment with hot water (at least 140°F), if mussels are found, and let the equipment to sit for 2 – 5 days dry and/or spray down all equipment with a 10% bleach solution and let it sit several minutes before rinsing off.
But wait, there's still a tad more on the zebra mussel!
21.) In Illinois, Minnesota, and Michigan, using zequanox, which uses a biopesticide called Niclosamide has proven effective in killing invasive zebra mussels in cooler waters.
22.) The cost of zebra mussel management and control in just the Great Lakes alone exceeds $500 million per year!
Did you know…?
Zebra mussels accumulate toxins as they filter water. These toxins can be harmful to humans, pets, and certain birds.
23.) Electric-generation and water-treatment facilities spend an estimated $267 million annually in the control and/or the eradication of these pests.
24.) These mussels present a food source to certain waterfowl and have caused bird numbers to nearly double over the last 30 years. By the end of winter, these birds decimated zebra mussel populations and reduced them by up to 99% up to the maximum depth obtainable by these birds of 33 feet.
25.) Loons, cormorants, grebes, mergansers, scoters, gulls, and some species of diving ducks all prey on these pests without ill consequences.
Now a Short Zebra Mussel Video!
Pick up your Critter Science books today, at Amazon!
Be sure to share & comment below! Also, check out the Critter Science YouTube channel. Videos added regularly!
Want to suggest a critter for me to write about? Let me know here.