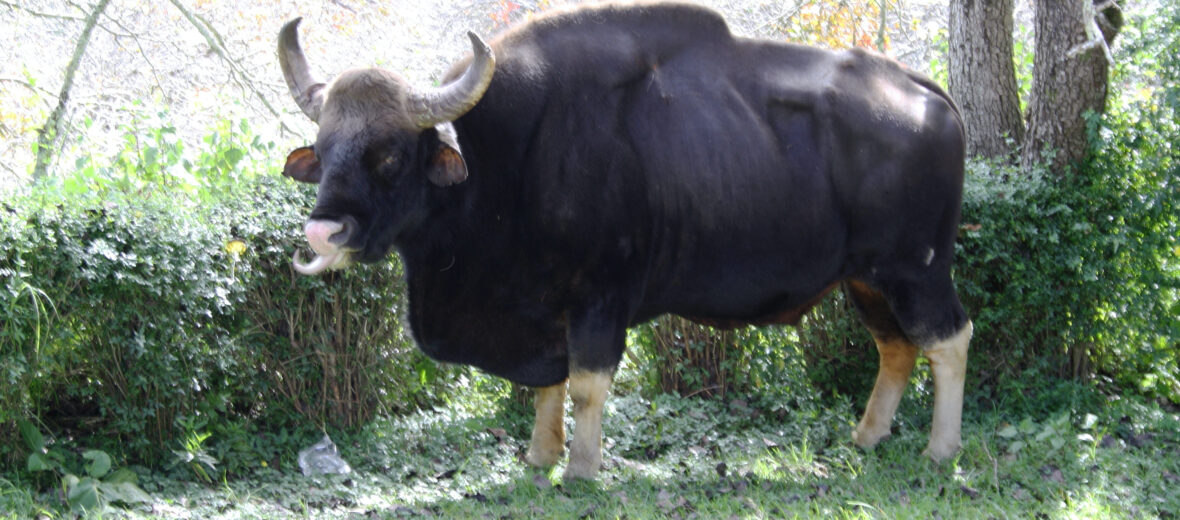 The gaur is the biggest member of the bovine family. They can be found in southern and southeastern Asia. There are 3 subspecies recognized: Indian bison, South East Asian bison, and the Malaysian bison. These beasts can be found at altitudes of up to 6,000 feet, grazing in evergreen and deciduous forests. Due to habitat destruction and poaching, their population has decreased by 70%, causing them to be listed as Vulnerable by the IUCN!
First the Stats…
Scientific name: Bos gaurus
Weight: Up to 2,200 lbs.
Length: Up to 11 feet
Height: Up to 7 feet, at the shoulder
Lifespan: Up to 26 years
Now on to the Facts!
1.) Herds can contain over 10 gaurs. The herd contains 1 dominant male, 1 dominant female, and remaining bison are subordinates.
2.) They are herbivores (eat plant matter) that consume grass, shoots, leaves, and fruit. As consumers of fruit, they are important seed dispersers.
3.) Gaurs are typically diurnal (active during the day) but can become nocturnal (active at night) when living near humans.
4.) Their predators (primarily only on sick, injured, or young calves) are typically saltwater crocodiles and tigers. However, leopards and dholes will sometimes prey on them.
5.) Their horns can grow up to 3.5 feet in length!
But wait, there's more on the gaur!
6.) When alarmed, males will emit a high pitched snort followed by a growling moo.
7.) Domesticated gaurs are known as gayals, or mithuns.
Did you know…?
The gaur is the mascot of the 54th Infantry Division of the Indian Army, aka the Bison Division.
8.) Herds are matriarchal, where the largest female is in charge of the group.
9.) Due to their size and power, healthy adults are capable of killing an attacking tiger!
10.) Females birth a single calf every 12 – 15 months.
Now a Short Gaur Video!
Also, check out the Critter Science YouTube channel. Videos added frequently!
Want to suggest a critter for me to write about? Let me know here.
Learn more about all kinds of cool critters, right here!