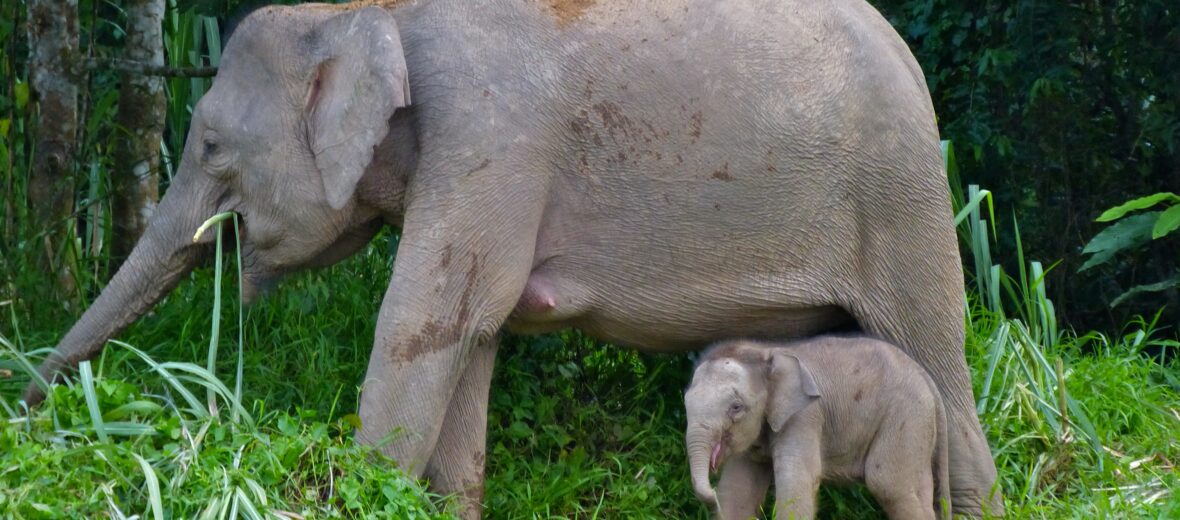 Hailing from northern and northeastern Borneo, Malaysia, and Indonesia, the Borneo pygmy elephant is the smallest pachyderm in Asia. They prefer lowland rainforests and valleys, near water sources. They have a long tail that can even be seen dragging on the ground and a cute baby-like face. Borneo elephants are thought to be derived from Sundaic stock that later became an isolated, genetically divergent population approximately 300,000 years ago. Others believe that they are from a stock of Asian elephants that were released into the jungle in the mid 1700s. Due to poaching and habitat loss, these beautiful creatures are listed as Endangered by the IUCN.
First the Stats…
Scientific name: Elephas maximus borneensis
Weight: Up to 11,000 lbs.
Length: Up to 18 feet
Height: Up to 9.8 feet
Lifespan: Up to 75 years
Now on to the Facts!
1.) Borneo elephants are a more gentler species than their Asian and African counterparts.
2.) As a result of their isolation from other Asian elephants, Borneo elephants evolved to become smaller, developing bigger ears, longer tails, and straighter tusks.
3.) Like all elephants, they live in a matriarchal hierarchy. The dominant female rules the herd.
4.) They eat up to 300 lbs. of vegetation a day! This is also why they are a keystone species, in that they are important seed dispersers.
5.) These very mobile critters can travel up to 30 miles in a day.
But wait, there's more on the Borneo pygmy elephant!
6.) Just like other elephants, Borneo pygmy elephants are excellent swimmers.
7.) Females birth a single calf after up to a 22 month gestation (pregnancy).
Did you know…?
Only around 1,500 pygmy elephants remain in the wild today.
8.) Despite their poor vision, they possess excellent hearing and a fantastic sense of smell.
9.) Elephants are capable of displaying emotions like laughing and crying, grief and compassion. They also play and have a highly-developed memory.
10.) They are also able to hear neighboring elephant's sub-sonic rumblings by using their feet and trunks, that pick up the vibrations made from the other elephants.
Now a Short Borneo Pygmy Elephant Video!
Also, check out the Critter Science YouTube channel. Videos added frequently!
Want to suggest a critter for me to write about? Let me know here.
Learn more about all kinds of cool critters, right here!