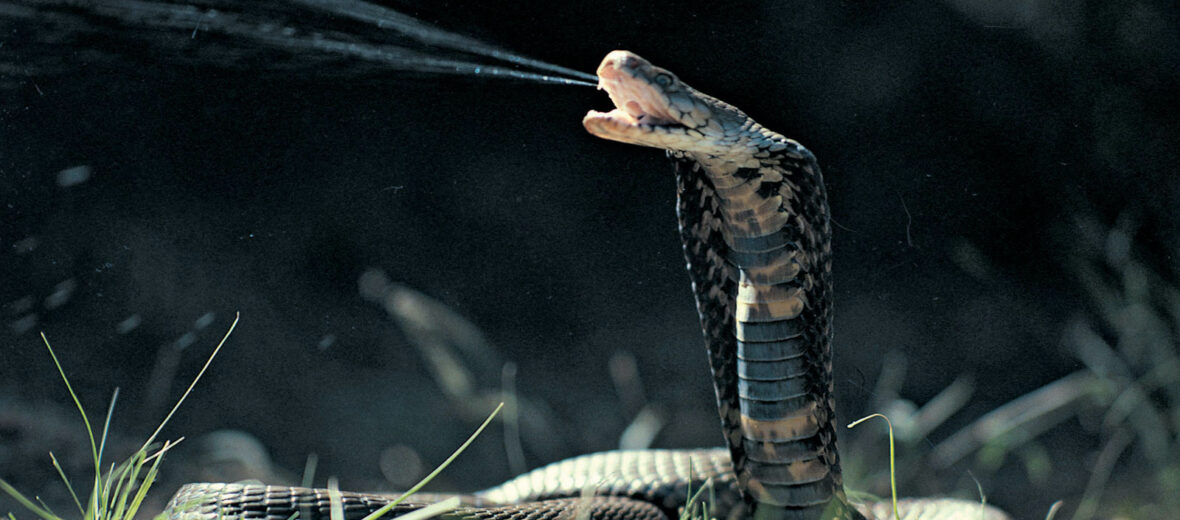 Cobras, in and of themselves, are dangerous enough. But the Indochinese spitting cobra adds that special element of surprise and danger to the mix; and not just the Indochinese cobras are potentially deadly. There are 20 known species of spitting cobra. 10 are found in Africa and 10 are found in Asia. Not only can these cobras bite, but they can spew blinding venom too. Cause, why not? Even though there are numerous species of spitting cobra, this article will focus primarily on the Indochinese species, which is found in Thailand, Cambodia, Vietnam, and Laos. They prefer lowlands, plains, hills, and woodland areas. These critters are also especially attracted to rural areas, due to the large rodent populations. The IUCN lists this species as Vulnerable, due to trapping and hunting.
First the Stats…
Scientific name: Naja siamensis
Weight: Up to 4 lbs.
Length: Up to 3.9 feet
Lifespan: Up to 15 years
Now on to the Facts!
1.) The spitting cobra doesn't actually spit its venom, but rather squeezes it out of the small holes in the front of its fangs. It can launch this venom up to 6.5 feet and it typically always goes for the face and eyes. It also has amazing accuracy!
2.) These cobras are also called Siamese spitting cobras, Thai spitting cobras, or black-and-white spitting cobras.
3.) When they spray their venom, they move their heads from left to right and back again to cover more of an area.
4.) They are able to spray venom up to 40 times consecutively.
5.) Indochinese cobras are nocturnal (active at night).
But wait, there's more on the Indochinese spitting cobra!
6.) This snake will typically prey on rodents, but will eat amphibians and other snakes.
7.) Being as the fangs are typically small, when they bite they will aggressively chew to inject as much venom as possible.
Did you know…?
Their venom in a postsynaptic neurotoxin and cytotoxin, which causes necrosis. Bites cause pain, swelling, and tissue death. Venom sprayed into the eyes causes extreme pain, and temporary to permanent blindness.
8.) Females are oviparous and lay up to 19 eggs.
Now a Short Indochinese Spitting Cobra Video!
Also, check out the Critter Science YouTube channel. Videos added frequently!
Want to suggest a critter for me to write about? Let me know here.
Learn more about all kinds of cool critters, right here!