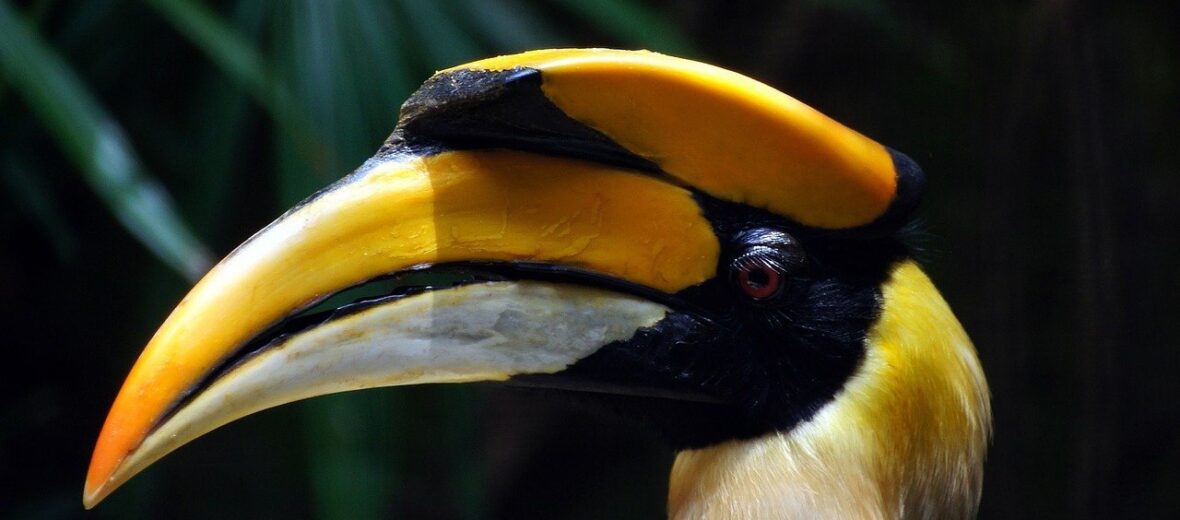 With 45 known species of hornbill, there are many variations of these fascinating birds to favor. These birds can be found in Africa, Asia, and Melanesia. They like primary lowland rainforests with plenty of tall, fruit-bearing trees. Some can also be found in wet evergreen and mixed deciduous forests. Most, but not all sport a fancy casque above their large downward facing beaks. Most hornbills, due to habitat destruction, are listed as Vulnerable, Endangered, or even Critically Endangered by the IUCN and their populations are steadily decreasing.
First the Stats…
Scientific name: Bucerotidae
Weight: Up to 6.2 lbs.
Length: Up to 3.9 feet
Wingspan: Up to 5.8 feet
Lifespan: Up to 50 years
Now on to the Facts!
1.) While they mostly eat figs, they will also take eggs, insects, reptiles, amphibians, mammals, and even small birds.
2.) The chuffing beat of their wings is so loud it can be heard for up to 1/4 mile or more away!
3.) Their rough, guttural calls sound a lot like barking dogs. They also make a laughing sound.
4.) A hornbill is the symbol of the Malaysian Democratic Action Party. They are also very important symbols for some tribes in East Malaysia.
5.) The casque makes up to 10% of the bird's total body weight.
But wait, there's more on the hornbill!
6.) Female hornbills literally seal themselves in their nests to incubate her eggs. She will stay entombed for up to 5 months! The male, and sometimes other hornbills, will feed her and her chicks through a small slit at the top of the nest.
7.) Many hornbills are monogamous (mate for life).
Did you know…?
Due to the weight of their casque, their first 2 neck vertebra are fused together just to support the weight of their head.
8.) Females lay up to 2 eggs each season.
9.) Eastern yellow-billed hornbills have a communal relationship with mongooses in that the mongooses stir up insects for the birds while the birds, in turn, keep a watchful eye out for predators.
10.) A hornbill can consume up to 50 figs during a single meal!
Now a Short Hornbill Video!
Also, check out the Critter Science YouTube channel. Videos added frequently!
Want to suggest a critter for me to write about? Let me know here.
Learn more about all kinds of cool critters, right here!