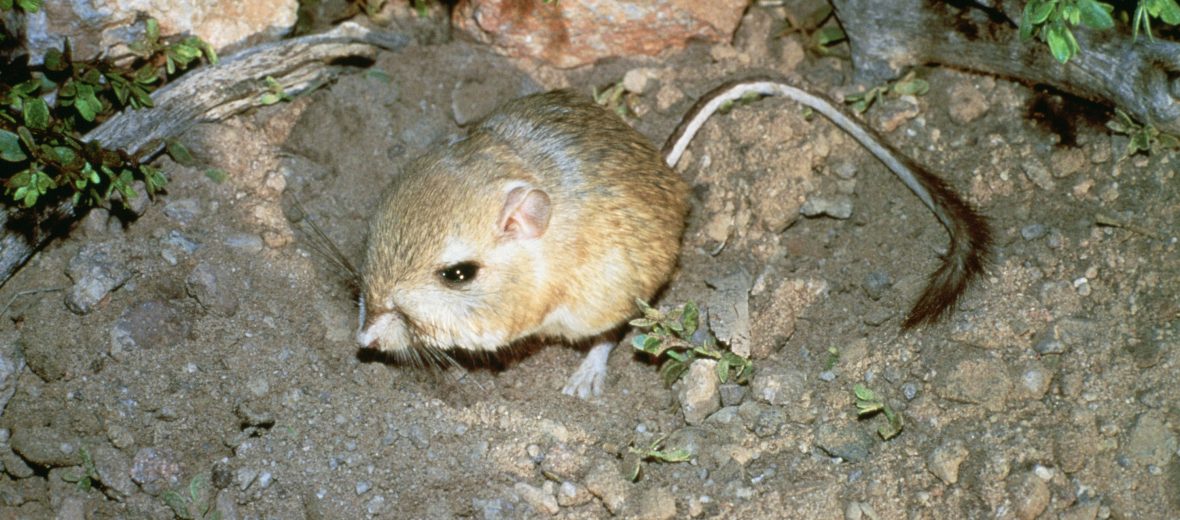 The giant kangaroo rat is the biggest of the 20 known species of kangaroo rats. In true kangaroo fashion, these critters prefer to hop, rather than walk. They use their strong hind legs to hop and their long tail as a counter-balance. These rodents can be found throughout the San Joaquin Valley, in California. Giant kangaroo rats prefer drier areas that get very little rain. Their preferred habitat is a combination of sparse grassland complete with well-drained soil. Sadly, due to habitat destruction, at the hands of housing development, agriculture, and mining; vehicle strike (being hit with vehicles on the road); ecosystem modifications; hunting; and trapping, these critters are listed as Endangered by the IUCN. Their numbers are also decreasing.
First the Stats…
Scientific name: Dipodomys ingens
Weight: Up to 4 ounces
Length: Up to 7.8 inches, plus up to an 8.4 inch tail
Lifespan: Up to 9.8 years
Now on to the Facts!
1.) These critters are nocturnal (active at night).
2.) During the day, they hide out in their burrows, sealing the entrance with loose soil.
3.) Foraging only lasts around 20 – 30 minutes a night. Then they retire to their burrow.
4.) Being granivores (eat seeds), these rodents will consume their nightly portion of seeds and the green portions of native desert plants. They will also happily take fresh plants from agricultural fields as well.
5.) These animals are solitary and territorial. Only coming together to breed.
But wait, there's more on the giant kangaroo rat!
6.) Their burrows are not very deep and house multiple chambers, including a sleeping chamber and 1 or more chambers for caching food reserves.
7.) Giant kangaroo rats will announce their territory via loudly drumming with their hind feet, when an opponent comes near. They will also kick dirt in the face of predators, such as snakes.
Did you know…?
These critters may be small, but they're fast. They can reach speeds of up to 9.8 feet per second, when evading a Predator.
8.) Owls, coachwhips, rattlesnakes, king snakes, bull snakes, badgers, coyotes, and kit foxes all prey on these rodents.
9.) A group of kangaroo rats is called a pack, plague, colony, or swarm.
10.) Kangaroo rats are polygynous (1 male mates with multiple females).
But wait, there's still more on the giant kangaroo rat!
11.) Breeding takes place from January – May.
12.) Females undergo up to a 32 day gestation (pregnancy) that yields up to 6 pups, with 3 being the average.
Did you know…?
They don't have the need to drink standing water as they get their daily supply of moisture from the foods they eat.
13.) Both parents rear their young.
14.) The babies, aka pinkies, kits, or pups, are weaned in up to just 25 days.
15.) Giant kangaroo rats are sexually mature in up to a mere 84 days.
But wait, there's still a little more on the giant kangaroo rat!
16.) These creatures don't pant or sweat to keep cool. They rely on hiding in their burrows to escape the heat.
17.) Due to specially evolved kidneys, most of the water they get from their food is extracted and very little water is expelled in their waste.
18.) Their nasal passageways have evolved the ability to cool the creature without losing much moisture.
19.) Dust baths are utilized to clean these animals, since water is not readily available.
20.) Cheek pouches are used to carry food reserves back to their burrow, for leaner times.
Now a Short Giant Kangaroo Rat Video!
Be sure to share & comment below! Also, check out the Critter Science YouTube channel. Videos added regularly!
Want to suggest a critter for me to write about? Let me know here.
Think you know a lot about critters? Try your hand at these fun, free quizzes: