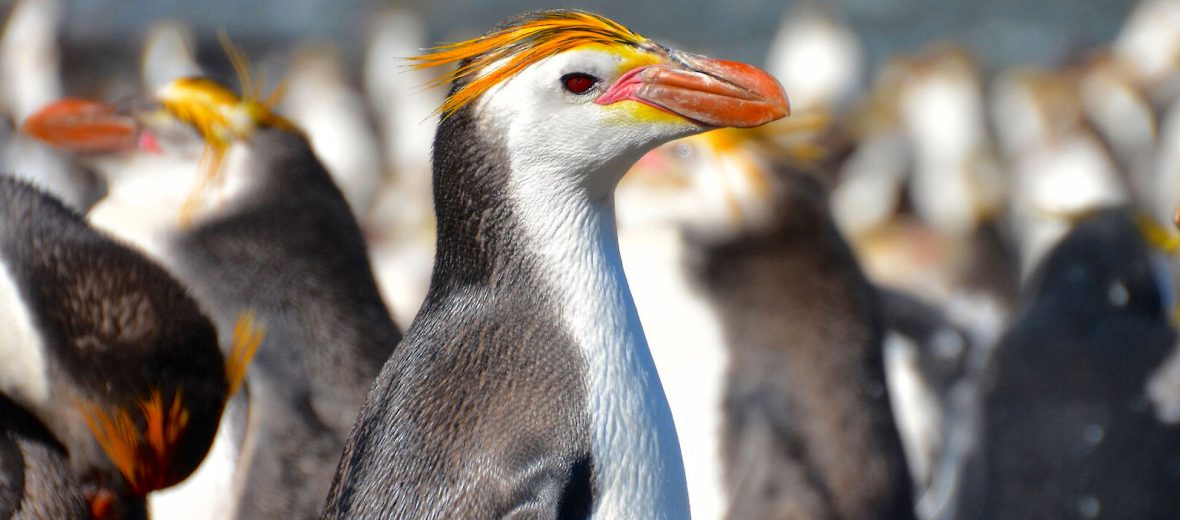 The royal penguin hails from Macquarie Island, and is the largest of the recognized crested penguin species. They prefer rocks, small shrubs, tussock grasses, grassy slopes, and beach habitats. Due to their stable numbers, an estimated 1,660,000, these penguins are listed as Least Concern by the IUCN. They do still face the threats of hunting, trapping, human interference, landslides, avalanches, invasive species (and with them disease), and climate change (that causes their food source to dwindle, as well as causing flooding on land).
First the Stats…
Scientific name: Eudyptes schlegeli
Weight: Up to 9.4 lbs.
Length: Up to 2.3 feet
Wingspan: Up to 1.8+ feet
Lifespan: Up to 20 years
Now on to the Facts!
1.) These social penguins gather into massive colonies. Some as large as 500,000 pairs!
2.) Even in such large gatherings, the parents are still able to distinguish the calls of their chick.
3.) Royal penguins are piscivores (eat aquatic life) that prey on fish, krill, amphipods, cephalopods, and crustaceans.
4.) Fur seals prey on these critters and sometimes elephant seals will trample penguins bunched together on overcrowded beaches.
5.) When confronting an opponent, these penguins will hiss, lunge, and bite & grip onto their opponent by the neck. However, injuries are rare.
But wait, there's more on the royal penguin!
6.) While capable of making deep dives, these birds tend to stay in shallower depths, while hunting.
7.) Royal penguins molt after the breeding season, at the end of March.
Did you know…?
Their scientific name is in honor of German zoologist Herman Schlegel.
8.) A group of penguins is called a colony, convent, huddle, raft, rookery, or waddle.
9.) Like many other penguins, they are monogamous (mate for life).
10.) Even though females lay 2 eggs, only 1 is incubated by both parents.
But wait, there's still more on the royal penguin!
11.) The incubated egg hatches in up to 35 days and the chick is independent in up to 65 days.
12.) These penguins first breed at around 5 years of age.
Did you know…?
Dives of up to 328 feet are not uncommon.
13.) In what is called porpoising, these critters will swim at or near the water's surface to get a view of their surroundings.
14.) When on land, they tend to walk, or waddle, rather than hop.
15.) It is still uncertain exactly where these penguins go, while out to sea.
Now a Short Royal Penguin Video!
Be sure to share & comment below! Also, check out the Critter Science YouTube channel. Videos added regularly!
Want to suggest a critter for me to write about? Let me know here.
Think you know a lot about critters? Try your hand at these fun, free quizzes: