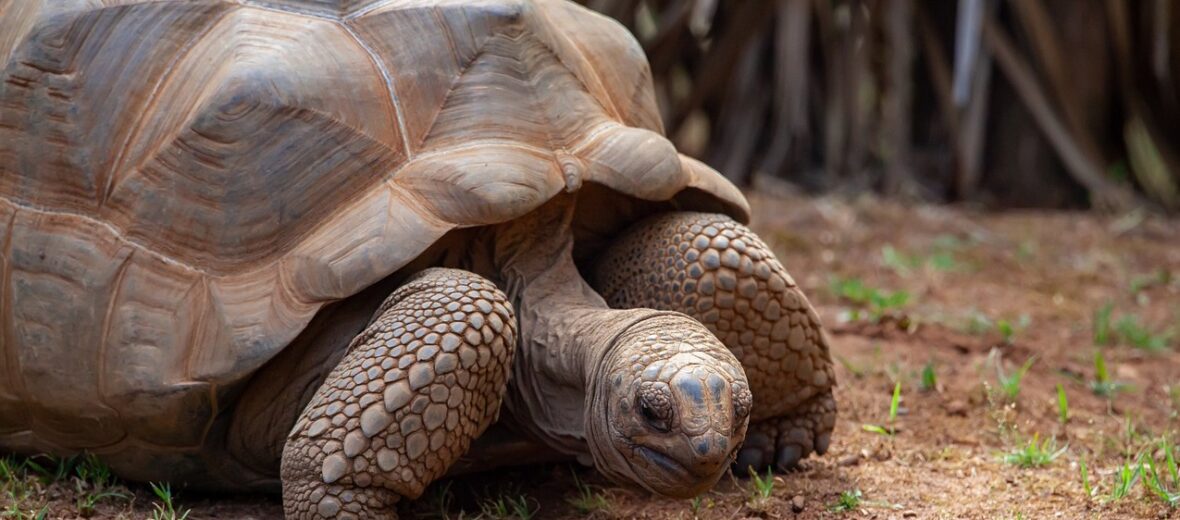 Found on Aldabra island in the Indian Ocean, the Aldabra tortoise is one of the largest tortoise species in the world, after the Galápagos tortoise. These giants prefer mangrove swamps, scrublands, coastal dunes, and grasslands. There used to be 18 known species of giant tortoise throughout the islands in the Indian Ocean. However, in stepped human interference. Due to uncontrolled, over-hunting of adults and collection of eggs they all went extinct, sans the Aldabras. The remaining Aldabras are listed as Vulnerable by the IUCN due to habitat loss, hunting, competition with introduced grazers (like cows), climate change, and over-collecting.
First the Stats…
Scientific name: Aldabrachelys gigantea
Weight: Up to 550+ lbs.
Length: Up to 4 feet
Lifespan: Up to 120+ years
Now on to the Facts!
1.) These tortoises are diurnal (active during the day), like all known tortoises.
2.) They are sexually dimorphic in that males are significantly heavier and larger than females.
3.) A group of tortoises is called a bale, turn, dole, nest, or creep.
4.) While being primarily herbivores, they have been known to expand into the omnivore status. They typically eat leaves and grass. But they will also dine on invertebrates and even carrion (dead animals); sometimes even eating their own dead.
5.) The Aldabras are polygynandrous (both males and females having multiple partners).
But wait, there's more on the Aldabra tortoise!
6.) Breeding season runs from February – May.
7.) Up to 14 rubbery eggs are laid in a shallow nest. In captivity, up to 25 eggs are laid.
Did you know…?
These giants can reach a top speed of .31 mph. Hey, they're a tortoise, not a hare.
8.) Around half of the laid eggs are infertile.
9.) Incubation can last up to 260 days, depending upon the surrounding temperature. The cooler it is, the longer it takes to hatch.
10.) Due to the introduction of foreign species, the Aldabras now have predators, where before they didn't. These predators include cats, dogs, foxes, pigs, and rats.
But wait, there's still more on the Aldabra tortoise!
11.) Contrary to what is seen in cartoons, a tortoise cannot come out of its shell or it will die. It's shell is fused to its skeleton and skin.
Did you know…?
One of these tortoises was said to have lived to over 250 years of age!
12.) The only known social behavior exhibited by these tortoises is a behavior called "nosing". This is where one tortoise will approach another, lie down, and rub the other one's neck and head with its nose for several minutes.
13.) Due to their consumption of fruit and other seeded plants, they are considered important seed dispersers.
14.) Believe it or not, these giants are excellent swimmers. This might explain why they used to be spread out through many island chains.
Now a Short Aldabra Tortoise Video!
Be sure to share & comment below! Also, check out the Critter Science YouTube channel. Videos added frequently!
Want to suggest a critter for me to write about? Let me know here.
Learn more about all kinds of cool critters, right here!