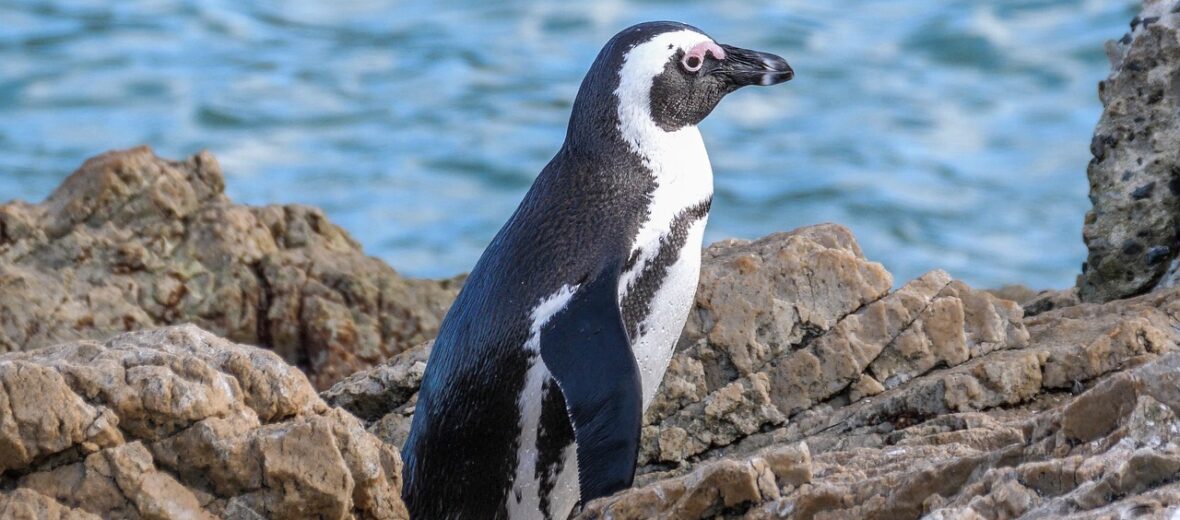 The African penguin, aka jackass penguin, is nicknamed for their donkey-like bray. These penguins are an indicator species that has represented an overall decline in numbers due to overfishing of lesser-valued species such as sardines & anchovies, and has shown the negative effects of climate change. They can be found along the Western coast and islands between South Africa and Namibia. With an estimated population of 41,700 remaining in the wild to date, these cute penguins are listed as Endangered by the IUCN. Their numbers are also decreasing. Other factors, aside from overfishing and climate change, that affect these birds is pollution and habitat destruction.
First the Stats…
Scientific name: Spheniscus demersus
Weight: Up to 6.8 lbs.
Length: Up to 18 inches
Lifespan: Up to 20 years
Now on to the Facts!
1.) African penguins communicate with each other via vocalizations and body language. Each penguin has its own unique & special vocalization that tells it apart from the others. They use 3 different types of calls: a yell, a bray, and a haw.
2.) They keep warm and cool via 2 means: They stay warm in the cold water via a dense packing of feathers that also help them swim quickly through the water. These critters also have a special pink gland above their eyes that is filled with blood, when the temps get hot. When the breeze blows, it cools down the blood in this gland (via thermoregulation – balancing their core temp.) and lowers their body temperature, thus keeping them cooler.
3.) Their scientific name Spheniscus demersus translates to "diving wedges".
4.) Males are larger and have longer beaks than females.
5.) In stark contrast to their numbers, in the 1800s, these penguins used to number around 4 million!
But wait, there's more on the African penguin!
6.) African penguins prey on anchovies, pilchards, horse mackerel, round herrings, squid, and even crustaceans.
7.) They dig nests in guano (bird or bat poop) and also in sand. They typically look for shaded locations to nest, to protect the eggs and chicks.
Did you know…?
They can dive up to 426 feet and hold their breath for up to 4.5 minutes.
8.) Females lay 2 eggs each season.
9.) Both mom and dad share incubation duties.
10.) During the first month of life, the chicks are fed and cared for by both parents. After which time they will join a crèche (group) of other chicks while mom and dad leave to hunt.
But wait, there's still more on the African penguin!
11.) These little penguins can make arduous journeys of up to 68 miles at a time, in search of food.
Did you know…?
These penguins can swim at speeds of up to 12.42 mph!
12.) Once a year, they will return to their colonies to undergo a molt. This molt lasts up to 20 days. During this time, they lose almost half of their body weight, and remain on land and fast.
13.) Gulls, feral cats, domestic dogs, and mongooses prey on these wee little penguins while nesting on land. In the water, they have to worry about sharks and fur seals.
14.) African penguins are monogamous (mate for life) around 80% – 90% of the time.
15.) Like other penguins, these penguins have flattened corneas. This prohibits light from bending when it passes through their corneas underwater, which could cause their vision to blur when diving.
Now a Short African Penguin Video!
Be sure to share & comment below! Also, check out the Critter Science YouTube channel. Videos added frequently!
Want to suggest a critter for me to write about? Let me know here.
Learn more about all kinds of cool critters, right here!