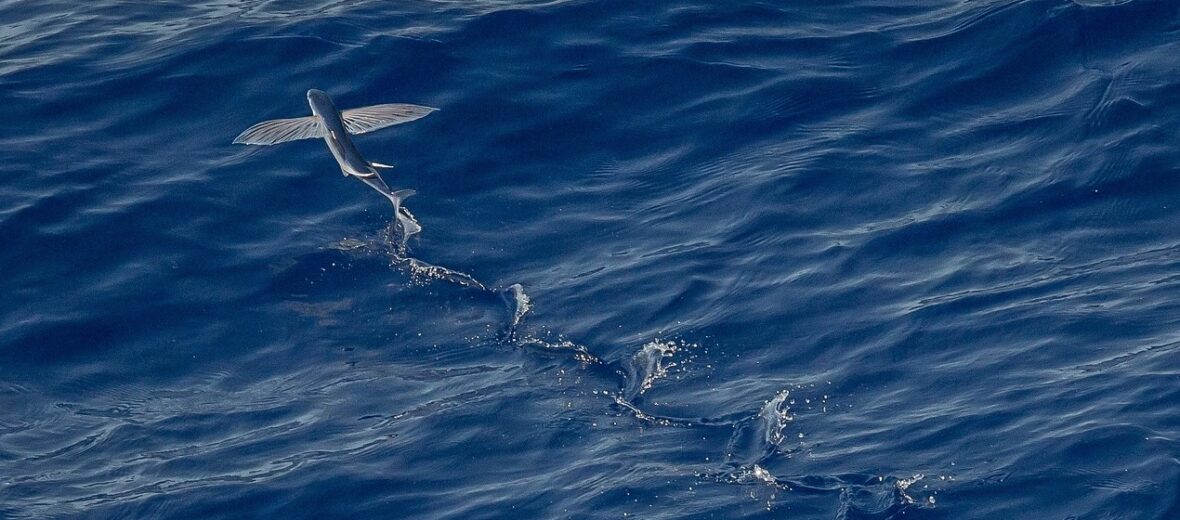 A fascinating fish to behold is the flying fish. I've seen them in action before. It's cool as heck! They leap from the water and glide considerable distances, before re-entering the water again. There are approximately 64 known species of flying fish distributed in the Atlantic, the Pacific, and the Indian Oceans. They prefer tropical and sub-tropical waters. Due to their numbers in the Caribbean Sea. Barbados was often called the "The land of flying fish". Generally speaking, flying fish, as a whole are listed as Least Concern by the IUCN, due to their stable numbers.
First the Stats…
Scientific name: Exocoetidae
Weight: Up to 2.2 lbs.
Length: Up to 18 inches
Lifespan: Up to 5+ years
Now on to the Facts!
1.) These flyers of the sea prey on plankton and various crustaceans.
2.) They are preyed on by many. This includes dorado, swordfish, marlin, mackerel, tuna, and while airborne they are sometimes picked off by frigate birds.
3.) Fishing commercially in China, Japan, and Vietnam entails gill-netting. In India & Indonesia they practice dip-netting to catch these fish.
4.) To date, the oldest known fossil of a flying fish dates back to the Middle Triassic, 235 – 242 million years ago.
5.) Flying fishes, as a whole, are typically nocturnal (active at night), but can be seen during the day.
But wait, there's more on the flying fish!
6.) The flying fish is a schooling fish that congregates into large shoals.
7.) Schools can reach up to 1,000,000 in size!
Did you know…?
These cool fish can "fly" up to 35+ mph! They can also reach 4 feet in the air and glide for up to and over 1,300 feet!
8.) The meat of these fish is said to be firm, tender, and white in color; providing a good tasting meat.
9.) Females lay large amounts of eggs attached to floating debris and seaweed which ensures the success of their species.
10.) When the fry are born they look like plants and have whiskers near their mouths.
Now a Short Flying Fish Video!
Be sure to share & comment below! Also, check out the Critter Science YouTube channel. Videos added frequently!
Want to suggest a critter for me to write about? Let me know here.
Learn more about all kinds of cool critters, right here!