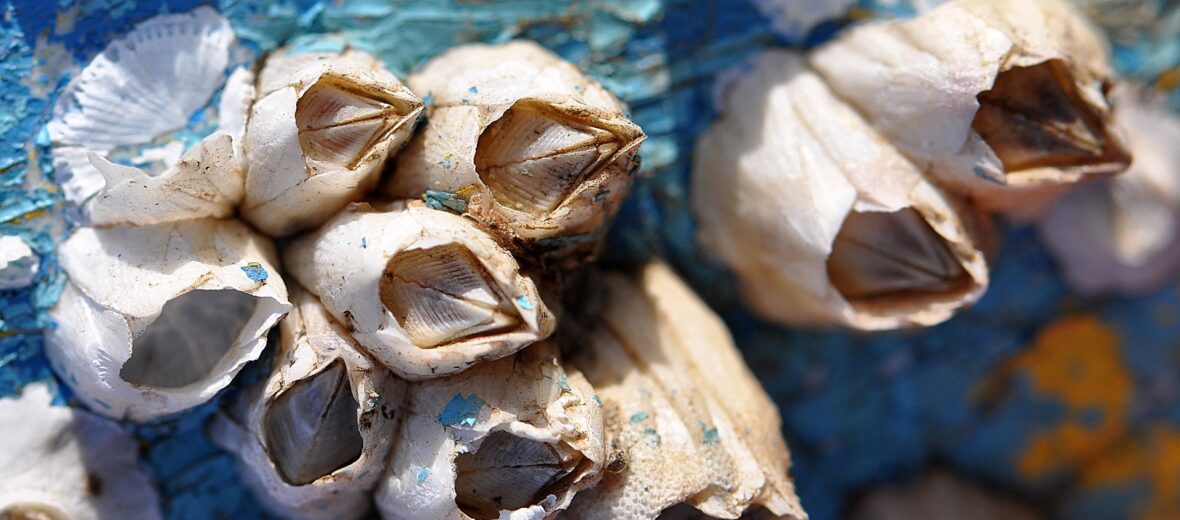 The barnacle is a form of oceanic invertebrate that is categorized as an arthropod. There are approximately 1,220 known species of barnacles. They can be found in all the world's oceans, preferring shallower water, but they can also be found in deep water. Barnacles come in a wide variety of colors, like: green, brown, pink, yellow, orange, or even striped. Oceanic pollution and climate change have had a negative effect on various barnacle species around the world.
First the Stats…
Scientific name: Cirripedia
Weight: Up to 3 lbs.
Length: Up to 12 inches
Lifespan: Up to 20 years
Now on to the Facts!
1.) Their outer shell is comprised of 6 calcareous plates that are typically circular in shape.
2.) Barnacles don't possess a heart or even gills. However, a sinus close to the esophagus serves a similar purpose. Instead they respirate via the body's wall and by means of their cirri (feather-like appendages).
3.) The only time they are mobile is in their larval form. Once they find a suitable resting spot, they latch on and there they stay, for the rest of their life.
4.) Whales, sea turtles, crabs, and other sea creatures sometimes have barnacles attached to them.
5.) Besides sea creatures, barnacles also attach to docks, rocks, ships, and other stationary objects in the water.
But wait, there's more on the barnacle!
6.) The most commonly found are acorn barnacles.
7.) Due to their tenacity of clinging to boats and ships, some sailors call them "crusty foulers".
Did you know…?
They adhere to surfaces via a fast-curing adhesive called cyprid cement. It can withstand up to 5,000 lbs. per square inch of pull and an adhesive strength of 22 – 60 lbs. per square inch! It's among the strongest "glue" known.
8.) Barnacles feast on various plankton and algae.
9.) The study of barnacles is called cirripedology.
10.) Sea stars, mussels, and welks prey on barnacles.
But wait, there's still more on the barnacle!
11.) Mating season takes place between autumn – winter, when the water is colder.
12.) Even though barnacles are hermaphrodites (possess both male and female organs), they don't reproduce via self-fertilization.
Did you know…?
Goose barnacles are sometimes served as a meal, in restaurants.
13.) Barnacles have a rather elongated phallus that is used to inseminate nearby barnacles.
14.) After spending the winter in an egg sac, the barnacle undergoes 2 stages of larval development: nauplius and cyprid, before finally reaching adulthood.
15.) Barnacles have been around for approximately 330 million years, changing very little at all.
Now a Short Barnacle Video!
Be sure to share & comment below! Also, check out the Critter Science YouTube channel. Videos added frequently!
Want to suggest a critter for me to write about? Let me know here.
Learn more about all kinds of cool critters, right here!