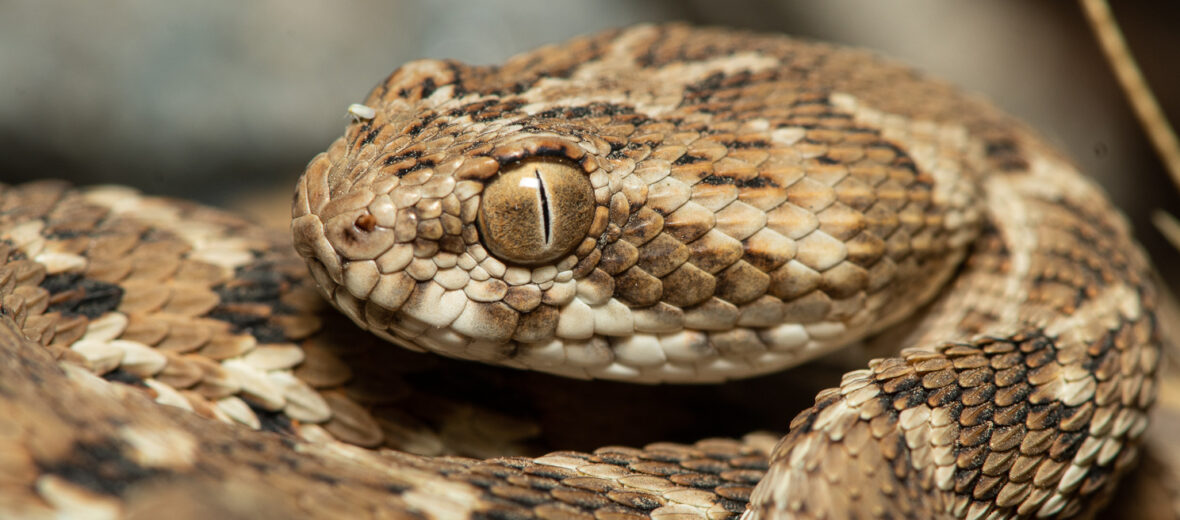 The Indian saw-scaled viper is one of the most lethal snakes in the world. It is touted as being the most lethal. As it is responsible for more human deaths than all other venomous snake related deaths combined, each year. 20% of bitten and untreated victims die! This average is due to the snake's bad temperament and propensity to bite… repeatedly. They are found in portions of the Middle East, Central Asia, and the Indian subcontinent. Due to their stable numbers, this viper is listed as Least Concern.
First the Stats…
Scientific name: Echis carinatus
Weight: Up to 1 lb.
Length: Up to 3 feet
Lifespan: Up to 20 years
Now on to the Facts!
1.) Due to the issues surrounding bites, doctors have produced around 8 different antivenoms that target the venom.
2.) These vipers are predominantly crepuscular (active at dawn and dusk) and nocturnal (active at night). However, they have also been seen showing diurnal (active during the day) activity at times.
3.) They move about via sidewinding.
4.) Saw-scaled vipers brumate in colder winter months.
5.) A group of vipers is called a bed, a den, a knot, a nest, or a pit.
But wait, there's more on the Indian saw-scaled viper!
6.) Indian saw-scaled vipers have been seen conglomerating into large groups of up to 20 individuals, in bushes.
7.) Other names for these vipers are saw-scaled viper and little Indian viper, plus many other names.
Did you know…?
A single bite can inject as much as 12 mg of venom. Even though the lethal amount is only 5 mg. Bites result in immediate swelling and pain. Followed by blistering of the skin, several hours later. Hematemesis, melena, hemoptysis, hematuria and epistaxis also occur and sometimes lead to hypovolemic shock. Kidney failure has also been reported.
8.) They prey primarily on rodents, but will also take lizards, frogs, scorpions, centipedes, and large insects.
9.) Females are ovoviviparous (producing young by means of eggs which are hatched within the body) and birth up to 15 young.
10.) These vipers can live in a variety of habitats, including: rainforest, dry and moist deciduous forest, deserts, semi-deserts, grassland, scrubland, and agricultural fields.
But wait, there's still more on the Indian saw-scaled viper!
11.) Several drugs have been created from the venom of this Indian viper.
12.) Up to 50,000 people each year are presumed to be the victims of the saw-scaled viper's bite!
Now a Short Indian Saw-Scaled Viper Video!
Be sure to share & comment below! Also, check out the Critter Science YouTube channel. Videos added frequently!
Want to suggest a critter for me to write about? Let me know here.
Learn more about all kinds of cool critters, right here!