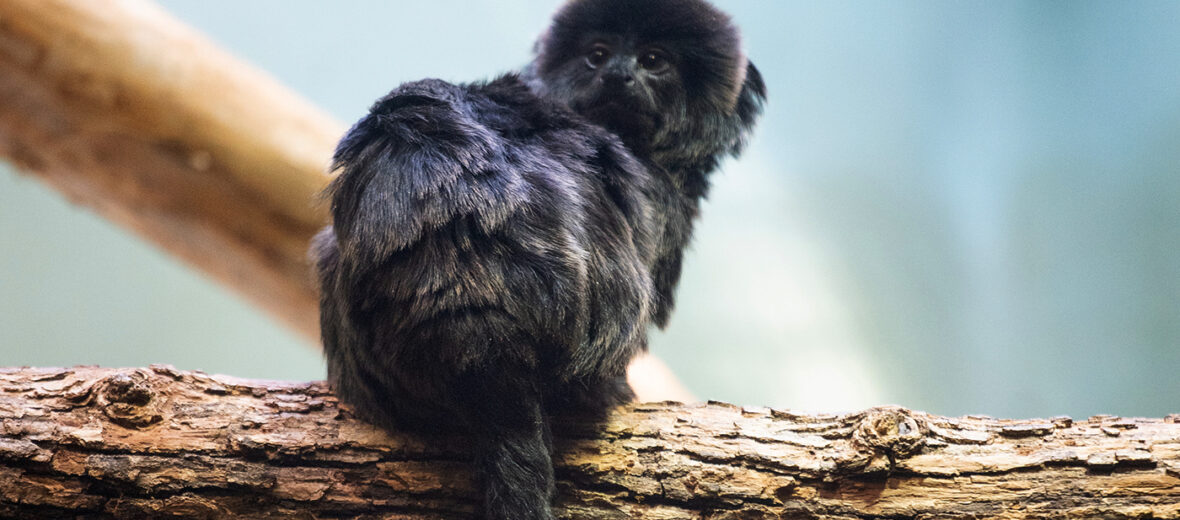 The Goeldi's marmoset, aka Goeldi's monkey or callimicos, can be found in the tropical rainforests of Bolivia, Colombia, Brazil, Ecuador, and also Peru. These social and diminutive primates can be found in smaller sized groups and are listed as Vulnerable by the IUCN. This is due to habitat loss at the hands of logging, residential and commercial developments, and vehicle strikes. Recent fires have also caused widespread damage to their fragile habitats.
First the Stats…
Scientific name: Callimico goeldii
Weight: Up to 12.5 ounces
Length: Up to 9 inches, plus a 12 inch tail
Lifespan: Up to 10+ years
Now on to the Facts!
1.) As mentioned these primates are social, but tend to live in smaller groups of about 6 individuals.
2.) They are arboreal (spend their lives in trees), like other marmoosets.
3.) Goeldi's marmosets use facial, scent, body language, and high pitched calls to communicate with one another.
4.) Being as they are arboreal, they have excellent climbing and leaping capabilities.
5.) When jumping from branch to branch, they can even turn in mid flight to grab a hold of something.
But wait, there's more on the Goeldi's marmoset!
6.) These little critters are diurnal (active during the day).
7.) They are Omnivores (eat plant and animal matter) that feed on insects, spiders, lizards, frogs, snakes, fruit, and even fungi (in the dry season). They are the only known primate to eat fungi.
Did you know…?
They can leap, horizontally, up to 13 feet! They do this without disturbing much vegetation and are almost silent.
8.) Females typically birth a single infant, but can birth twins. This is not uncommon with marmosets.
9.) Girls out number boys 2 – 1.
10.) The female Goeldi's marmoset can give birth up to 2 times per year.
Now a Short Goeldi's Marmoset Video!
Be sure to share & comment below! Also, check out the Critter Science YouTube channel. Videos added frequently!
Want to suggest a critter for me to write about? Let me know here.
Learn more about all kinds of cool critters, right here!