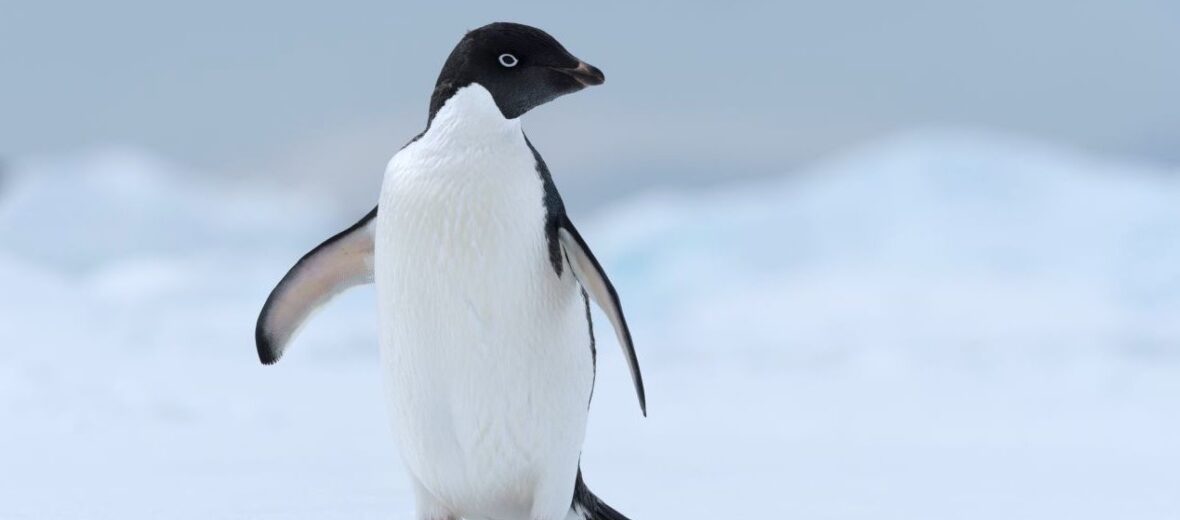 The Adélie penguin calls the coastline and the small islands of the Antarctic continent its home. However, when the sea freezes in winter, they take to the open ocean. They are the most widely spread penguin species in the Antarctic region. These little critters were named after Adèle Dumont d'Urville; wife of the French explorer Jules Dumont d'Urville, who first discovered this species in 1840. This abundant species of penguin numbers an estimated 10,000,000 strong! Even though they are affected by pollution, human intrusion, and climate change, their numbers (which are increasing) put them into the category of Least Concern by the IUCN.
First the Stats…
Scientific name: Pygoscelis adeliae
Weight: Up to 10 lbs.
Length: Up to 2.3 feet
Lifespan: Up to 20 years
Now on to the Facts!
1.) Adélie (pronounced Uh-Day-Lee) penguins are also known as rump-legged or brush-tailed penguins.
2.) They have the tendency to stand at the edge of a sheet of ice and push others into the water. If they seem fine, the rest will follow and hop into the water.
3.) The Adélie also suffers from an overwhelming sense of curiosity that most often outweighs their sense of self-preservation.
4.) These cute and curious critters prey on fish, squid, and krill.
5.) Adélies split from other penguin species around 38 million years ago.
But wait, there's more on the Adélie penguin!
6.) Parents build nests with stones and are known for stealing stones from neighboring Adélie penguin nests.
7.) Leopard seals, orcas, skuas, and giant petrels prey on Adélies.
Did you know…?
These penguins, like others, are black and white as this color combo helps to camouflage them from predators. When viewing them in the water, from above, they blend in with the dark ocean water. When viewing from below, their white bellies blend in with the sunlit surface above.
8.) A colony of 5 million Adélies eat nearly 17.6 million lbs. of krill, squid, and small fishes per day! A single penguin can consume up to 4.5 lbs. of food a day! What a little piglet.
9.) The only other penguin confined to the Antarctic is the emperor penguin.
10.) Diving to depths of 574 feet has been observed.
But wait, there's still more on the Adélie penguin!
11.) Adélie penguins don't have teeth. Rather, they have tooth-shaped barbs on their tongue and on the roof of their mouth that help them to hold onto and swallow prey.
12.) These penguins don't drink water, but instead eat snow to get their water.
Did you know…?
They may look helpless, but these little feisty critters have been known to attempt to take on much larger opponents like seals and even researchers, by slapping them with their flippers and biting.
13.) Like other sea-faring birds, they have a special supraorbital gland in their nose that removes the salt from their bodies.
14.) Like other penguin species, they do not mate for life, but will mate for several seasons then find new partners. This aids in producing healthy offspring.
15.) Adélies will occasionally feed on jellyfish. Especially those with visible gonads. As the gonads are rich in carbon and protein.
But wait, there's a little more on the Adélie penguin!
16.) At around 7 – 9 weeks old, Adélie penguins leave mom and dad for the open ocean and most don't return to land for 3 – 5 years!
17.) On land they only waddle at around 1.5 mph. In the water though they can reach speeds of up to 9.3 mph.
Did you know…?
Young Adélie penguins with no experience in social interaction may sometimes react to false cues when the penguins gather to breed. They may try to breed with other males, with young chicks, or even with dead females. Talk about dazed and confused.
18.) When diving for food, they can hold their breath for up to 6 minutes.
19.) Some Adelie penguin migrations have been recorded up to 10,940 miles!
20.) The parent that is incubating doesn't eat and they don't even leave to defecate but rather projects feces (poop) up to 4 feet away from the nest. Projectile poop. Boom!
But wait, there's a bit more on the Adélie penguin!
21.) Females will lay up to 2 eggs, but typically only incubate the second egg.
22.) Even though they push each other off cliffs to test the water and steal stones from each other, they are actually very sociable penguins.
Now a Short Adélie Penguin Video!
Now another Short Adélie Penguin Video!
Also, check out the Critter Science YouTube channel. Videos added frequently!
Want to suggest a critter for me to write about? Let me know here.
Learn more about all kinds of cool critters, right here!