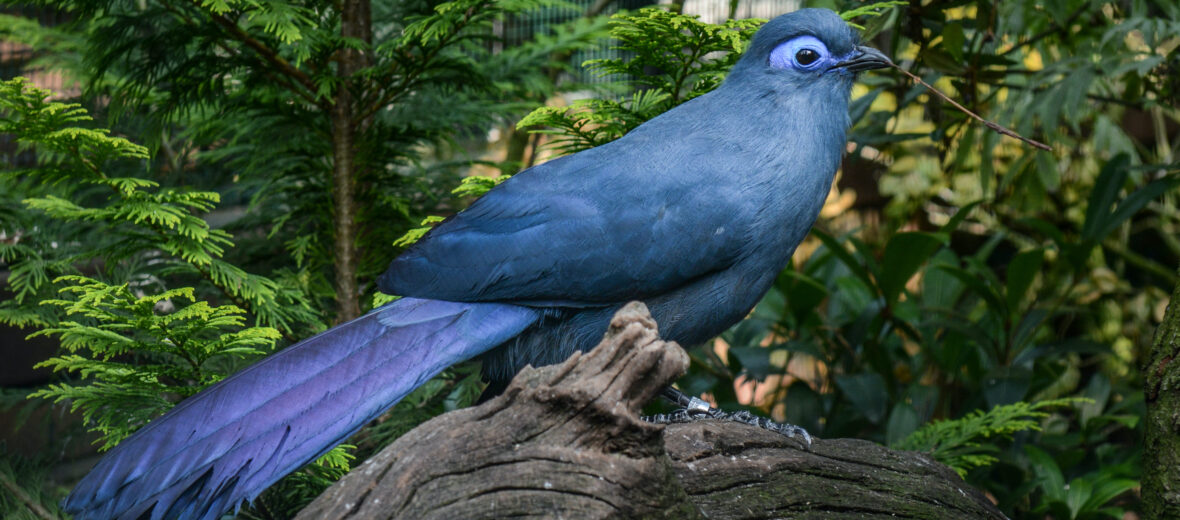 The blue coua, aka coua bleu or blue Madagascar coucal, is a member of the cuckoo family and arguably one of the prettiest of this family of birds. The genus name Coua comes from koa, the Malagasy name for a cuckoo. Like all couas, they have 2 main traits: long, broad tails & blue, featherless skin around the eyes. These birds are listed as Least Concern by the IUCN but their populations are decreasing, due in part to habitat destruction at the hands of deforestation.
First the Stats…
Scientific name: Coua caerulea
Weight: Up to 8+ ounces
Length: Up to 19.7 inches
Wingspan: Up to 24+ inches
Lifespan: Up to 7+ years
Now on to the Facts!
1.) They prey on cicadas, locusts, crickets, bees, caterpillars, millipedes, beetles, flies, spiders,
chameleons, crabs, frogs, fruits, flowers, and also gum resin from Sloana rhodantha trees.
2.) As is evident from their diet, they are omnivores (eat plant and animal matter).
3.) They prefer subtropical or tropical moist lowland forests, dry forests, mangrove forests, and moist montane forests.
4.) These pretty birds can be found only in Madagascar.
5.) Fandrasa is another name for these birds, in France. The German name for them is blau-seidenkuckuck, and in Spanish, they are called cúa azul.
But wait, there's more on the blue coua!
6.) Their main call is a trilled "brrreee-ee" that increases in volume. They also emit a low-pitched "coy coy coy coy" sound.
7.) Arboreal (spend most or all of their lives in trees) in nature, they seldom visit the ground. When they do visit the ground, they tend to run, like a roadrunner.
Did you know…?
Unlike other cuckoos, these birds don't parasitize other birds. Couas build their own nests.
8.) Breeding takes place from July – December.
9.) Females lay a single egg in their nest.
10.) Both mom and dad share incubation and rearing duties.
11.) These birds prefer tropical, subtropical, dry or moist lowland forests, mangroves, and moist montane habitats.
Now a Short Blue Coua Video!
Also, check out the Critter Science YouTube channel. Videos added frequently!
Want to suggest a critter for me to write about? Let me know here.
Learn more about all kinds of cool critters, right here!