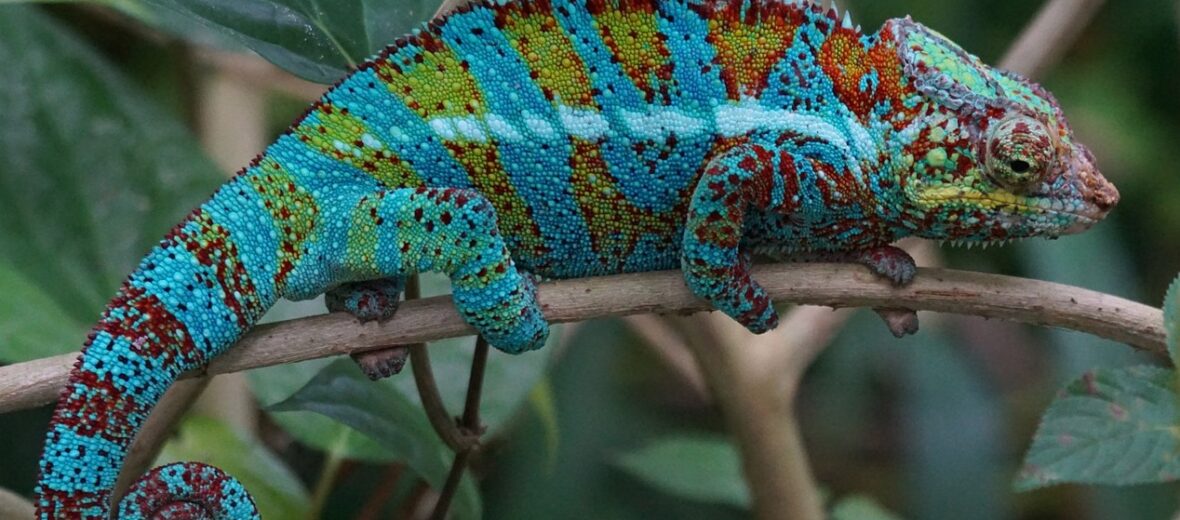 The panther chameleon is arguably the most beautiful of all the chameleon species. They can be found in the northern & eastern parts of Madagascar, Réunion, and Mauritius. They naturally occur in Madagascar and were introduced to Réunion and Mauritius. These beauties can be blue, green, red, orange, yellow, or a combination therein. First described by French naturalist Georges Cuvier in 1829, the panther chameleon's scientific name is derived from the Latin root furci meaning "forked" and is in reference to the shape of their feet. The specific name pardalis refers to their markings, which is Latin for "leopard" or "spotted like a panther". Fortunately, these beauties are listed as Least Concern by the IUCN.
First the Stats…
Scientific name: Furcifer pardalis
Weight: Up to 6.34 ounces
Length: Up to 20 inches
Lifespan: Up to 7 years
Now on to the Facts!
1.) The females are typically brown and tan with areas of peach, pink, and/or bright orange. Males are much more brightly colored.
2.) Second to only the veiled chameleon, the panther is one of the most popular pet chameleons. They tend to fare well in captivity. Although, they do command a high price.
3.) Like other chameleon species, they are arboreal (spend most or all of their lives in trees).
4.) They also have a cool prehensile (used as an additional limb) tail.
5.) Their tongue extends at approximately 26 body lengths per second and hits the prey in about 0.0030 second!
But wait, there's more on the panther chameleon!
To view more facts on this and many other critters, purchase my book Rainforest Critters. It's only $17.99 for an 84 page book! Available now through Amazon. Click the logo to purchase your copy now:
Now a Short Panther Chameleon Video!
Also, check out the Critter Science YouTube channel. Videos added frequently!
Want to suggest a critter for me to write about? Let me know here.
Learn more about all kinds of cool critters, right here!