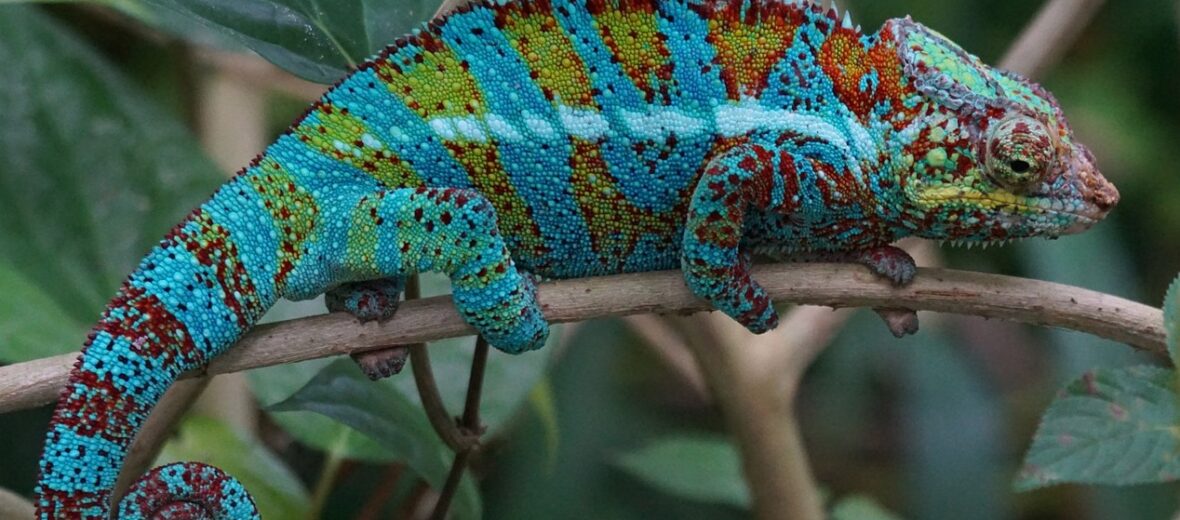 The panther chameleon is arguably the most beautiful of all the chameleon species. They can be found in the northern & eastern parts of Madagascar, Réunion, and Mauritius. They naturally occur in Madagascar and were introduced to Réunion and Mauritius. These beauties can be blue, green, red, orange, yellow, or a combination therein. First described by French naturalist Georges Cuvier in 1829, the panther chameleon's scientific name is derived from the Latin root furci meaning "forked" and is in reference to the shape of their feet. The specific name pardalis refers to their markings, which is Latin for "leopard" or "spotted like a panther". Fortunately, these beauties are listed as Least Concern by the IUCN.
First the Stats…
Scientific name: Furcifer pardalis
Weight: Up to 6.34 ounces
Length: Up to 20 inches
Lifespan: Up to 7 years
Now on to the Facts!
1.) The females are typically brown and tan with areas of peach, pink, and/or bright orange. Males are much more brightly colored.
2.) Second to only the veiled chameleon, the panther is one of the most popular pet chameleons. They tend to fare well in captivity. Although, they do command a high price.
3.) Like other chameleon species, they are arboreal (spend most or all of their lives in trees).
4.) They also have a cool prehensile (used as an additional limb) tail.
5.) Their tongue extends at approximately 26 body lengths per second and hits the prey in about 0.0030 second!
But wait, there's more on the panther chameleon!
6.) Panther chameleons, like other 'chams', are solitary and extremely territorial. They only come together to mate and to have a battle of prowess to win a mate. Most of the time, the dance off ends with the loser backing down, after a show of colors and posing. Fights seldom break out.
7.) The casque (a bony prominence on their head) is made of muscle and fat and supported by bone. The casque begins to show as the chameleon ages and it is often distinctive by the time they are around 8 months old. This casque will appear sunken in, on specimens who are malnourished.
Did you know…?
It is a common mistake that chameleons can change their coloration to match any color in their environment. When, in fact, they can only change colors in a limited range, specified by their species. And their colors are altered due to mood, not for camouflage.
8.) Some males have been witnessed completing a color change in as quickly as 1 – 2 minutes in order to court a female or to face off with a competitive male. That is the fastest of all known chameleons.
9.) They prey on insects, small birds, lizards, and other chameleons.
10.) They have 360° vision. Their eyes rotate to look for food and predators. However, they can't see too well simultaneously in 2 directions at once. If they find something they need to focus on well, they will move both their eyes to focus on just that item. Then their vision improves to normal.
But wait, there's still more on the panther chameleon!
11.) Females are oviparous and can have between 5 – 8 clutches of up to 40 eggs during their life. They typically only live between 2 – 3 years after laying eggs, due to the extreme stress it takes on their bodies.
12.) They are preyed on by larger birds, snakes, larger reptiles, and even primates.
13.) Panther chameleons are what is known as zygodactylous. The 5 toes are fused into a group of 2 and 3, giving each foot the look of a pair of tongs. These specialized feet allow the critter a nice, tight grip on thin branches.
Now a Short Panther Chameleon Video!
Also, check out the Critter Science YouTube channel. Videos added frequently!
Want to suggest a critter for me to write about? Let me know here.
Learn more about all kinds of cool critters, right here!