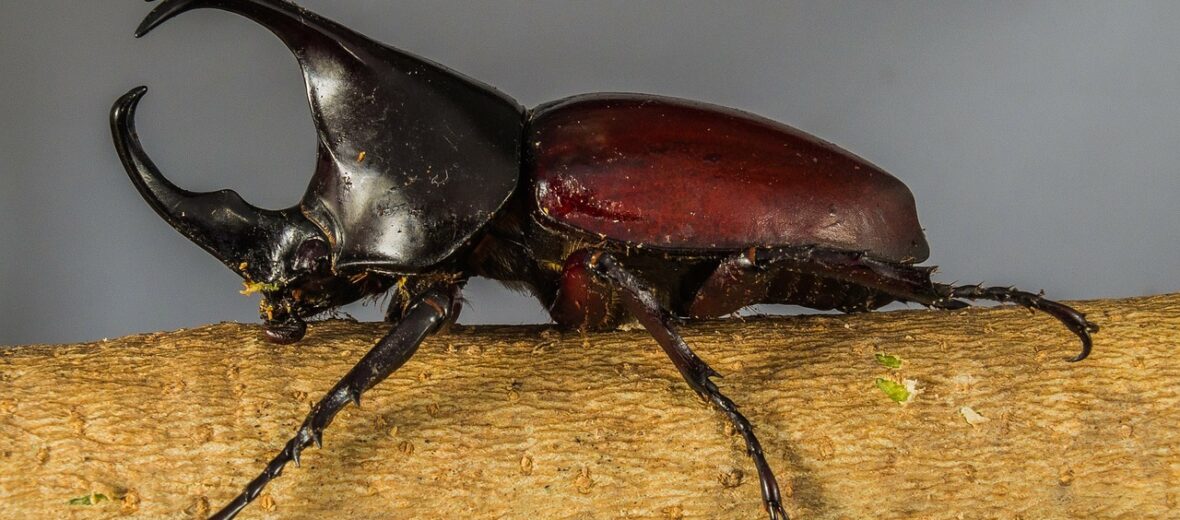 The rhinoceros beetle, aka horn beetle or unicorn beetle, is part of the scarab beetle family (Scarabaeidae). These are the largest known family of beetles in the world. They can also be found on every continent, sans Antarctica. Rhinoceros beetles may look big and scary, but they're actually quite peaceful… to humans. However, when males encounter each other the gloves come off. Their IUCN status varies per species and are too vast to name. For more information on the largest of the known rhino beetles, check out my article on the Hercules beetle.
First the Stats…
Scientific name: Dynastinae
Weight: Up to 3.5 ounces
Length: Up to 7 inches
Lifespan: Pupae: Up to 3 years | Adult: Up to 6 months
Now on to the Facts!
1.) There are over 1,500 species and 225 genera of rhinoceros beetles described to date.
2.) Most rhino beetles are nocturnal (active at night).
3.) Their only defense against predators is to bury in the substrate or fly away.
4.) When threatened they also emit a loud hissing sound. This sound is produced by rubbing their wing cases against their abdomens.
5.) Adults feast on plant sap, nectar, and fruit. Even though they're large, they don't eat much. The larvae, on the other hand, eat tons. They feed on rotting wood or compost.
But wait, there's more on the rhinoceros beetle!
6.) Rhinoceros beetle larvae has 2x more protein than chicken or beef. From what I understand, they burst in your mouth when you bite down on them. Mmmmm! Bon appetit!.
7.) Female rhino beetles have no horns.
Did you know…?
The Japanese rhinoceros beetle is used for sport in Japan. 2 males are placed on a log or other tubular surface. The winner knocks the loser off.
8.) Females lay between 50 – 100 eggs, in the soil or leaf litter.
9.) Rhino beetles are touted as being the strongest creature on the planet, able to lift up to 100x their own weight! In contrast, elephants can only carry 25% of their own weight.
10.) Most of their lives are spent as grubs, in the ground. They can live for years in this form. The adult form yields up to a 6 month lifespan; sometimes longer.
11.) These giants display phototaxis (attracted to light) as is demonstrated by finding them buzzing around street lights and porch lights.
Now a Short Rhinoceros Beetle Video!
Also, check out the Critter Science YouTube channel. Videos added frequently!
Want to suggest a critter for me to write about? Let me know here.
Learn more about all kinds of cool critters, right here!