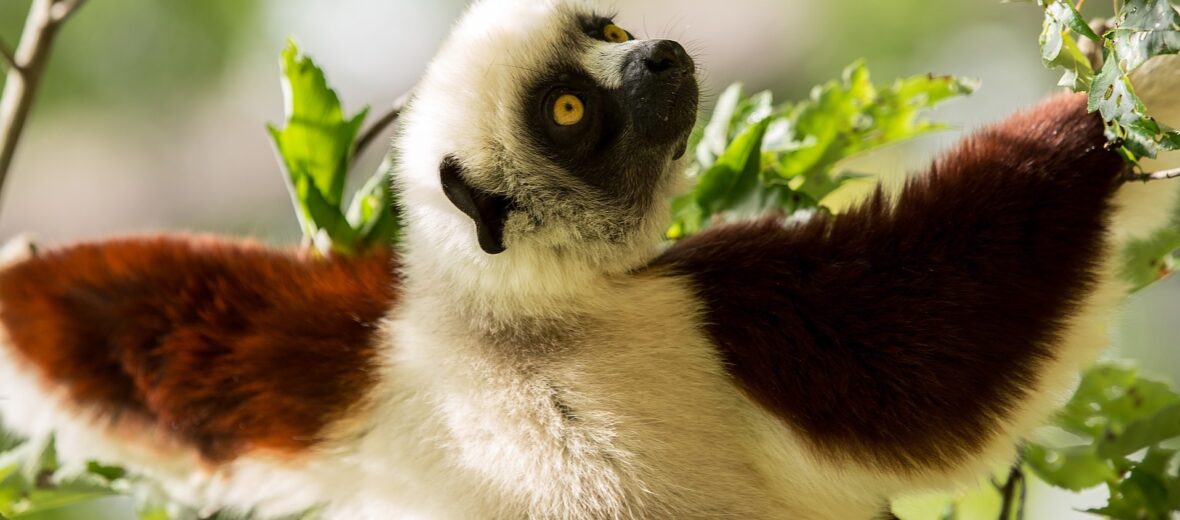 This critter is literally named after the alarm cry it makes when threatened, "shee-fa'-ka". The Coquerel's sifaka, like all lemurs, calls Madagascar its home. Their name is pronounced (shi-fawk). Even though they have somewhat short arms for a primarily arboreal (spends most of their lives in trees) critter, they do have long, strong legs that they utilize in leaping from branch to branch. They also use their powerful legs to sideways hop on the ground, with their arms in the air. Due to hunting and habitat destruction these beautiful creatures are listed as Critically Endangered, by the IUCN, with their populations decreasing. It is estimated that there are less than 10,000 remaining in the wild, to date.
First the Stats…
Scientific name: Propithecus coquereli
Weight: Up to 13.2 lbs.
Length: Up to 22 inches, plus up to a 24 inch tail
Lifespan: Up to 30 years
Now on to the Facts!
1.) They prefer semi-evergreen forests, dry deciduous forest, coastal forests, and mangroves.
2.) Even though they can be found throughout Madagascar, the predominant populations reside in the Ankarafantsika Nature Reserve and the Bora Special Reserve.
3.) Sifakas are herbivores (eat plant matter) that consume many different types of leaves and tree bark, during the dry season. During the wet season, they eat flowers and fruit. Most of their food is acquired from the trees, with occasional snacks found on the ground.
4.) When eating, the sifaka will rarely use their hands, preferring to grab food directly with their mouths. Like my boys.
5.) Toxic plants, like poison ivy are sometimes consumed. But this doesn't seem to bother these critters.
But wait, there's more on the Coquerel's sifaka!
6.) The sifaka lives in groups or troops of up to 3 – 6 indrids (family of lemurs), with some troops consisting of up to 13 individuals.
7.) The primary mating season is between January – March. However, females are only in estrus (heat) for up to 40 hours each season.
Did you know…?
The sifaka's leap is nothing short of amazing. With bounds recorded up to 35 feet!
8.) Females are very picky about who they breed with, only selecting the dominant males. For this reason, males battling for breeding rights can get downright nasty. Fights can break out leading to serious injuries.
9.) They are preyed on by fossa, larger birds of prey (like hawks), constrictors, feral dogs, African wildcats, European wildcats, large Indian civets, and Egyptian mongooses.
10.) When not eating, they spend most of their days sun bathing.
But wait, there's still more on the Coquerel's sifaka!
11.) The female sifaka gives birth to a single baby, after up to a 162 day gestation (pregnancy).
12.) The baby weighs in at only 3.5 ounces!
Did you know…?
Males can be differentiated from the females by their gular (throat) gland.
13.) After about 3 – 4 weeks of clinging to mom's back, the baby will make the transition to her back.
14.) In 5 – 6 months, they are weaned from mom and leave her back to venture on their own. But typically reside with the troop for the rest of their lives, if they don't move on to form their own troop. Mostly it's the males that leave the troop.
15.) Troops are run via a matriarch. This means that the alpha female will rule the roost. Can you think of another matriarchal society in the animal kingdom? That's right, the elephant.
But wait, there's still a little more on the Coquerel's sifaka!
16.) Coquerel's sifakas communicate via auditory, visual, and olfactory (scent) methods.
17.) Barks and growls are used to alarm others of an aerial threat.
18.) Males will cling to a tree trunk and move up the trunk leaving up to a 19 inch line of urine. Females will also sometimes engage in this type of marking as well.
19.) Polymorphic trichromacy, which affords them to see a full range of colors, was only recently discovered in these sifakas.
20.) Due to their wet season diet of fruits, Coquerel's sifaka may help to disperse seeds of fruiting plants as well.
Now a Short Coquerel's Sifaka Video!
Also, check out the Critter Science YouTube channel. Videos added frequently!
Want to suggest a critter for me to write about? Let me know here.
Learn more about all kinds of cool critters, right here!