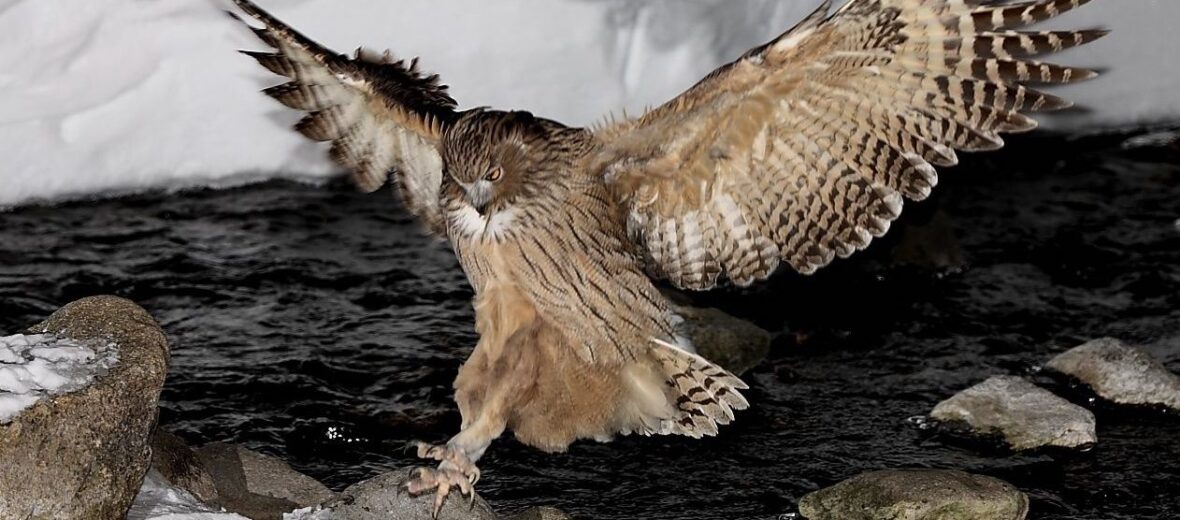 The Blakiston's fish owl is the largest known species of owl in the world. They call eastern Siberia, northern China, North Korea, and northern Japan their home. These large owls prefer to live in old-growth riparian forests. With only an estimated 2,500 species remaining in the wild, to date, these magnificent birds are sadly listed as Endangered by the IUCN. Their numbers are also decreasing. This is due to large scale habitat destruction and pollution.
First the Stats…
Scientific name: Bubo blakistoni
Weight: Up to 8.8 lbs.
Length: Up to 2.3 feet
Wingspan: Up to 6.3 feet
Lifespan: Up to 20+ years
Now on to the Facts!
1.) The Blakiston's fish owl, like other owls, is nocturnal (active at night).
2.) Fish owls are monogamous (mate for life).
3.) They prey on catfish, lamprey, pike, salmon, sculpin, trout, amphibians, and small mammals.
4.) Some fish caught are up to 2 – 3 times the owl's weight.
5.) These birds have also been seen hunting on the ground as well.
But wait, there's more on the blakiston's fish owl!
6.) Blakiston's fish owls are revered by the Ainu people of Hokkaido, Japan as a Kamuy (deity) called Kotan koru Kamuy (The God that Protects the Village).
7.) Females lay 1 – 2 eggs every 2 – 3 years.
Did you know…?
Unlike other owls, these critters don't have silencing fringes at the tips of their feathers, seeing as they don't have to be silent in order to catch fish.
8.) In Russia however, these owls are considered a source of food by the Evens people in northern Siberia and also in the northern Russian Far East.
9.) The calls of adult fish owls have a "boo-boo uoo" or "foo-foroo" sound.
10.) Blakiston's fish owls have no known predators.
Now a Short Blakiston's Fish Owl Video!
Be sure to share & comment below! Also, check out the Critter Science YouTube channel. Videos added frequently!
Want to suggest a critter for me to write about? Let me know here.
Learn more about all kinds of cool critters, right here!