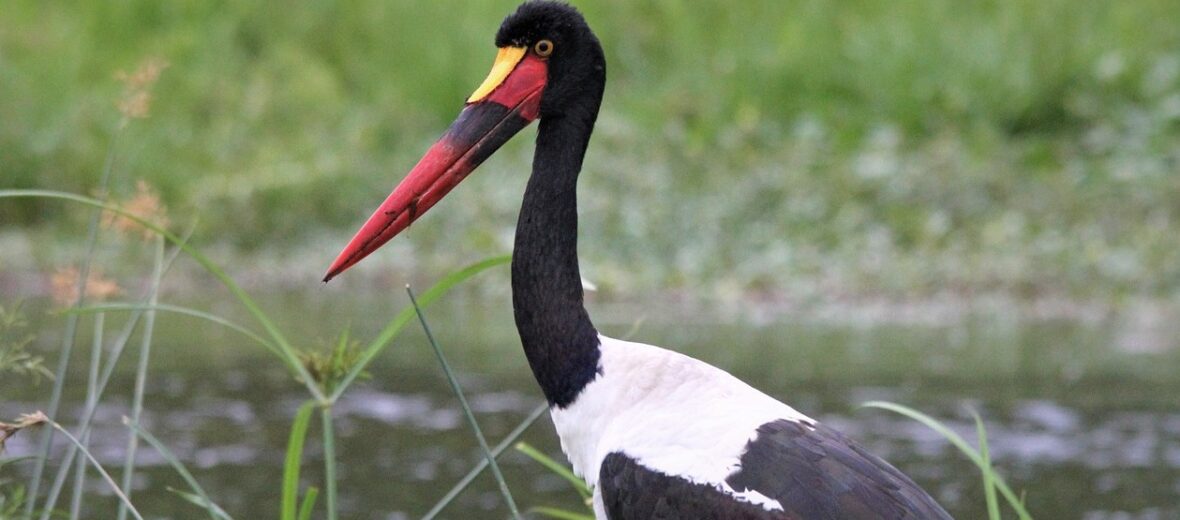 The saddle-billed stork, aka saddlebill, is the tallest known stork in the world. They can be found in sub-Saharan Africa from Ethiopia, Kenya, Sudan, south to South Africa, and in the Gambia, Senegal, Côte d'Ivoire, as well as Chad in west Africa. Fortunately, due to their numbers and wide spread territories, these birds are listed as Least Concern by the IUCN.
First the Stats…
Scientific name: Ephippiorhynchus senegalensis
Weight: Up to 16.6 lbs.
Length: Up to 5+ feet
Wingspan: Up to 8.9 feet
Lifespan: Up to 30 years
Now on to the Facts!
1.) Their beak can be as long as 14.4 inches!
2.) These storks are sexually dimorphic in that females are smaller than males and you can also tell them apart by their iris. Males have a brown iris, while females have a yellow iris.
3.) They may be the tallest stork, but the marabou stork is heavier.
4.) Saddle-billed storks are monogamous (mate for life).
5.) Typically solitary, till paired, these birds can also be found in pairs and rarely in flocks of up to 12 birds.
But wait, there's more on the saddle-billed stork!
6.) Females lay up to 5 white eggs, that weigh around 5 ounces, in a large nest made of sticks.
7.) They line the inside of their nest with mud, reeds, and grasses.
Did you know…?
This bird is represented in an Ancient Egyptian hieroglyph, which has a phonetic value of bꜣ.
8.) The saddle-billed stork lacks a syrinx (a bird's voice box), so they are totally silent, sans clacking their bills.
9.) This stork is often mistaken for a jabiru. But the jabiru lives in North, Central, and South America.
10.) They prey on fish, crustaceans, amphibians, reptiles, mollusks, bird eggs, and even small mammals.
Now a Short Saddle-Billed Stork Video!
Be sure to share & comment below! Also, check out the Critter Science YouTube channel. Videos added frequently!
Want to suggest a critter for me to write about? Let me know here.
Learn more about all kinds of cool critters, right here!