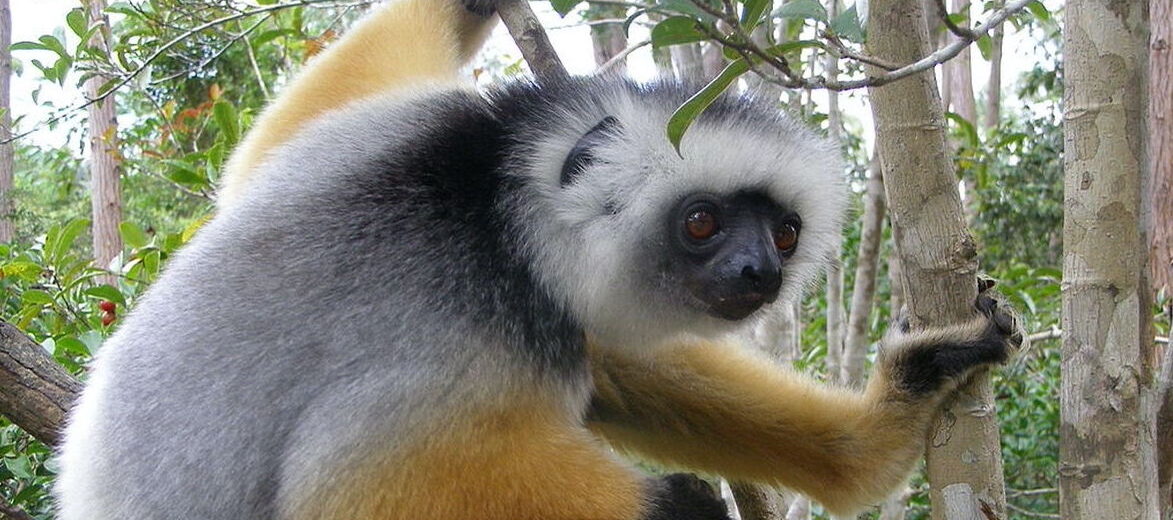 The diademed sifaka, aka diademed simpona, simpony, simpona, or ankomba joby, is among the largest lemurs. The indri is often considered 2nd. They get their primary common name due to the fact that their head resembles a diadem (an ornamental headband worn by royalty). Due to habitat destruction and climate change, these sifakas are listed as Critically Endangered. Their numbers are also, sadly, decreasing.
First the Stats…
Scientific name: Propithecus diadema
Weight: Up to 14 lbs.
Length: Up to 3.4 feet, plus their 20+ inch tail
Lifespan: Up to 30 years
Now on to the Facts!
1.) These critters prefer montane rainforests and primary lowlands.
2.) They, like all lemurs, call Madagascar their home. More specifically eastern Madagascar, from the Mananara Nord River to the Mangoro and Onive Rivers in the southeast.
3.) Diademed sifakas are diurnal (active during the day).
4.) The diademed sifaka is almost totally arboreal, but will sometimes venture to the ground to explore and play.
5.) These primates live in troops of 2 – 9 individuals.
But wait, there's more on the diademed sifaka!
6.) Males mark their territory via scenting.
7.) Being herbivores (eat plant matter), diademeds eat only leaves, flowers, fruit, and young shoots.
Did you know…?
In the trees, these sifakas can jump up to 30 feet, from branch to branch! On the ground they hop sideways, on their hind legs, with their arms in the air.
8.) Male sifakas are polygynous (dominant male mates with multiple females). Subordinate males constantly try to best the dominant male for breeding rights.
9.) Females birth 1 – 2 infants after about a 6 month gestation (pregnancy).
10.) Diademed sifakas have 2 primary calls that are used as warning signals. 1 warns of predators on the ground. This sounds like, "Tzisk-tzisk-tzisk". The 2nd warns of aerial predators and sounds like, "honk-honk-honk".
Now a Short Diademed Sifaka Video!
Be sure to share & comment below! Also, check out the Critter Science YouTube channel. Videos added frequently!
Want to suggest a critter for me to write about? Let me know here.
Learn more about all kinds of cool critters, right here!