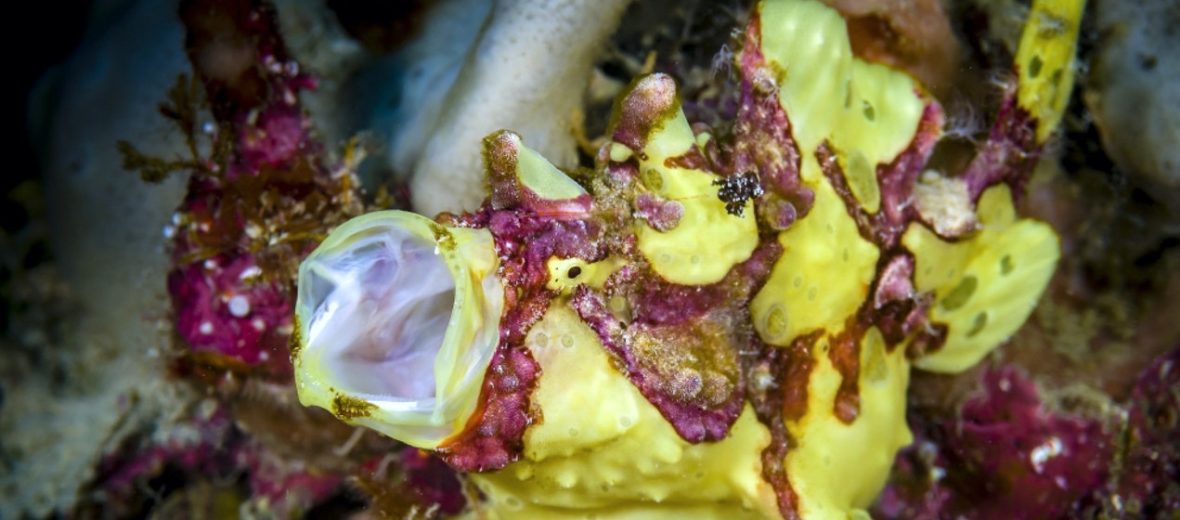 The warty frogfish, aka clown frogfish, hails from the Indo-Pacific region from Mauritius and Reunion Islands near the center of the Indian Ocean to the western part of the Pacific Ocean. They prefer warmer, tropical water and can be found around various reefs. Even though these masters of camouflage face the threats of climate change; over-collection for the pet trade; and water pollution, they are still listed as Least Concern by the IUCN. Their population trend is unknown at this time.
First the Stats…
Scientific name: Antennarius maculatus
Weight: Up to 9 ounces
Length: Up to 5.9 inches
Lifespan: Up to 20 years
Now on to the Facts!
1.) The warty frogfish is but 1 of 50 known species of frogfish.
2.) Frogfish are widely considered to be among the most complex examples of aggressive mimicry (mimicking their surroundings to camouflage themselves in order to be more efficient predators).
3.) Warty frogfishes, like other frogfishes have among the fastest recorded prey engulfment of any known vertebrate.
4.) These critters can change their coloration, but not as fast as a chameleon. They take a couple weeks to change not only their coloration but their patterning.
5.) In a mass coral bleaching event that happened in the Maldives, the frogfish there were found to be completely white, to match the white coloration of the dead corals.
But wait, there's more on the warty frogfish!
6.) While not venomous, frogfish have been reported to taste nasty. So, don't eat them.
7.) Females lay up to 180,000 eggs each breeding season.
Did you know…?
The frogfish has a strike speed of an amazing 1/6000th of a second! That equates to a mere 6 milliseconds.
8.) The frogfish utilizes backward-facing, tubelike gill openings to propel themselves along, rather than using their tail.
9.) As is the case with all frogfish, warty frogfishes lack a swim bladder, so they stay towards the ocean floor.
10.) Frogfish use a lure, called an escae, that attracts prey items near striking distance. Their lures can resemble shrimps, other fish, worms, or even small squids. The striated frogfish's lure is biofluorescent.
But wait, there's more on the warty frogfish!
11.) The warty frogfish preys on fish and crustaceans.
12.) These critters can engulf prey items as large as 2 times their own body size! This is due to an extremely elastic stomach. I have personally observed these fish almost doubling their original size, after eating an extremely large prey item. Their growth rate was incredible!
Did you know…?
The male is considered almost parasitic, in that he will attach himself to the side of the female and stay there, for the rest of his life, providing the female with sperm, in exchange for some of her nourishment.
13.) Cannibalism exists with frogfish, as anything the moves close enough to their mouth is considered food.
14.) These fish tend to walk along the ocean floor, rather than swim.
15.) These fish are territorial and solitary. They do not tolerate other frogfish nearby their territory. Females will also eat a nearby male, if she is not in the mood.
Now a Short Warty Frogfish Video!
Be sure to share & comment below! Also, check out the Critter Science YouTube channel. Videos added regularly!
Want to suggest a critter for me to write about? Let me know here.