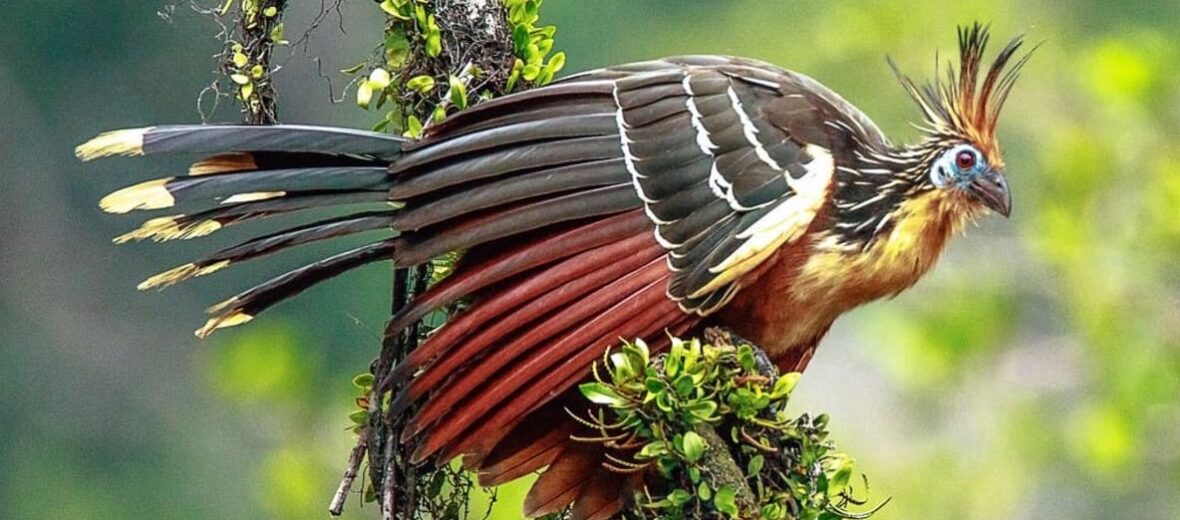 The hoatzin is a bird native to South America. They go by several names: skunk bird, reptile bird, stinkbird, and Canje pheasant. They're renown for their unpleasant smell, their method of digestion, clumsy mannerisms, and noise levels. These unique birds can be found in Bolivia, Brazil, French Guiana, Colombia, Ecuador, Peru, Guyana, Suriname, and Venezuela. They prefer to dwell in wetlands with dense vegetation next to lakes, slow-moving rivers, and swamps. These birds are listed as Least Concern by the IUCN. This article is on special request from R. Phillips.
First the Stats…
Scientific name: Ophisthocomus hoazin
Weight: Up to 1.78 lbs.
Length: Up to 26 inches, plus a 12 inch long tail
Wingspan: Up to 27.5 inchs
Lifespan: Up to 30 years
Now on to the Facts!
1.) The name "hoatzin" is said to have derived from the ancient Aztec Nahuatl language. It is pronounced in 2 ways: "ho-at-zin" and "what's-in".
2.) Described as herbivores (eat plant matter), they eat flowers, buds, and fruits. However, these birds are actually primarily folivorous (eat leaves).
3.) Their crop (part of the digestive system) is very well developed and takes up a large part of their digestive system. A hoatzin's stomach consists of 2 parts: the proventriculus and the gizzard.
4.) They get most or all of the water they need from the food they eat and as a result they are seldom seen drinking standing water.
5.) Hoatzins spend about 4 hours a day eating.
But wait, there's more on the hoatzin!
6.) These birds tend to have a crepuscular (active at dawn and dusk) feeding habit, but can also be diurnal (active during the day) as they spend the rest of the day preening, raising their young, and stinking.
7.) Its pectoral muscles (chest muscles) are underdeveloped. So, like a chicken, they can technically fly, but just for very short distances.
Did you know…?
Similar to that in the rumen of a cow, these birds ferment food. This bird ferments food in their lower esophagus and crop. The fermentation generates chemicals that emit a foul odor that smells like dung (poop). Hence their name stinkbird.
8.) The hoatzin produces several types of sounds, including: croaks and grunts.
9.) A really cool feature, typical in both the hoatzin and the prehistoric dinosaur, Archaeopteryx (which was a cross between a lizard and a bird) are claws at the end of its wings! They lose these claws as they age.
10.) Primary predators are hawks and eagles.
But wait, there's still more on the hoatzin!
11.) Hoatzins are social birds that live in colonies composed of 10 – 50 birds.
Did you know…?
The young chicks have an interesting defense from predators. If approached by a perceived predator, they will leap from the nest to the water below; able to swim at near birth. When the threat has gone, they use their wing claws to scale back up the tree to the nest above.
12.) Females lay between 1 – 3 eggs each breeding season.
13.) Incubation takes up to 32 days.
14.) Other birds in the colony participate in the raising of the chicks.
Now a Short Hoatzin Video!
Also, check out the Critter Science YouTube channel. Videos added frequently!
Want to suggest a critter for me to write about? Let me know here.
Learn more about all kinds of cool critters, right here!