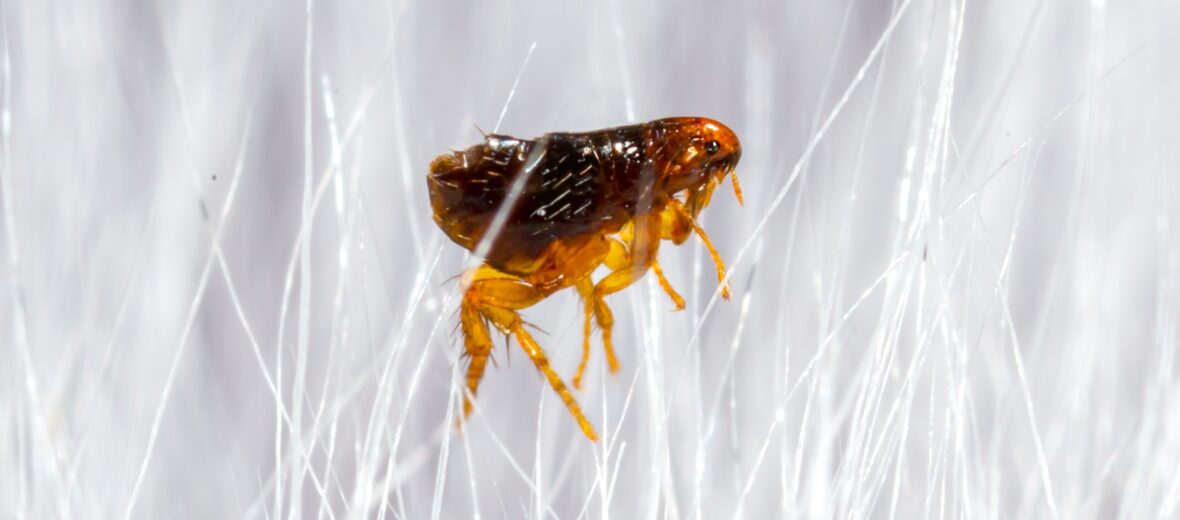 This is the story of the flea. Back in the Middle Ages, upwards of 50 million people died of the Black Death, due to its spread throughout Europe and Asia! That's right, it wasn't just Europe that got hit. Asia got taken down too. Crowded cities were especially hard hit. Social distancing wasn't a thing yet. It has been estimated that London lost 20% of its population to the black plague in just 2 years during the mid 1600s. It wasn't until the 20th century that the cause of the plague, a bacterium called Yersinia pestis, was discovered. What does this have to do with the tiny flea? Everything. The flea was the cause of this mass death. You should be nice and itchy after reading this article. You're welcome.
First the Stats…
Scientific name: Siphonaptera
Weight: Up to 0.03g
Length: Up to 7/16th of an inch
Lifespan: Up to 3 months (without a host) | Up to 1 year (with a host)
Now on to the Facts!
1.) Fleas don't have ears and are nearly blind. So they use chemosensories and vibrations to find their way around.
2.) Fleas can pull up to 160,000 times their own weight. This is the equivalent of a human pulling 2,679 double-deckerbuses.
3.) There are over 2,000 known species and subspecies of fleas.
4.) A flea can jump up to 30,000 times without stopping. Yep. Someone counted. Now you can never say there's never anything to do.
5.) Fleas have been around for around 100 million years!
But wait, there's more on the flea!
6.) Fleas tend to lay their eggs on your pets, not the carpet. But, unlike lice, they don't have a sticky glue attached to the egg, so the tiny black dots usually fall onto furniture and/or your carpet.
7.) In the United States, the cat flea (Ctenocephalides felis) makes up nearly all of the fleas found on both cats and dogs… and people.
Did you know…?
A female flea can drink up to 15 times her own body weight in blood… each day!
8.) Females start laying eggs up to 48 hours after their first blood meal. They can lay up to 50 eggs a day.
9.) Females can lay up to 2,000 eggs in her lifetime.
10.) If they aren't forced to move around much, an adult flea can go 2 months without a blood meal.
But wait, there's still more on the flea!
11.) Beaver fleas are the largest fleas known. They can measure up to 0.43 inch long!
12.) An adult flea may drink up to 15 blood meals in a day! When they pass this blood meal, the flea feces is essentially dried blood. Flea larvae feed on this dried blood poop, which is typically left behind in the host's bedding.
A flea can jump over 150 times their own length! That is similar to a human jumping 1,000 feet!
13.) Fossils from China and Inner Mongolia suggest that fleas, Pseudopulex jurassicus and Pseudopulex magnus, lived in the Mesozoic era and were as large as 0.8 inches long! They also had piercing mouth parts capable of feasting on dinosaurs.
14.) Like mosquitoes, fleas can detect carbon dioxide in the air and will blindly jump in the direction of said CO2.
15.) Multiple fleas are called a swarm and this swarm can go from just 1 flea to 1,000 in merely 21 days!
Now a Short Flea Video!
Also, check out the Critter Science YouTube channel. Videos added frequently!
Want to suggest a critter for me to write about? Let me know here.
Learn more about all kinds of cool critters, right here!