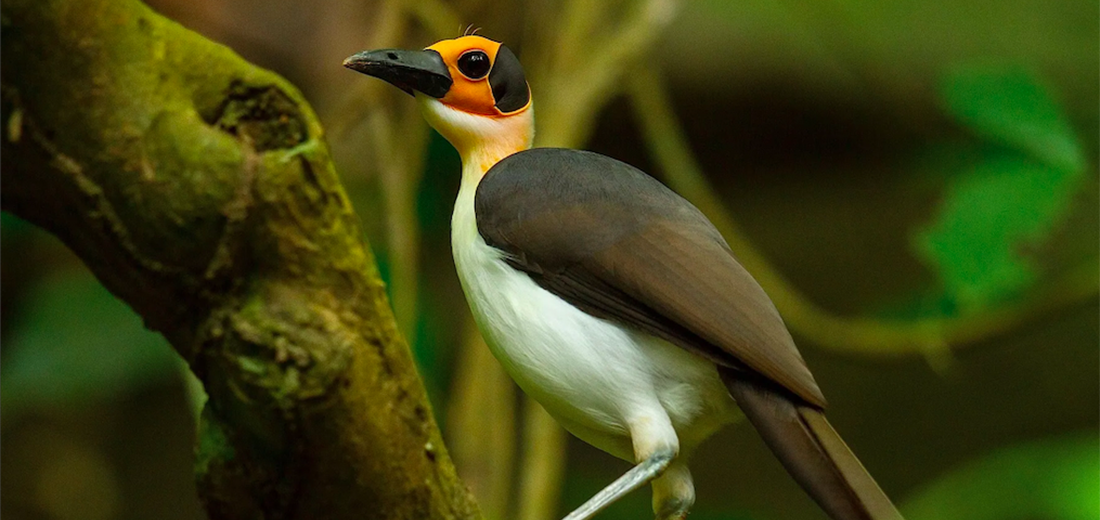 From its yellow head to its unusual hopping, the white-necked picathartes resembles something from a story book. These birds evolved from ancient Australian relatives around 44 million years ago. Now they can only be found in the forests of western Africa in Guinea, Ghana, Sierra Leone, and Liberia. In the 1960s it was thought that these cool critters had gone extinct till they were rediscovered in 2006. This bird is a bird watcher's dream but it's classified as Vulnerable by the IUCN due to habitat destruction. It is estimated that there are fewer than 10,000 of these awesome birds left in the wild.
First the Stats…
Scientific name: Picathartes gymnocephalus
Weight: Up to 9 ounces
Length: Up to 19 inches, plus a 7 inch long tail
Wingspan: Up to 18 inches
Lifespan: Unknown, but presumed to be long lived
Now on to the Facts!
1.) Their primary prey are insects, amphibians, and small reptiles.
2.) White-necked picathartes are also called rockfowl and bald-headed crows.
3.) Picathartes translates to "magpie-vulture".
4.) This species of bird is monogamous (mates for life).
5.) They build nests out of mud and attach them to the undersides of rocky alcoves.
But wait, there's more on the white-necked picathartes!
6.) The male and female share incubation duties. No dead beat dad here.
7.) Females lay up to 2 eggs twice a year.
Did you know…?
These white-necked birds are capable of high jumps of 20 feet from the cave floor to its nest while only partially using their wings.
8.) Incubation lasts for up to 28 days.
Now a Short White-Necked Picathartes Video!
Also, check out the Critter Science YouTube channel. Videos added frequently!
Want to suggest a critter for me to write about? Let me know here.
Learn more about all kinds of cool critters, right here!