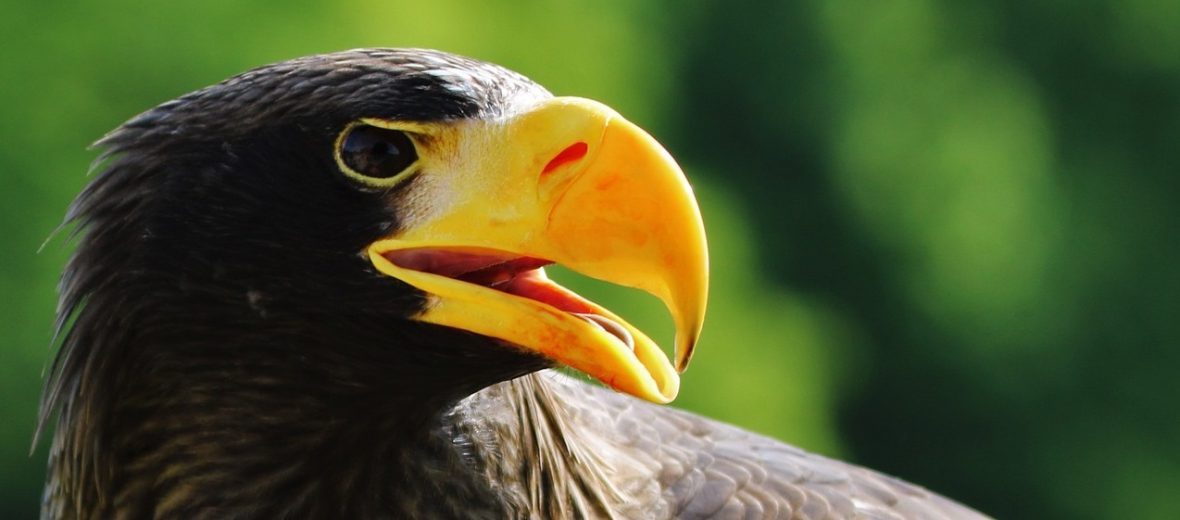 The stellar's sea eagle, aka Pacific sea eagle, steller's fish eagle, or white-shouldered eagle, is considered the heaviest eagle in the world. They can be found in China, Japan, North Korea, South Korea, Taiwan, Russia, and even in the United States. Unfortunately, they face the threats of habitat destruction and loss at the hands of residential and commercial development, drilling for the oil and gas industry, and logging; electrocution via power lines; hunting; trapping; overfishing; invasive species (and with them disease); pollution; and climate change. As a result they number only an estimated 4,670 wild individuals, and their populations are decreasing. The IUCN lists these raptors as Vulnerable.
First the Stats…
Scientific name: Haliaeetus pelagicus
Weight: Up to 21 lbs.
Length: Up to 3.4 feet
Wingspan: Up to 8.2 feet
Lifespan: Up to 25 years
Now on to the Facts!
1.) The stellar's sea eagle was first described in 1811 by Peter Simon Pallas.
2.) Before pairing up with a mate for life, these raptors are typically solitary.
3.) These birds are diurnal (active during the day).
4.) Stellar's eagles hunt via perching and scanning the area for prey, as well as on the wing (searching for food while in flight).
5.) Due to the large quantity of food available, large convocations of these eagles (sometimes numbering up to 700+/-) will often intermix with other eagles, like white-tailed eagles and golden eagles, to catch dying, post spawning fish.
But wait, there's more on the stellar's sea eagle!
6.) A group of eagles is called a convocation or aerie.
7.) Their general communicative call sounds similar to a white-tailed eagle's call, but deeper. It sounds like, "Ra-ra-ra-raurau." During the breeding season, their calls sound like a gull with a deep voice.
Did you know…?
Russians call Steller's eagles pestryi morskoi orel (mottled sea eagle), morskoi orel (sea eagle), or beloplechii orlan (white-shouldered eagle). In Korean, they're called chamsuri, which translates to true eagle. The Japanese call them ō-washi, which translates to large or great eagle.
8.) Preferring trout and salmon, these birds of prey will also feast on land birds, water birds, mice, rats, voles, and sometimes even carrion (dead animals).
9.) Like other raptors, they are monogamous (mate for life).
10.) Numerous aeries (nests) are built, but only 1 is used for raising their young.
But wait, there's still more on the stellar's sea eagle!
11.) Nests can be up to 59 inches tall and 98 inches in diameter.
12.) Up to 3 eggs are laid that hatch in up to 45 days.
Did you know…?
Kleptoparasitism exists with these eagles, like it does with bald eagles. This is where they will steal the prey from other birds to avoid having to hunt.
13.) Eaglets are independent in up to 70 days.
14.) Their feet are covered in spicules (bumpy folds of skin all along the bottom of their feet) that aid in gripping slippery fish that might otherwise be dropped.
15.) Some local fishing spots that have fishermen who frequent the spots have encountered Stellar's eagles coming surprisingly close to the fishermen, while looking for food. If new anglers show up, the eagles are wary and stay farther away.
Now a Short Stellar's Sea Eagle Video!
Be sure to share & comment below! Also, check out the Critter Science YouTube channel. Videos added regularly!
Want to suggest a critter for me to write about? Let me know here.