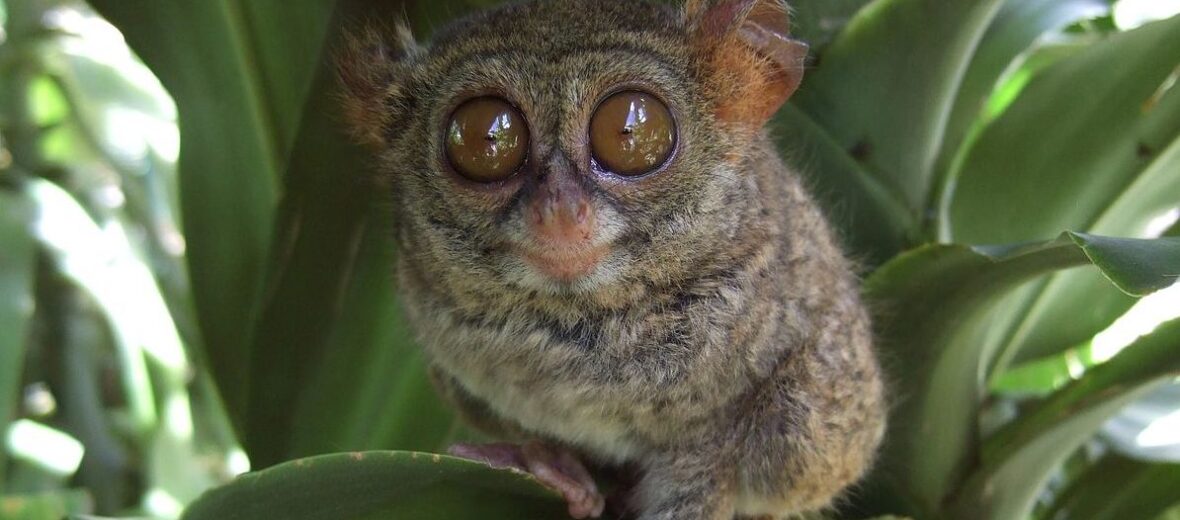 The spectral tarsier, aka Sulawesi tarsier or eastern tarsier, is a diminutive and fascinating primate that hails from the island of Selayar in Indonesia. They prefer forest gardens, mangrove forests, secondary rainforests, and habitats with dense shrub cover. Due to habitat destruction, at the hands of the logging industry; hunting and trapping; pollution; and invasive species (and with them disease) these critters are listed as Vulnerable by the IUCN. Their numbers are also decreasing.
First the Stats…
Scientific name: Tarsius spectrum
Weight: Up to 5.9 ounces
Length: Up to 15 inches, plus up to a 6.29 inch tail
Lifespan: Up to 17 years
Now on to the Facts!
1.) Their membranous ears can move independent of each other.
2.) Spectral tarsiers are nocturnal (active at night).
3.) These critters are incredibly agile arboreal (spend their lives in trees) climbers that leap from branch to branch, in search of a tasty meal.
4.) They prey on beetles, cicadas, locusts, moths, lizards, and bats.
5.) After a long night of hunting, they will return to their hides and sing, sometimes a duet, with their partner and/or family.
But wait, there's more on the spectral tarsier!
6.) Spectral tarsiers are incredibly territorial and often fight with neighboring tarsiers for territorial rights.
7.) Territories are marked with scents from special glands and with urine.
Did you know…?
Their eyes are larger than their brain.
8.) They spend the bulk of their time allogrooming (cleaning and maintaining the appearance of an individual of the same species), resting, socializing via playing, snuggling with 1 another, and sharing food.
9.) Communication within their herd consists of alarm calls, duet songs, trills, twitters, and choruses amongst their family.
10.) These tarsiers are monogamous (mate for life). But they sometimes exhibit polygynous (1 male mates with several females) behavior.
But wait, there's still more on the spectral tarsier!
11.) Breeding season lasts from May – November.
12.) Females undergo up to a 60 day gestation (pregnancy) that yields a single infant.
Did you know…?
Tarsiers can leap up to 18 feet!
13.) Infants are born precocial (fully developed at birth), fully furred with eyes open.
14.) The infant can climb just 1 day after birth.
15.) Mom nurses her infant for up to 80 days.
Now a Short Spectral Tarsier Video!
Be sure to share & comment below! Also, check out the Critter Science YouTube channel. Videos added frequently!
Want to suggest a critter for me to write about? Let me know here.
Learn more about all kinds of cool critters, right here!