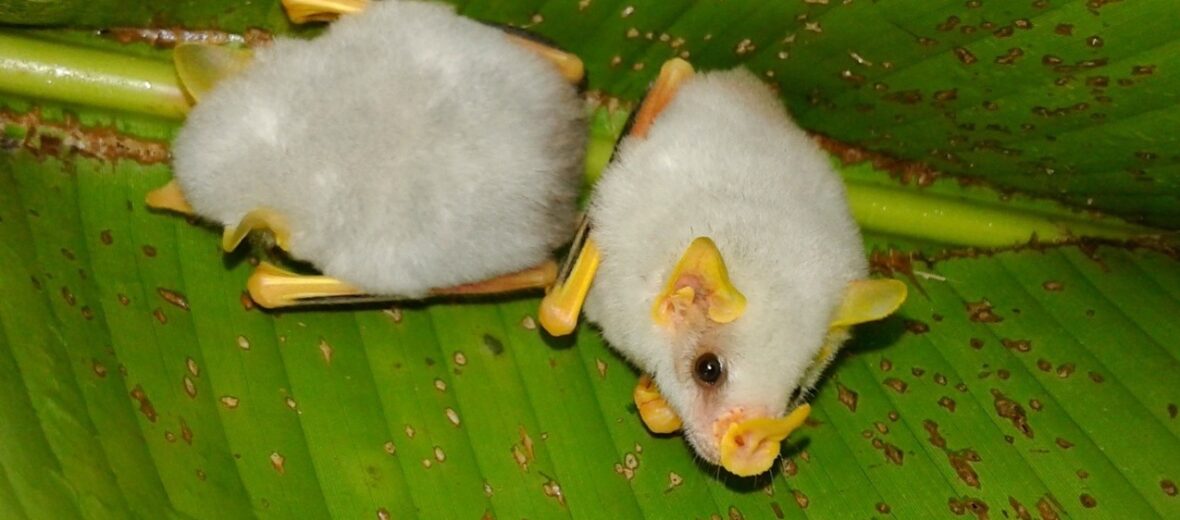 Looking like a Pokemon or a fluffy marshmallow, the Honduran white bat, aka Caribbean white tent-making bat, hails from Costa Rica, Honduras, Nicaragua, to Panama. These unique looking bats are 1 of only 6 known species of white bat. Honduran white bats can be found in secondary and evergreen forests. Due to habitat destruction, these critters are listed as Near Threatened by the IUCN. Sadly too, their numbers are decreasing.
First the Stats…
Scientific name: Ectophylla alba
Weight: Up to .21 ounce
Length: Up to 1.85 inches
Wingspan: Up to 4 inches
Lifespan: Up to 20 years
Now on to the Facts!
1.) Like most bats, they are nocturnal (active at night).
2.) These tiny bats build little tents from understory plant leaves. They do this by cutting the ribs of leaves with their teeth, then roosting in their self-made tents.
3.) They roost in colonies of up to 15 individuals.
4.) Honduran white bats have an array of these "tents" spread throughout the forest and sleep in different ones each day.
5.) Sunlight filters through the leaves and gives these bats a greenish color. This almost completely hides them from predators.
But wait, there's more on the Honduran white bat!
6.) White bats are predominantly silent and communicate with each other primarily via touch and visually.
7.) A group of bats is called a cloud or colony.
Did you know…?
Females undergo what is called synchronized births. This is where all the females in a colony will give birth within the same week.
8.) Being Frugivores (eat fruit), these bats feed almost entirely on figs. However, they will take other fruit as well.
9.) These bats are polygynous (1 male mates with multiple females).
10.) Breeding takes place between May – August.
But wait, there's still more on the Honduran white bat!
11.) Female bats will birth a single pup after up to a 3 week gestation (pregnancy).
12.) When lactating, mom will return to her roost up to 6 times a night to feed her pup.
Did you know…?
Honduran white bats are among the smallest known Frugivorous bat species in the world. The other is the little white-shouldered bat.
13.) Pups begin flying up to 4 weeks after birth.
14.) The yellow pigmentation on their nose, ears, and lips is due to high amounts of carotenoids in their mostly fig diet.
15.) Their nose is believed to serve the purpose of directing the echolocation calls and not only can pick up the scent of the fruit they eat, but also to pick up the signals of where the fruit is located.
16.) They are preyed on by owls, opossums, and snakes.
Now a Short Honduran White Bat Video!
Be sure to share & comment below! Also, check out the Critter Science YouTube channel. Videos added frequently!
Want to suggest a critter for me to write about? Let me know here.
Learn more about all kinds of cool critters, right here!