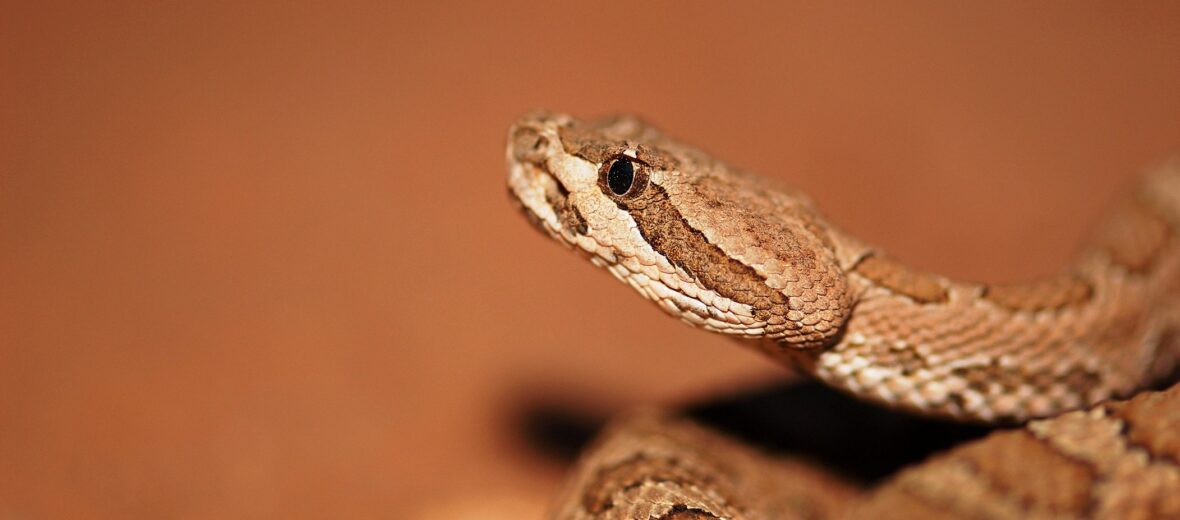 The midget faded rattlesnake, aka faded rattlesnake or yellow rattlesnake, hails from Colorado, Wyoming, and Utah, in the United States. They prefer rocky hillsides, cliff-faces, slopes with a great deal of crevices & rock cover, and sage-brush thicket habitats. Their greatest threat is habitat destruction, due to mining and the development of roads. For now these protected critters have a stable population and are listed as Data Deficient by the IUCN.
First the Stats…
Scientific name: Crotalus concolor
Weight: Up to .5 lb.
Length: Up to 29.5 inches
Lifespan: Up to 25 years
Now on to the Facts!
1.) These snakes are Nocturnal (active at night) and Crepuscular (active at dawn and dusk) during the hotter months of the year and Diurnal (active during the day) during cooler months.
2.) Midget faded rattlers are a protected species. Taking them from the wild and transporting them across state lines, without a permit, can yield up to a $250,000 fine and 5 years in prison! So, no touchy.
3.) The midget faded rattlesnake preys on reptiles, mice, and birds.
4.) Owls, hawks, coyotes, and king snakes all prey on these critters.
5.) Females are viviparous (eggs develop and hatch inside the female and the snakelets are born live) and birth up to 5 young.
But wait, there's more on the midget faded rattlesnake!
6.) The snakelets are, like all snakes, born Precocial (totally self-sufficient). They are also born fully venomous.
7.) These snakes have a very short mating season. It only lasts from 5th – 17th of July.
Did you know…?
Their venom is among the most potent venoms found in North America. The venom is many times more potent than that of an Asiatic cobra and is considered a neurotoxic venom (attacks the nervous system).
8.) The effects of the venom include: generalized paresthesia (pins and needles feeling); blurred vision, waves of spastic, tetany-like symptoms of the hands and feet (carpopedal spasms); breathing difficulties; numbness; and generalized weakness. Death is a potential to small children and the elderly, or those with weakened immune systems.
9.) The midget faded rattlesnake is believed to be a stunted variant of the Great Basin Rattlesnake.
10.) Contrary to popular belief, you can't accurately tell the age of a rattlesnake by counting the rattle segments of their tail. This is because sometimes buttons break off and are regrown, as they shed.
Now a Short Midget Faded Rattlesnake Video!
Be sure to share & comment below! Also, check out the Critter Science YouTube channel. Videos added frequently!
Want to suggest a critter for me to write about? Let me know here.
Learn more about all kinds of cool critters, right here!