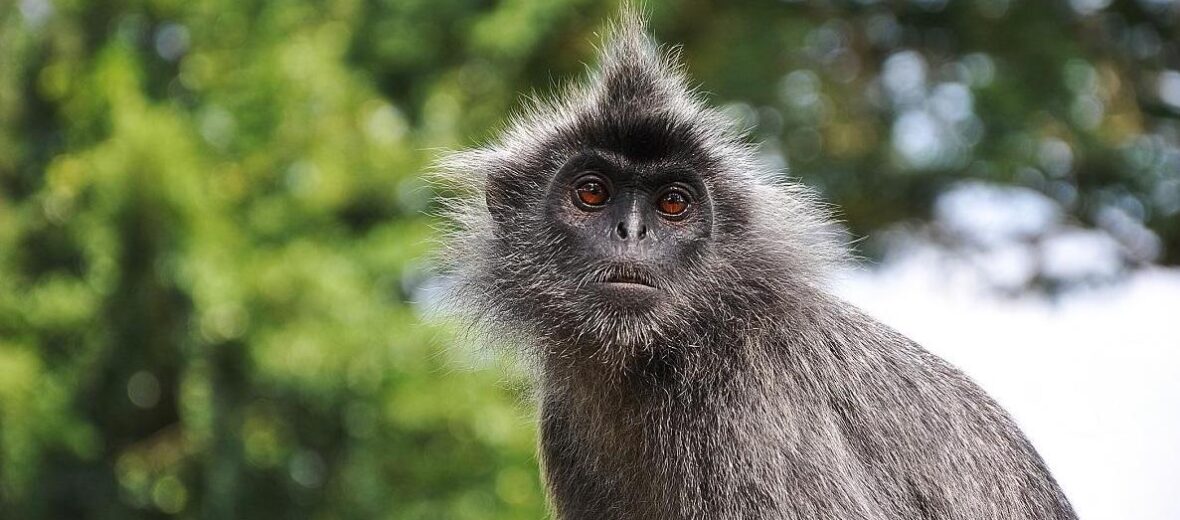 The silvery lutung, aka silvery langur or silvered leaf monkey, can be found in Borneo, Sumatra, the Natuna Islands, south-western Malay peninsula, and a few other surrounding islands. They prefer mangrove swamps and forests that are close to river banks. These Old World monkeys (monkeys from Africa and Asia) have long non-prehensile tails used for balance while navigating the trees. Their cheek hair is so long it often hides their ears. Due to logging and controlled burning, their habitats are shrinking daily. The IUCN lists these critters are Critically Endangered and their populations are decreasing.
First the Stats…
Scientific name: Trachypithecus cristatus
Weight: Up to 1.1 lbs.
Length: Up to 1.8 feet, plus up to a 30 inch tail
Lifespan: Up to 31 years
Now on to the Facts!
1.) Silvery lutungs have opposable thumbs and toes that help them grip branches.
2.) Lutungs are diurnal (active during the day).
3.) The silvery lutung is a social primate that travels in troops of up to 40 individuals.
4.) Each troop consists of an alpha male and numerous females & their offspring.
5.) They are heavily arboreal (spend their lives in trees).
But wait, there's more on the silvery lutung!
6.) Not being ones to fight off a predator, they will quickly flee if approached by a predatory animal or faced with a threat.
7.) During the day, they may travel up to 1,600 feet through the forests, while at night they tend to all conglomerate in a single large tree.
Did you know…?
Leopards, tigers, dholes, and large snakes all prey on lutungs. While binturongs and some other smaller predators prey on the infants.
8.) Their social structure is matrilineal (based on kinship with the mother or the female line) and based on a harem structure. Females will stay with the troop for life, whereas the males are forced to leave as soon as they reach adulthood.
9.) Males dominate the females and the females with young dominate the females without any young.
10.) Silvery lutungs produce around 13 different vocalizations. Their calls range from aggression to anger, excitement, fear, and satisfaction. The infants also produce various sounds from distress to hunger cries.
But wait, there's still more on the silvery lutung!
11.) A group of monkeys is called a barrel, cartload, tribe, troop, or wilderness.
12.) These critters are herbivores (more specifically folivores – eat leaves), consuming leaves, flowers, fruit and seeds.
Did you know…?
The silvery lutung, in some areas, has been socialized to the point that they'll readily take food from humans and will even allow contact, via touch.
13.) As can be expected from their social structure, these primates are polygynous (1 male mates with several females).
14.) The female will indicate mating receptiveness via side-to-side motions with her head.
15.) Even though there really isn't a primary breeding season, the females will birth an infant every 18 – 24 months.
But wait, there's still a little more on the silvery lutung!
16.) Females undergo up to a 200 day gestation (pregnancy) that yields a single infant.
17.) Infants are born mostly precocial (fully developed at birth) and weigh in at only 14 ounces. But they have a strong grip, which is needed to hold onto mom, as she traverses the trees.
18.) The infants are initially born with white skinned faces and orange fur. But this coloration quickly changes as they age, and by 5 months of age, they take on their adult coloration.
Now a Short Silvery Lutung Video!
lh9vzxOHOIk
Now Another Short Silvery Lutung Video!
Even though these primates are allowing physical contact, it is ill-advised to do so.
Be sure to share & comment below! Also, check out the Critter Science YouTube channel. Videos added frequently!
Want to suggest a critter for me to write about? Let me know here.
Learn more about all kinds of cool critters, right here!