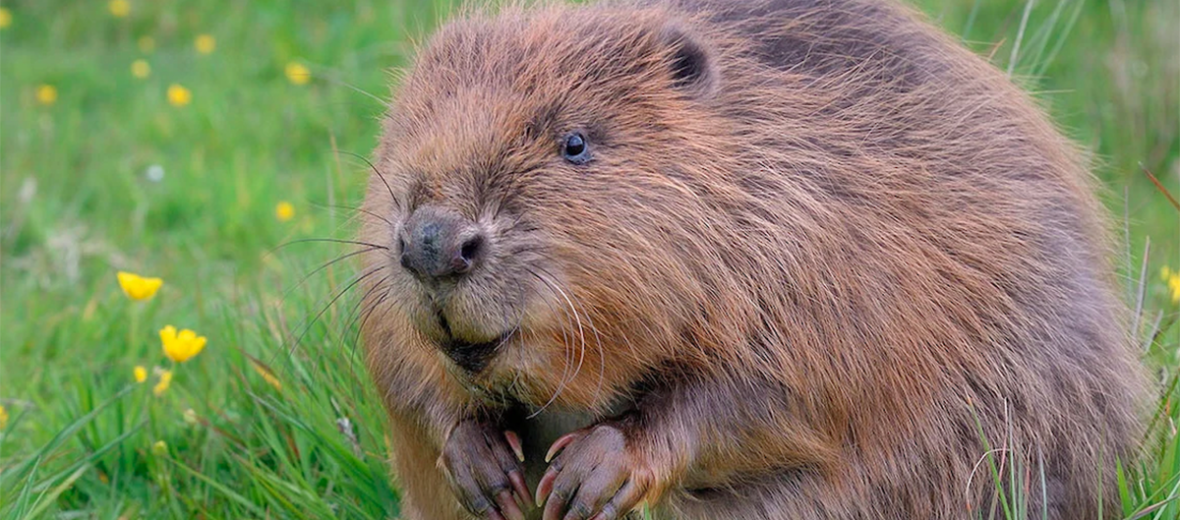 The Eurasian beaver, aka European beaver or Mongolian beaver, can be found from north-eastern Europe to Central Eurasia. Their territory reaches south from Norway to the Scandinavian Peninsula on to Denmark, through Germany and over to the Alps, and eastward, as far as Mongolia. They like marshes and forested habitats. Even though they face the threats of habitat destruction at the hands of logging, dams, and other ecosystem modifications; hunting and trapping; and pollution, they are still not only listed as Least Concern by the IUCN, but their numbers are increasing.
First the Stats…
Scientific name: Castor fiber
Weight: Up to 66 lbs.
Length: Up to 3.3 feet, plus up to a 15 inch tail
Height: Up to 12 inches
Lifespan: Up to 25 years
Now on to the Facts!
1.) These beavers are among the largest rodents in the world; with the capybara being #1.
2.) Their coat consists of 2 layers: a soft, thick under coat, and an outer coat that is coarse and covered in stiff guard hairs.
3.) To protect their eyes, they possess nictitating membranes (secondary eyelids used to safeguard against eye damage) that close when they submerge. This protects their eyes while swimming but still allows for limited vision.
4.) Their hind feet are webbed to aid in swimming.
5.) The Eurasian beaver also has a split nail inside of their 2 hind toes that is used for grooming themselves.
But wait, there's more on the Eurasian beaver!
6.) These social critters can gather into colonies of up to 12 individuals. This consists of a dominant breeding pair and subordinates.
7.) Eurasian beavers are mostly nocturnal (active at night). But can sometimes be seen during the day.
Did you know…?
Being very territorial, they will use olfactory signals and mark their territory with castoreum (bitter strong-smelling creamy orange-brown substance) which is excreted from the castor sacs of mature beavers. Castoreum extract is used as a flavoring agent in foods and more.
8.) A group of beavers is called a colony or family.
9.) They are herbivores (more explicitly folivores and lignivores) that eat birch trees, aspen trees, and willow trees, in the winter and bark, leaves, aquatic plants, roots, buds, twigs, shoots, and agricultural crops in the spring and summer.
10.) These beavers are monogamous (mate for life), and only 1 breeding pair is allowed per colony.
But wait, there's still more on the Eurasian beaver!
11.) Breeding takes place from January – February.
12.) Females undergo up to a 128 day gestation (pregnancy) that yields up to 6 or more pups. However, 3 pups is the average.
13.) The pups, aka kits or kittens, are weaned at 6 weeks. At that time mom brings them softer sticks, twigs, and such to eat.
Did you know…?
Beavers can stay submerged for up to 15 minutes.
14.) By constructing dams, beavers help play an important role in their ecosystem. When a dam is built, it interrupts the flow of water, flooding new areas. This attracts new species of amphibians, fish, and birds.
15.) In about a year, the woody plants die off underwater, and the forest ecosystem makes way for a water ecosystem to take over.
But wait, there's still a little more on the Eurasian beaver!
16.) In addition to creating new ecosystems, their browsing of woody plants helps keep the forest in check.
17.) In order to maintain their water repellent fur, they excrete an oil that is then groomed into their guard fur. This helps keep their fur dry and affords them the ability to stay in cold water for longer periods of time.
18.) The beaver is Canada's national animal and is featured on the 5 cent coin.
19.) Humans and Wolves are their main predators.
20.) These critters can swim up to 5 mph.
Now a Short Eurasian Beaver Video!
Be sure to share & comment below! Also, check out the Critter Science YouTube channel. Videos added frequently!
Want to suggest a critter for me to write about? Let me know here.
Learn more about all kinds of cool critters, right here!