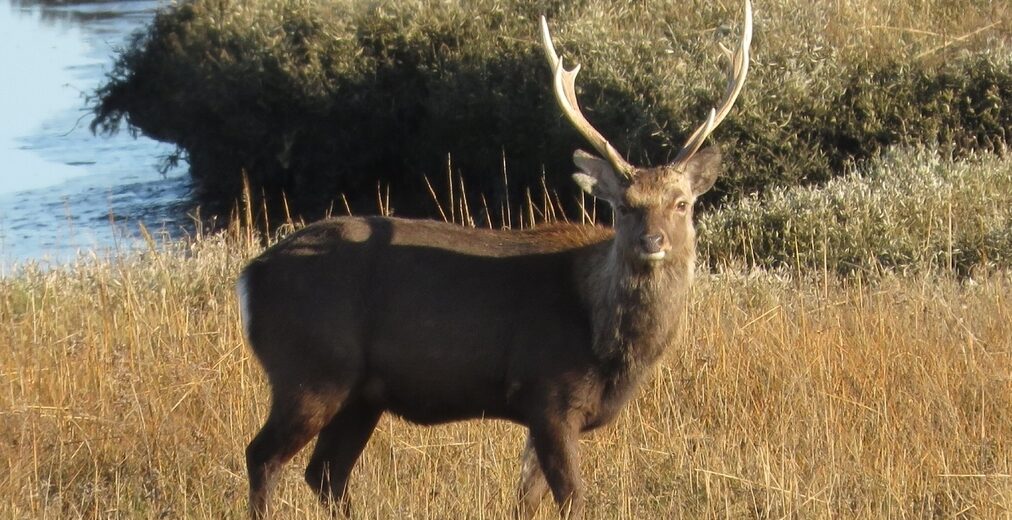 The sika deer, aka Shansi sika, sika, spotted deer, or Japanese deer, hails from Eastern Asia and Japan. They prefer forested areas with a dense understory. However, they are able to handle life in grasslands and freshwater marshes. These deer have been introduced to Europe, New Zealand, and the United States; to name a few. Due to their numbers and distribution they are listed as Least Concern by the IUCN.
First the Stats…
Scientific name: Cervus nippon
Weight: Up to 93 lbs.
Length: Up to 3.9 feet
Height: Up to 43 inches, at the shoulder
Lifespan: Up to 25 years
Now on to the Facts!
1.) Sika deer are both crepuscular (active at dawn and dusk) and nocturnal (active at night). But they can also be seen feeding during the day (diurnal), at times.
2.) Although mostly solitary, males will sometimes gather together when food is abundant.
3.) Female sika gather in groups with their fawns.
4.) A group of deer is called a gang, mob, or herd.
5.) Sika are herbivores (eat plant matter) that consume grass, ferns, bamboo, fallen leaves, brushy vegetation, herbs, fruits, fungi, corn, soybeans, and even poison ivy.
But wait, there's more on the sika deer!
6.) Like other deer species, sikas will go through a rut, in order to win breeding rights with a harem of females.
7.) Harems can contain up to 12 female deer.
Did you know…?
These deer are one of the few species that don't lose their spots as they mature.
8.) Females undergo up to a 30 week gestation (pregnancy) and birth a single fawn.
9.) When necessary, these deer can jump up to 5.6 feet.
10.) Tigers, wolves, leopards, and brown bears all prey on sika deer.
Now a Short Sika Deer Video!
Be sure to share & comment below! Also, check out the Critter Science YouTube channel. Videos added frequently!
Want to suggest a critter for me to write about? Let me know here.
Learn more about all kinds of cool critters, right here!