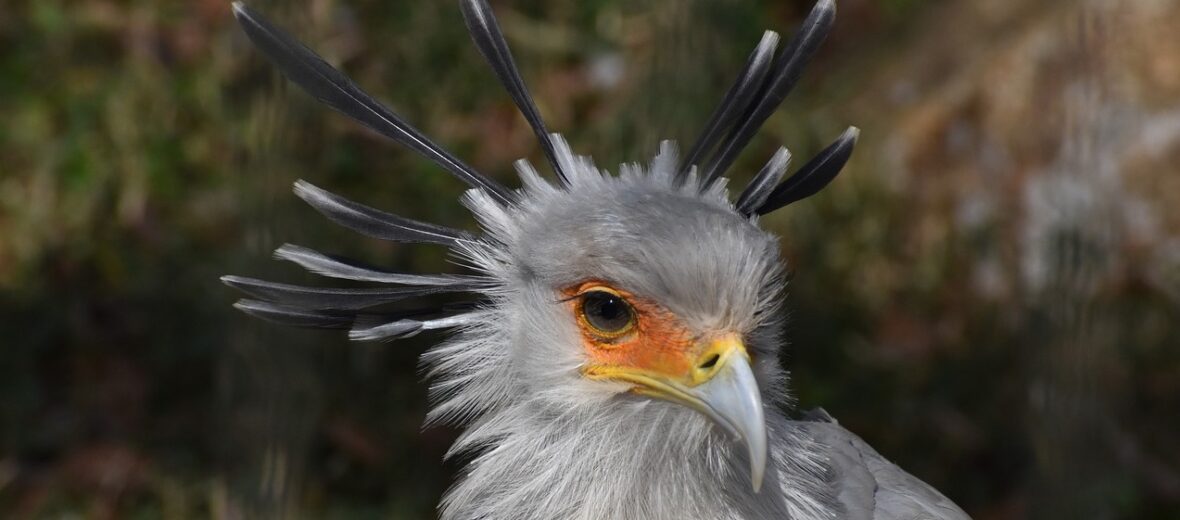 The secretary bird gets its name from its resemblance to male secretaries, of the 1800s. Back then they wore dark, knee-length pants and gray tailcoats, with goose-quill pens stashed behind their ear. Loosely related to vultures, buzzards, harriers, and even kites, these birds (on the contrary) spend most of their time on the ground. They can fly though, very well. They roost high up in acacia trees at night, to steer clear of predators. Even though they are distributed throughout most of Africa, these birds only number an estimated 67,000 wild individuals and are classified as Endangered by the IUCN, with their populations decreasing. Habitat loss and climate change are to blame.
First the Stats…
Scientific name: Sagittarius serpentarius
Weight: Up to 7.3 lbs.
Length: Up to 4.5 feet
Wingspan: Up to 6.6 feet
Lifespan: Up to 19 years
Now on to the Facts!
1.) They use those long legs to cover around 20 miles a day hunting for prey!
2.) Secretary birds prey on beetles, locusts, mice, hares, mongooses, crabs, snakes, lizards, young tortoises, bird eggs, small birds, and sometimes carrion (dead animals).
3.) The young and eggs are prey to ravens, crows, kites, ground hornbills, and eagle owls. Adults have no natural predators.
4.) These birds use the thick soles of their feet to stamp on their prey. This immobilizes it so the bird can swallow it whole.
5.) When attacking their prey, these birds spread both their wings and raise the feathered crest at the back of their head.
But wait, there's more on the secretary bird!
6.) Their mating ritual includes chasing each other with wings spread up and backwards.
7.) Females lay 2 – 3 pale green eggs over the course of 2 – 3 days.
Did you know…?
The secretary bird appears on the coat-of-arms of 2 different African nations: South Africa and Sudan.
8.) Secretaries are very territorial and can patrol overlapping territories of up to 20 square miles!
9.) The secretary bird has the longest legs out of any bird of prey.
10.) These birds are diurnal (active during the day) that awake just after dawn, to hunt.
Now a Short Secretary Bird Video!
Also, check out the Critter Science YouTube channel. Videos added frequently!
Want to suggest a critter for me to write about? Let me know here.
Learn more about all kinds of cool critters, right here!