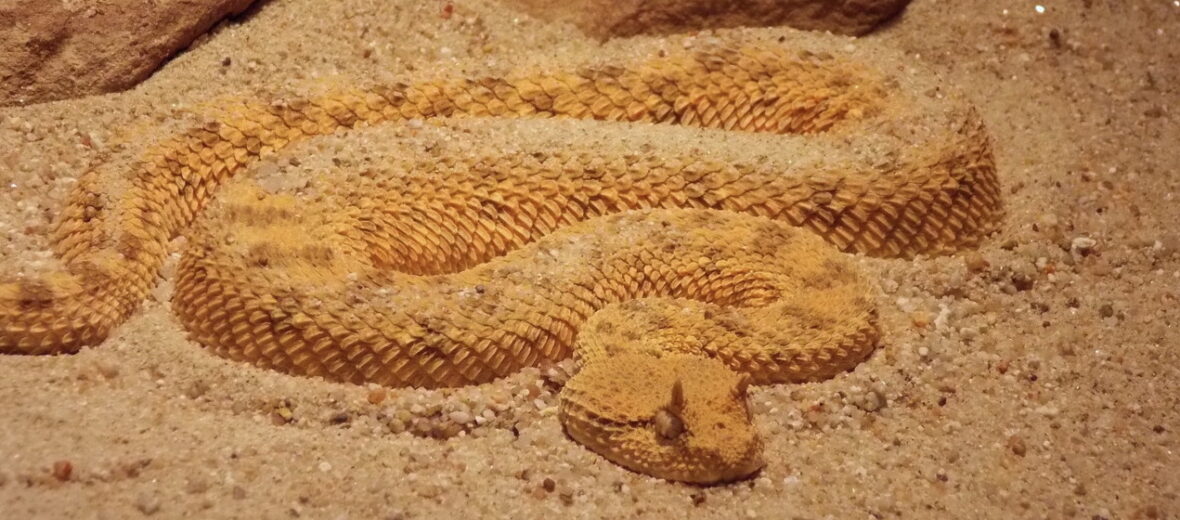 The Saharan horned viper can be found in Northern Africa and certain parts of the Middle East. These venomous serpents prefer dry, sandy areas with subtle rock outcroppings, and also oases. These vipers have been documented at altitudes of up to 4,900 feet. They are typically identified by their pair of supraocular "horns", although there have been hornless specimens found too. This is typically due to interbreeding with other vipers. There are 3 known subspecies. Even though they suffer at the hands of pollution, habitat destruction, over-collecting (for venom), and introduction of new species, these snakes are still listed as Least Concern by the IUCN.
First the Stats…
Scientific name: Cerastes cerastes
Weight: Up to 1.5 +/- lbs.
Length: Up to 2 feet
Lifespan: Up to 18 years
Now on to the Facts!
1.) Horned vipers are nocturnal (active at night) that spend their days nestled into the sandy soil, for protection from predators and the hot sun.
2.) It is believed that they evolved their horns to help shield their eyes from the sun.
3.) They go by many names, such as: African desert horned viper, North African horned viper, desert sidewinding horned viper, Saharan horned viper, Sahara horned viper, desert horned viper, greater cerastes, asp, horned viper, el-ṭorîsha (حية الطريشة) – Egypt, and um-Goron (ام قرون) – Libya.
4.) Like other vipers they are solitary, only coming together, briefly, to mate.
5.) These vipers travel about by sidewinding, leaving whole body impressions in the sand behind them.
But wait, there's more on the Saharan horned viper!
6.) Being ambush predators, they lay in wait for passing prey to happen by. They then strike with great speed and hold onto their victim till the venom takes affect.
7.) Some other horned vipers include, in part, the horned puff adder (Bitis caudalis) and the sand viper (Vipera ammodytes).
Did you know…?
The Saharan horned viper's venom is a cocktail of 13 different toxins. A bite results in swelling, haemorrhaging (excessive blood loss), necrosis (tissue death), nausea, vomiting, and haematuria (blood in urine).
8.) It is surmised that it was a horned viper that aided in Cleopatra's suicide.
9.) Females, being oviparous, lay up to 23 eggs that hatch after up to 80 days of incubation.
10.) Hatchlings measure up to 6 inches in length and are fully "operational" (venomous) at birth.
But wait, there's still more on the Saharan horned viper!
11.) While typically placid in temperament, these snakes will defend themselves, if threatened.
Did you know…?
Believe it or not, these vipers do have predators. Those brave enough to go after one are honey badgers, monitor lizards, and wild feral cats.
12.) If threatened, they take up a "C" shape and rapidly rub their keeled scales together, making a rasping noise.
13.) They prey on lizards, rodents, and small birds.
14.) Their horns are flexible, not rigid, and will fold flush against their head as they nestle into the sand.
Now a Short Saharan Horned Viper Video!
Also, check out the Critter Science YouTube channel. Videos added frequently!
Want to suggest a critter for me to write about? Let me know here.
Learn more about all kinds of cool critters, right here!