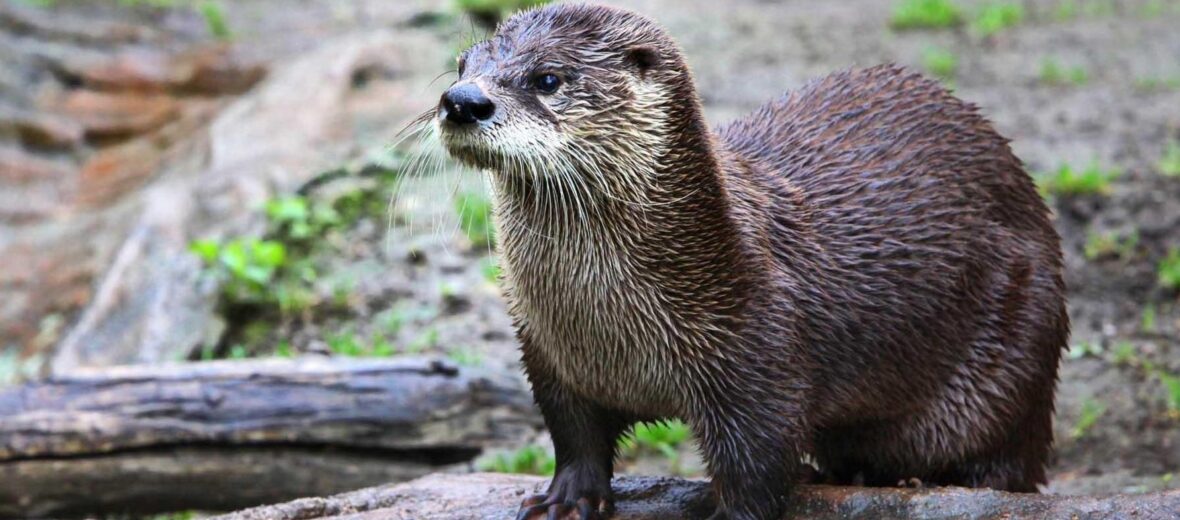 The neotropical otter, aka neotropical river otter, can be seen from Central America, down to South America, and on the island of Trinidad. They can tolerate a wide range of habitats from rice and sugar cane plantations, to drainage ditches, to swamps and wastewater treatment plants. They can also be found in the frigid glacial lakes located in the Andes of Ecuador. These critters are also found on the shorelines of marine habitats, swimming in highly saline water. But they prefer clean, fast-flowing rivers and streams. These otters are listed as Near Threatened by the IUCN due to the threats of habitat destruction, pollution, hunting, trapping, and climate change. Their numbers also decrease daily.
First the Stats…
Scientific name: Lontra longicaudis
Weight: Up to 14 lbs.
Length: Up to 26 inches, plus up to a 33 inch tail
Lifespan: Up to 21 years
Now on to the Facts!
1.) Like all otters, they belong to the Mustelidae family. This family includes: badgers, skunks, tayra, weasels, wolverines, and more.
2.) Typically shy, reclusive, and solitary, they can be found in small groups from time to time.
3.) A group of otters is called a bevy, family, pod, raft, or romp.
4.) They are mostly diurnal (active during the day). But they can sometimes exhibit crepuscular (active at dawn and dusk) behaviors.
5.) Neotropical otters prefer dens that are close to water and food. These dens typically have more than 1 opening, so they have easy access in which to retreat, in the event of an approaching predator.
But wait, there's more on the neotropical otter!
6.) Their dens are typically around large rocks or near and under tree roots.
7.) Communication consists of hums, screeches, and whistles. But also includes scent marking.
Did you know…?
Neotropical otters can swim up to 7 mph.
8.) They mark their territory via spraint (feces) and scratching.
9.) These otters prey on crustaceans, fish, mollusks, and small mammals.
10.) Anacondas, jaguars, caimans, dogs, and birds of prey all hunt these otters.
But wait, there's more on the neotropical otter!
11.) While not much is known about the mating patterns of these otters, it is known that breeding typically takes place in spring.
12.) Females undergo up to a 56 day gestation (pregnancy) that yields up to 5 pups.
Did you know…?
The neotropical otter can hold its breath for up to 8 minutes, underwater.
13.) Pups begin leaving their mother's nest in about 52 days and begin swimming at around 74 days.
14.) Males only participate in breeding. They don't co-parent. The female alone takes care of rearing her young.
15.) Due to the demands of their high metabolism, these otters need to eat between 15% – 20% of their body weight in food, each day!
Now a Short Neotropical Otter Video!
Be sure to share & comment below! Also, check out the Critter Science YouTube channel. Videos added frequently!
Want to suggest a critter for me to write about? Let me know here.
Learn more about all kinds of cool critters, right here!