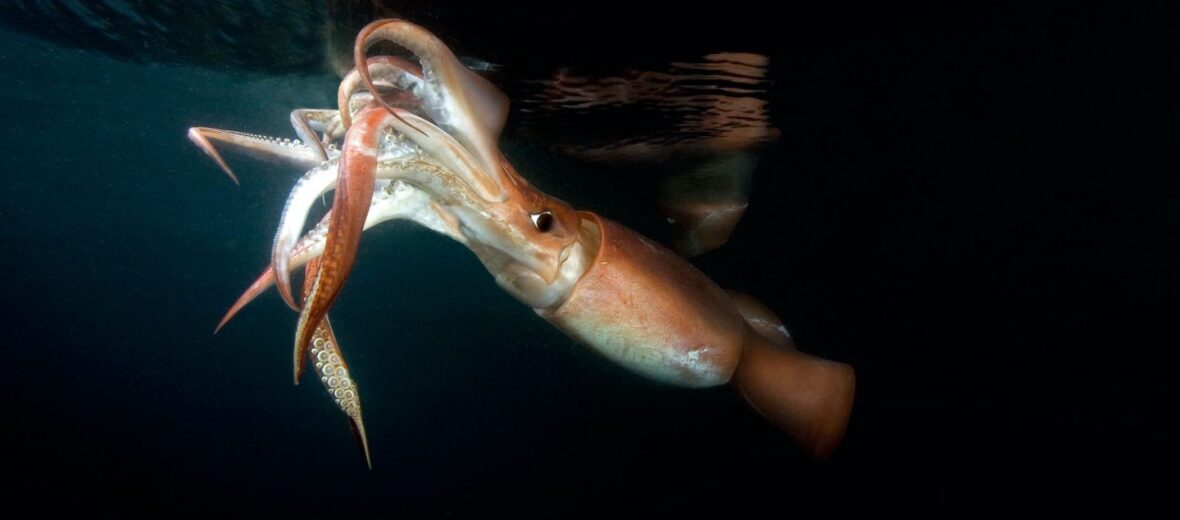 The Humboldt squid, aka jumbo flying squid, jumbo squid, or calamar gigante, hails from the eastern portion of the Pacific Ocean. They prefer tropical to subpolar environments. These squid are known for their aggressive behavior towards humans. They are also famous for their size. These cephalopods are listed as Data Deficient by the IUCN. Meaning there is not enough known about them to form a consensus of their overall numbers or potential plight.
First the Stats…
Scientific name: Dosidicus gigas
Weight: Up to 110 lbs.
Length: Up to 6 feet
Lifespan: Up to 2 years
Now on to the Facts!
1.) As mentioned, these squid tend to be aggressive towards humans. However, this aggressive behavior is thought to only occur during feeding time.
2.) They can be found at depths of up to 2,300 feet.
3.) After a couple of classifications, the Danish zoologist Japetus Steenstrup finally was able to get these critters classified in 1857.
4.) These squid are able to annihilate populations of fish, crustaceans, cephalopods, and copepods, as these are their main prey.
5.) Sperm whales, billfishes, and other large predatory fish prey on Humboldt squid.
But wait, there's more on the Humboldt squid!
6.) Due to a massive recent explosion in their population (at the hands of global oceanic water temperature increases), these squid are now prevalent from Alaska (in North America) down to Chile (in South America).
7.) Females lay upwards of 20,000,000 eggs!
Did you know…?
They can swim at speeds of up to 15 mph.
8.) In Mexico, hundreds of tons are captured nightly. Yet this doesn't seem to have an affect on their population in the Gulf of California.
9.) Other names for this species of squid are jibia, pota, and diablo rojo (due to their ability to flash from white to red and back again, rapidly.
10.) Their 2 tentacles have up to 200 suckers. Each sucker is lined with razor-sharp teeth that are used to grab onto prey and drag it to the squid's sharp beak.
But wait, there's still more on the Humboldt squid!
11.) They can change their coloration from red to white and back again. The frequency changes based on their needs. This is called chromogenic coloration. Coloration flashes in the presence of other shoals of squid, and flickers regularly to mimic the sun's light shining on the ocean floor.
12.) To keep them buoyant, their flesh is rich in ammonium chloride. This causes them to be naturally salty, bitter, and unpleasant tasting. To counter this, fisheries will tenderize the flesh and soak their catches in ice cold water, with a mixture of lactic and citric acid. Then they soak them in a brine solution for 3 more hours.
13.) These critters are so aggressive that they have even been seen attacking submersibles; especially those with lights. Suggesting that they may also be phototropic (attracted to light).
14.) Not only will they go after other shoals of squid, but they will also cannibalize each other!
Now a Short Humboldt Squid Video!
Be sure to share & comment below! Also, check out the Critter Science YouTube channel. Videos added frequently!
Want to suggest a critter for me to write about? Let me know here.
Learn more about all kinds of cool critters, right here!