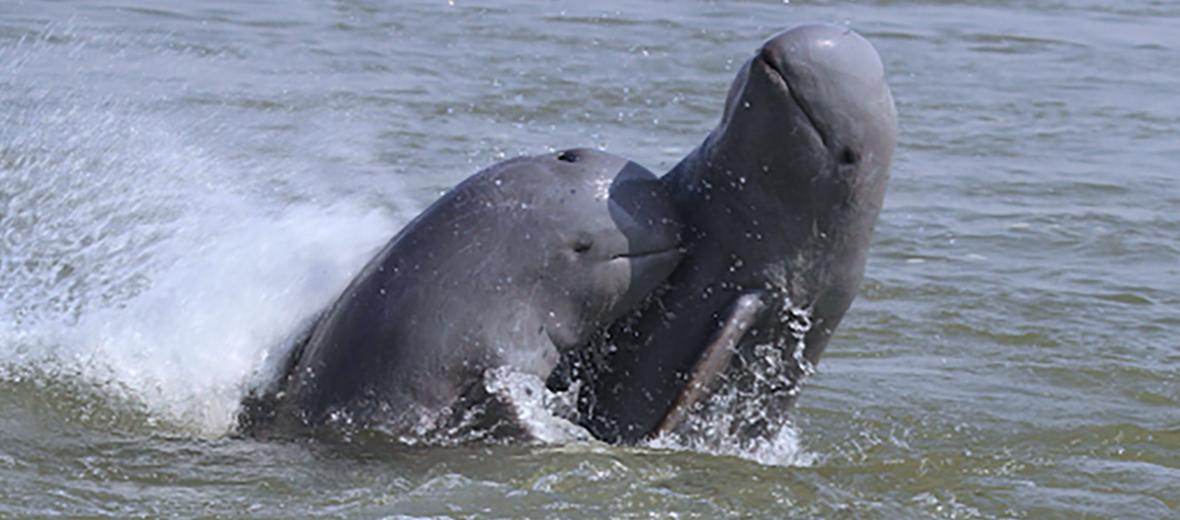 The shy Irrawaddy dolphin is a rare sight to behold indeed. These cetaceans can be found throughout the Indo-Pacific region, from the Philippines to northeastern India. They also inhabit several river systems of Ayeyarwady (previously Irrawaddy), Mahakam, and Mekong. Even though they're listed as 1 of 7 known river dolphin species, they aren't true river dolphins, as they venture from fresh to saltwater habitats. Due to habitat destruction – at the hands of river dams, pollution, overfishing, human interference (causing boat strike – being hit by aquatic vessels), and bycatch (getting caught in fishing nets and entangled in long lines these spectacular mammals are listed as Endangered by the IUCN. Their numbers are also decreasing.
First the Stats…
Scientific name: Orcaella brevirostris
Weight: Up to 440 lbs.
Length: Up to 9 feet
Lifespan: Up to 30 years
Now on to the Facts!
1.) As mentioned, these dolphins can go between salt and fresh water habitats. This makes them a euryhaline species.
2.) They prefer muddy, brackish water at deltas and river mouths.
3.) Irrawaddys are highly social but only congregate into pods of up to 6 individuals.
4.) Compared to other dolphins, these critters are slow and sluggish.
5.) Unlike other dolphins, only up to 14% of their surfacing behaviors are deemed playful.
But wait, there's more on the Irrawaddy dolphin!
6.) A group of dolphins is called a pod, herd, or school.
7.) Fish, crustaceans, and cephalopods make up the bulk of their diet.
Did you know…?
These dolphins can reach speeds of up to 16 mph.
8.) Males are polygynous (mate with several females).
9.) After up to a 14 month gestation (pregnancy), females birth a single calf.
10.) Hunting involves, in part, spitting water at their prey to herd them into tight balls – making it easier to feed. They also have been documented stunning larger fish and then playing with the stunned prey item before eating it.
But wait, there's still more on the Irrawaddy dolphin!
11.) These dolphins use echolocation to assist in finding prey.
12.) Irrawaddy dolphins can stay submerged for up to 6 minutes at a time.
Did you know…?
There are only approximately 6,000 remaining Irrawaddys left in the wild, to date.
13.) They communicate vocally via a variety of clicks and buzzes.
14.) Irrawaddys are diurnal (active during the day), like other dolphins.
15.) Sharks are their primary Predator.
16.) Not long after publishing this article did I find out that the last Irrawaddy dolphin was found dead on a riverbank on February 15. It was the last 1 living on a particular stretch of the Mekong River in Stung Treng province. This caused the dolphin to become extinct in this portion of the river and further pushes these dolphins, as a whole, towards the classification of Critically Endangered.
Now a Short Irrawaddy Dolphin Video!
Be sure to share & comment below! Also, check out the Critter Science YouTube channel. Videos added frequently!
Want to suggest a critter for me to write about? Let me know here.
Learn more about all kinds of cool critters, right here!